Mahershala Ali Shares New Art Of Himself As Marvel's Blade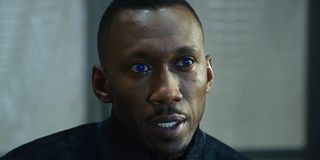 It may come as no surprise that Mahershala Ali is a fan of Blade. Last year, it was reported that he scheduled a meeting with Kevin Feige and the Marvel Studios crew to talk about Blade's future. The rest, as they say, is history as, at last year's San Diego Comic-Con, Mahershala Ali was announced to be playing the modern-day, vampiric daywalker in a new film.
As of now, information about the Blade reboot has been sparse, with no word on its director, writer(s), or production status. Though we're waiting with bated breath, it could be some time before we hear something concrete about the highly anticipated project. That said, Blade is very much on Mahershala Ali's mind, as he recently new art of himself as the character on social media. Check it out:
The closest thing we've gotten to a true update on Marvel's Blade remake is that it could be released in the fall of 2022. However, Marvel hasn't confirmed that date; so, it should solely be considered a rumor as of now. Such a date would put into Marvel Studios' Phase 4 slate, which would make sense. During SDCC 2019, Kevin Feige confirmed that Blade would not be part of the upcoming Phase 3 projects.
Many have speculated about how a Blade remake could possibly work in the MCU. There are considerable challenges that come with bringing the character to life in the MCU, especially when it comes to managing the amount of blood and graphic violence that can be included in a PG-13 feature.
The original Blade, directed by Stephen Norrington and starring Wesley Snipes, is R-rated and, as such, it didn't shy away from the explicit violence that pretty much comes with the rating. I mean, its opening scene is a vampire blood rave. Despite this, Blade proved to be a box office success story and spawned two sequels. Still, it's hard to imagine the MCU adding a hard R-rated movie to its library.
Wesley Snipes bought into the violent tone as well but, in the past, he voiced interest in returning to the character. Of course, Marvel passed and decided to go in another direction, instead. But Snipes has no hard feelings about Ali landing the part, as he positively responded to the casting, saying "it's all good."
All in all, Mahershala Ali is the perfect choice for this role. It's cool to see him channel the character of Blade in this art. I don't know about you, but I'm ready to see this new interpretation of the character on the big screen. And regardless of what the film is rated, I have little doubt he and Marvel will make a movie Blade fans can be proud of.
Your Daily Blend of Entertainment News