Sing 2 Has Added Some A-List New Stars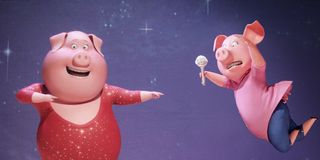 Illumination Animation, while not the powerhouse that Walt Disney Animation is, has put together a strong of hits over the years resulting in the Despicable Me/Minions franchise and also spawning a sequel to The Secret Life of Pets. While not quite as popular as those films, the musical performance film Sing did perform well at the box office and a sequel was announced some time ago, but we've heard little about it since then, beyond it getting its released date pushed back along with every other movie under the sun. The movie, while still a year away, is moving forward, and the upcoming sequel just confirmed a host of new and returning cast members, including a huge new role that will be voiced by one guy we already know can sing, U2's Bono. But that's just the beginning.
This morning Illumination announced that in addition to returning cast members Matthew McConaughey, Reese Witherspoon, and Taron Egerton among others, the sequel, simply titled Sing 2, will include several new voice actors, including the U2 front man and a pair of additional professional singers Pharrell Williams and Halsey. We'll also see Black Panther's Letitia Wright and The Lion King's Eric Andre join the cast, though the majority of the roles or how they fit in the plot have not been disclosed.
The first Sing movie saw a host of animal characters decide to leave their mundane lives behind to try their hand at singing on stage. The sequel Sing 2, will see the show put on koala Buster Moon (voiced by Matthew McConaughey) looking to take his hit show to a new level, by getting it on stage at a massive theater in a major city. However, to do that, he's going to need a major headliner, and that's where Bono comes in. He will voice a character named Clay Calloway, a lion who was once a rock legend, but who has not been seen publicly in many years.
With the addition of names like Pharrell Williams and Bono it seems that Sing 2, much like the plot, is looking to go a big more upscale, rather than casting actors who aren't necessarily known for singing, but can sing, the focus now seems to be on actual professional singers. That's not to say that the rest of the cast won't get a chance to perform, they almost certainly will, and it's possible all the pros will actually have smaller roles. While Bono's character is certainly key to the plot, it's also possible he won't actually appear until the end of the movie.
One does get the feeling that, with the pros involved, there will be more original music in the sequel. The first Sing movie saw most of the main characters covering popular songs of the day, while we might hear Pharrell Williams sing one of his already popular songs, or even cover something different, it feels like we're more likely to see brand new music from these artists, that can potentially see some radio airplay and maybe also some Best Original Song Oscar consideration.
CinemaBlend's resident theme park junkie and amateur Disney historian. Armchair Imagineer. Epcot Stan. Future Club 33 Member.
Your Daily Blend of Entertainment News
Thank you for signing up to CinemaBlend. You will receive a verification email shortly.
There was a problem. Please refresh the page and try again.