The Croods 2 Voice Cast: Who's Voicing Each Character In The Croods: A New Age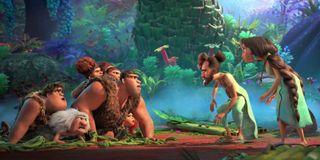 The world's favorite prehistoric family (after the Flintstones, at least) is back in the informally titled The Croods 2, a follow-up to the hit animated film that would also spawn a Netflix-exclusive spin-off series. All the main actors who play the titular kooky cave dwellers, including Emma Stone, are returning to their original roles (as well as a few new, but familiar, names) in the The Croods: A New Age voice cast.
In Dreamworks' sequel to its 2014 Academy Award nominee for Best Animated Feature, the Croods meet another family who call themselves the Bettermans and appear to be one step above them in the evolutionary plane (or as their frequent boasts claim). Some are delighted to be in the presence of such inventive and unique people, but others feel upstaged by the Darwinian challenges these new acquaintances seem to project, to speak broadly of the plot that is.
Are you curious to learn about who the Croods will meet in this new chapter of their lives? Might you need refresher on who's who from the original film after you watch The Croods: A New Age, which is now in theaters as of Wednesday, November 25, 2020? We can help in both instances with this in-depth look at the following 11 characters from the Croods sequel and the actors playing them, starting with the most patriarchal of patriarchs, at least in the age of neanderthals.
Nicolas Cage (Grug Crood)
It is funny to see an actor like Nicolas Cage, always craving something fresh to add to his performances, voicing a caveman who prefers to keep things the same as much as possible, which puts him at odds with the Bettermans in The Croods: A New Age. Cage has also lent his voice to films like Spider-Man: Into the Spider-Verse and Teen Titans GO! To the Movies, but Grug Crood is the first animated role that the Oscar-winner has reprised in a sequel.
Catherine Keener (Ugga Crood)
Also known for voicing a role in a recent animated superhero movie (Incredibles 2), two-time Academy Award nominee Catherine Keener is even better known for acclaimed, live action films such as Being John Malkovich and Get Out, to name a few. In The Croods: A New Age, she returns to the role of Grug's wife Ugga, who learned the value of new ideas in the previous film which, hopefully, helps her get along with the Bettermans.
Emma Stone (Eep Crood)
Once again playing Ugga and Grug's eldest daughter, Eep, in The Croods: A New Age is Emma Stone, the Oscar-winning star of La La Land, Birdman, and Superbad, her feature film debut. Eep is, essentially, the actress' biggest animated voice acting to date, having previously played Australian Shepherd Mazie in Marmaduke, Lois Lane on Robot Chicken, London Tipton's dog Ivana on The Suite Life of Zack & Cody.
Clark Duke (Thunk Crood)
Also making his feature film debut in Superbad and lending his voice to several characters on Robot Chicken was Clark Duke, also know for playing Jacob in the Hot Tub Time Machine movies, Marty in the Kick-Ass movies, and the aptly named Clark on the last two seasons of The Office. He provides the voice of Eep's younger and more naive brother Thunk, who has, probably, the most enjoyable time living in the environment that the Bettermans have created around them The Croods: A New Age.
Cloris Leachman (Gran Crood)
One of Hollywood's eldest and most celebrated living legends, with 287 credits to her name dating back to 1947, is Academy Award-winner Cloris Leachman, whom some viewers may know best as Frau Blücher from Young Frankenstein, Mel Brooks' send-up/sequel of the 1931 horror classic. The 94-year-old has played roles in several animated projects (including A Troll in Central Park, The Iron Giant, and Adventure Time) before The Croods: A New Age, which marks her second time playing Ugga's mother, Gran.
Ryan Reynolds (Guy Crood)
The Croods' newest adoptive family member is Guy, who was known to annoy Grug with his inventive instincts and romantic connection with Eep in the first film. It is a fitting characteristic for the young man voiced by Ryan Reynolds, who received a Golden Globe nomination for annoying others in the first Deadpool movie and also voiced the title character of Turbo - another Dreamworks animated film from 2013 about a snail who enters the Indy 500.
Peter Dinklage (Phil Betterman)
Joining the cast of this animated franchise is Peter Dinklage, whose previous voice roles include Mighty Eagle in The Angry Birds Movie and its 2019 sequel, Captain Gutt in Ice Age: Continental Drift, and even his Game of Thrones character Tyrion Lannister in the Telltale Games adaptation of the series. He plays Phill Betterman in The Croods: A New Age, the patriarch of a family who claim to be a "better" than the titular cave dwellers.
Leslie Mann (Hope Betterman)
Playing Phil's wife, Hope Betterman, in The Croods: A New Age is Leslie Mann, which is not much of a stretch for the actress whose real-life husband is filmmaker Judd Apatow. Mann is used to playing the Mrs. to immature men, such as in Knocked Up and This Is 40 (both of which saw her married to Paul Rudd), The Change-Up (in which she was, technically, married to both Ryan Reynolds and Jason Bateman), and George of the Jungle, in which she fell in love with Brendan Fraser as a man raised by apes.
Kelly Marie Tran (Dawn Betterman)
Phil and Hope's daughter, Dawn Betterman, really hits it off with Eep when the two families meet in The Croods: A New Age. The young lady is voiced by Kelly Marie Tran, who also voices the title role of Disney's upcoming fantasy film Raya and the Last Dragon, but her best-known role to date is Rose Tico from the previous two films of the Skywalker Saga, but more prominently in Star Wars: The Last Jedi.
Randy Thorn (Sandy Crood)
Despite how much of a scene-stealer Sandy is, you might not recognize the man who plays the youngest member of the Croods, Randy Thorn, by name. That is because, despite lending his voice to several other animated classics (most notably playing Toothless in How to Train Your Dragon 2), he is also the sound designer for both The Croods movies, which is his primary job in Hollywood and has earned him two Oscars (for 1984's The Right Stuff and The Incredibles).
Chris Sanders (Belt)
You may not also recognize Chris Sanders, the man who plays Guy's pet sloth, named Belt for how he spends much of his time wrapped around his human companion's waist. Sanders has also voiced a few memorable animated characters, such as lovable alien from Lilo & Stitch, but his main objective on that Disney film (as well as on How To Train Your Dragon, the first Croods film, and the live action The Call of the Wild, more recently) is directing.
What do you think? Do you find Belt more adorable than ever now that you know he has the same voice as Stitch, or are you a bigger fan of him as a director? Let us know in the comments and be sure to check back for additional information and updates on The Croods: A New Age, as well as even more inside looks into the cast members of your favorite movies and TV shows, here on CinemaBlend.
Jason has been writing since he was able to pick up a washable marker, with which he wrote his debut illustrated children's story, later transitioning to a short-lived comic book series and (very) amateur filmmaking before finally settling on pursuing a career in writing about movies in lieu of making them. Look for his name in just about any article related to Batman.
Your Daily Blend of Entertainment News
Thank you for signing up to CinemaBlend. You will receive a verification email shortly.
There was a problem. Please refresh the page and try again.