After Gaining Weight For Netflix's Ma Rainey's Black Bottom, Viola Davis Shows Off Incredible Workout Progress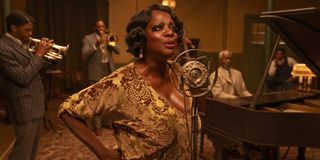 Viola Davis is one of the greatest actresses of our time, and part of the reason for this is her sheer commitment to her roles. From her brief but scene-stealing performance in Doubt to her raw but controlled work in Widows, Davis truly gives any role her all. This can definitely be said of her recent work in Netflix's Ma Rainey's Black Bottom, in which she plays the tenacious and sharp-tongued titular character. Part of Davis' preparation for the film involved gaining weight for the role and, since she completed her work, she's been aiming to get back in shape. Well, the actress shared an update on her progress, and she's looking good!
In the process of preparing to play the late Ma Rainey, Viola Davis wanted to physically embody the late blues singer. Davis knew she wouldn't be able to reach Ma's exact weight, given that the singer weighed nearly 300 pounds. The actress did, however, manage to reach a weight that was close to 200 pounds.
With this in mind, you can imagine that the typically trim Davis was eager to get back into the gym and lose the weight. And when the 55-year-old actress took to Instagram to shout-out her trainer, Gabriela McClain, she showed off the incredible progress she's made. Check out her post below:
Looking at this photo, it's honestly hard to believe Davis ever gained weight in the first place. The actress looks absolutely stunning, and it goes without saying that she's gained her figure back and then some.
Weight gain and loss can be a serious challenge for some performers, but many are able to weather the storm and transform themselves for a role. Actors who play superheroes know all about this, as most must maintain their ripped physiques for years. Kumail Nanjiani just got his first taste of a physical transformation through his prep for Marvel's Eternals. The actor took the internet by storm when he debuted his new bod and has since said that he plans on keeping it, since he feels it's easier to maintain the muscle than it is to regain it.
Speaking of superheroes, Davis' involvement in The Suicide Squad may have been one reason why she aimed to drop the pounds sooner rather than later. James Gunn's superhero flick began shooting shortly after Ma Rainey's Black Bottom wrapped production, and Davis' Suicide Squad character, Amanda Waller, has a vastly different frame from Ma Rainey.
Viola Davis has been praised for her role in Ma Rainey's Black Bottom, but it's great that she was able to get back in shape in an expedient and healthy manner. And I think we can all agree that her commitment is nothing short of inspiring.
Ma Rainey's Black Bottom is now available to stream on Netflix.
Covering superheroes, sci-fi, comedy, and almost anything else in film and TV. I eat more pizza than the Teenage Mutant Ninja Turtles.
Your Daily Blend of Entertainment News
Thank you for signing up to CinemaBlend. You will receive a verification email shortly.
There was a problem. Please refresh the page and try again.