That Time Zac Efron Had His Hairspray Co-Star Do His Laundry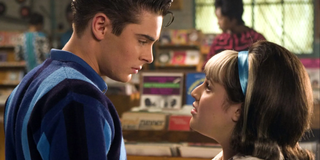 When Nikki Blonsky signed on to star in Hairspray, she probably had no idea what was in store for her. Not only did the film mark a huge turning point in her career, but it also gave her the opportunity to form memorable friendships with her castmates. That included Zac Efron, who, it seems, bonded with his co-star through... laundry?
In the musical Hairspray, Nikki Blonsky plays Tracy Turnblad, a teenager with a passion for dancing and feelings for local heartthrob Link Larkin, played by Zac Efron. The pair grow closer on the set of a local TV variety show and end up seemingly enjoying a happily ever after.
While they played love interests in the film, Nikki Blonsky and Zac Efron's off-screen relationship was entirely platonic. That didn't stop them from falling into some domestic habits while they were filming together, though. Nikki Blonsky reminisced on the Women on Top podcast about how she ended up "helping" Zac Efron with his chores:
It sounds like Nikki Blonsky earned the right to give Zac Efron some grief over his past ways -- but it sounds like the laundry situation didn't do anything to damage their friendship in the long term. Even if she's still publicly dragging him for it, it's good-natured.
Their off-screen familiarity definitely helped with their on-screen rapport. Hairspray was lauded by critics and adored by many fans when it hit theaters in 2007, and many praised the actors' performances, withNikki Blonsky even earning a Golden Globe nomination. Both actors went on to do more work in musicals -- in 2013, Nikki Blonsky had a supporting role in the TV series Smash and, in 2017, Zac Efron appeared opposite Zendaya in The Greatest Showman.
At one point, it seemed like the commercial success of Hairspray was going to lead to a sequel, but that never materialized. If nothing else, at least Nikki Blonsky was able to avoid having to do more of Zac Efron's laundry. It's a good thing, too -- these days she's busy with her podcast, in which she talks to other celebrities. As for Zac Efron, now that he's living in Australia, it doesn't sound like he'll be dropping by her place any time soon.
What do you think about Zac Efron convincing Nikki Blonsky to do his laundry? Let us know in the comments!
Your Daily Blend of Entertainment News
Thank you for signing up to CinemaBlend. You will receive a verification email shortly.
There was a problem. Please refresh the page and try again.