Chris Hemsworth Shows Off Abs And Christmas Cheer In Holiday Photo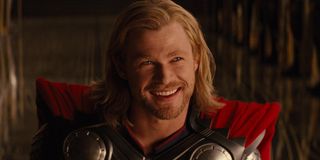 Many people look forward to the holiday season, as it's a time for family, food, fellowship and… abs? Well, at least in the home of Chris Hemsworth and Elsa Pataky, that last thing appears to be part of Christmas as well. It's safe to say that many fans would be excited if they saw Hemsworth around or under their tree, but he's a gift that's reserved for Pataky alone. And to mark the holiday, the actress took to social media to show off her husband in a cheeky post.
It looks like the Hemsworth/Pataky household had a fun Christmas that included plenty of gifts, based on Elsa Pataky's recent Instagram post. However, in addition to the wrapped presents around the tree, Pataky joked that she received another special gift. You can check out her funny post below:
That has to be one of the most realistic Thor action figures I've ever seen, and one can only wonder where Elsa Pataky got it. But in all seriousness, this is a sweet and funny post that shows just how much fun Pataky and Hemsworth like to have with each other.
Chris Hemsworth and Elsa Pataky seem to have a nice relationship, though Pataky has opened up about how it's not always perfect. The two also have a professional relationship, as they've previously worked together on 12 Strong.
Hemsworth's role as Marvel's Thor has also had an interesting impact on their marriage as well. Pataky has humorously mentioned that she and her husband have had arguments about the number of hammers Hemsworth keeps from his Marvel movies. But on the other hand, his role as "Fat Thor" in Avengers: Endgame helped him to better understand his wife's pregnancies.
Of course, Elsa Pataky's image is also a reminder that Chris Hemsworth always manages to stay in top physical condition. Hemsworth always physically commits when it comes to preparing for a role. Just recently, even Hulk Hogan had to marvel at Hemsworth's physique, since the Australian actor is set to play Hogan in a biopic.
As friendly as Hemsworth seems to be, it's likely still a bit intimidating to act alongside him, mostly due to his muscular frame. Natalie Portman, who will soon reunite with him for Thor: Love and Thunder, joked about that very thing when she responded to one of his shirtless photos. The actress, who is currently working out to play the Mighty Thor, joked that she would look like a "little grandma" standing next to him.
Chris Hemsworth has plenty of work ahead of him, but it's nice to see he was able to enjoy the holiday with Elsa Pataky and their family. As busy as his schedule can, Pataky was probably very happy to have her "action figure" for Christmas.
Covering superheroes, sci-fi, comedy, and almost anything else in film and TV. I eat more pizza than the Teenage Mutant Ninja Turtles.
Your Daily Blend of Entertainment News
Thank you for signing up to CinemaBlend. You will receive a verification email shortly.
There was a problem. Please refresh the page and try again.