The Rock And His Daughters Enjoy Christmas Together In Adorable Holiday Photos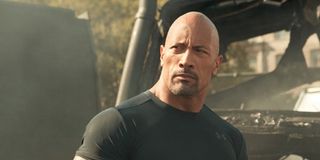 If The Rock has shown us anything over the years, it's that he's a man of many talents. Not only is he a skilled athlete and charismatic actor, he's also an entrepreneur, a leader, and a family man. Over the holiday weekend, he showed us one more side of himself: he's great at executing a perfect Christmas morning for his daughters.
Dwayne Johnson shared a series of images to his Instagram account during the holiday. Each one showed a different step in the Christmas morning process, and each was equally adorable in its own way. In the first post, he gave fans a glimpse of what the magic of Christmas looks like in the Johnson household:
What made the heartwarming image even sweeter was the accompanying message from "Dwanta" (Dwayne + Santa). In it, he made it clear that this moment was just as meaningful for him as it was for his daughter Tia:
Dwayne Johnson's second update showed the reality of parenting through a holiday. This includes watching a movie with your little ones, even if you've already seen it countless times:
Of course, Christmas day can be unpredictable when kids are involved. With this, The Rock also made it pretty clear that even the best laid plans can go awry when his kids are calling the shots:
In the third image, Dwayne Johnson shows what the post-Christmas situation was like in his household. It's predictably adorable:
The photo also reveals the lengths he'll go to when his daughter asks him to play with her after all the toys have been unwrapped. And he's really showing some commitment:
If nothing else, it's clear that Dwayne Johnson placed a high priority on making sure his family had the best Christmas possible. Anyone who's been following him on social media this year won't find that surprising, though. He's regularly kept fans updated about what's going on at home.
That included the good -- like when he got to celebrate reaching a Billboard milestone for his movie, Moana, with Tia, who still doesn't believe he played Maui. It also included the not-so-good, like when he opened up about his family testing positive for COVID-19 this summer.
He's also used his social media accounts to reflect on the fact that this has been a huge year for his career -- wrapping his Netflix film Red Notice and gearing up for his long-awaited turn in Black Adam -- and that he's found time to look for the "silver linings" the time with his family has brought him. Hopefully he, and the rest of us, will be able to make the most of 2021, too.
Your Daily Blend of Entertainment News
Thank you for signing up to CinemaBlend. You will receive a verification email shortly.
There was a problem. Please refresh the page and try again.