Jamie Foxx Thanks Fans After Soul's A Disney+ Holiday Hit With Audiences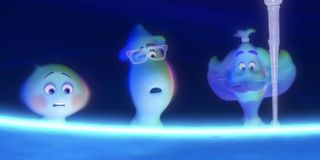 We're going into the new year with things beginning to look up, at least film wise. The Christmas release of Disney's Soul, starring big names such as Jaime Foxx and Tina Fey, is seeing a success like we haven't witnessed since major new films have resumed releasing after COVID shut downs. Not only are fans watching Soul, but they appear to be loving it. The success is sure to be a well-earned relief for those involved with Soul, and star Jaime Foxx thanks fans for the support and the love.
In what is very much a promotion post as well as a thank you to fans who have already watched the films, Jaime Foxx takes to Instagram to express his appreciation for the love the film has already received. He ends his thanks with the phrase "let it touch your soul," a call to action for his fans to watch (or rewatch) and really feel what the film is all about, finding the passion for something that may be forgotten.
And, according to the comments on Jaime Foxx's post, as well as the film's 95% Fresh critic score on Rotten Tomatoes, souls have been touched. The comment section on Foxx's post is full of praise for Soul, some having already rewatched the film with and without their kids. In fact, the only comments in sight that aren't praising the film are posts that are speculating when they can expect a sequel to enjoy.
Now, 2020 has been a rollercoaster of emotions in just about every aspect of life, and the movie industry is no different. Several films that didn't just count their losses and release straight to streaming got put on the backburner or were delayed a seemingly endless number of times. Looking at you, The New Mutants. The brave films that attempted to make a stand in theaters, like Unhinged and Tenet, were the first to test the waters. Disney's Soul was among the second wave of films to attempt a profitable release, and it seems to have done just that.
Soul is the second big release Disney has had forgo theaters and jump exclusively to the Disney+ streaming platform. Mulan was the first and, although highly anticipated, was underwhelming to some viewers. According to Hollywood Reporter, among Disney Plus' 87 million subscribers, 13% signed up in anticipation of Soul and 20% would have canceled their subscription, but will hold onto it after watching Soul. Disney seems to have proven the worth of its streaming service once more to viewers with the new release.
Alongside Wonder Woman 1984 and the overshadowed releases of News of the World and Promising Young Woman (all three of which did go to theaters), Disney's Soul used Christmas Day, historically a huge day for cinema, to fight back against the backlog of films COVID is causing. Although not all Christmas releases this year were individually as successful as Soul, the success of this second wave this holiday season may (fingers crossed) bode well for the future of movie releases as a whole.
One thing is for sure, Jaime Foxx was spot-on with his call to action: after this past year, everyone's soul needed a little bit of Soul. For further info on future new releases, whether it be streaming or theatrical, keep checking back with CinemaBlend's continuously updated guide.
Constantly thinking about books, coffee, and the existential dread I feel from Bo Burnham's Inside. While writing I'm also raising a chaotic toddler, who may or may not have picked up personality traits from watching one too many episodes of Trailer Park Boys.
Your Daily Blend of Entertainment News
Thank you for signing up to CinemaBlend. You will receive a verification email shortly.
There was a problem. Please refresh the page and try again.