See The Crazy Long Universal Studios Line Over The Holiday Week As Parks Hit Capacity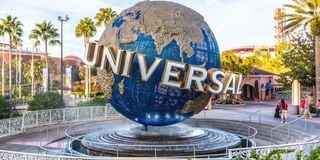 For many of us, the 2020 holiday season was different from years past. The COVID-19 pandemic kept millions of Americans at home -- but others chose to venture out into the world and continue on as best they could. For some, that meant making the trek to amusement parks around the country. That also meant that parks like Universal Studios in Florida reached capacity, which led to some incredibly long lines over the holiday week.
On December 28, 2020, a Twitter user posted a video of the line to get into Universal Studios. If there was any question as to whether or not the pandemic would keep ardent park goers away during what is typically one of the busiest seasons, the footage answers it with an unequivocal "no." Take a look for yourself:
A follow-up tweet in response to another user gave a bit more perspective as to what was going on with the crowd in the video. Take a look for yourself:
This isn't surprising news, if you've been following along with what's been happening at theme parks like Universal recently. Shortly before Christmas Day, we learned that Universal Studios Florida was nearing capacity. Disney World was also filling up around the same time. There have also been stories about altercations between frustrated guests at that and other parks. Still, there's a difference between hearing about the crowds and seeing them firsthand.
Universal Studios Florida, like many other parks, closed temporarily this spring due to the COVID-19 pandemic. It was the first park in the United States to reopen back in June, and it did so with numerous safety precautions in place. Parks like Disney World followed suit soon after, with their own strict safety protocols in place.
Every year, theme parks in Florida like Disney World see a surge in visitors during the end-of-the-year holidays, so these crowds aren't uncommon for this time of year. Still, there are some who argue that visiting an amusement park during a pandemic presents challenges both in terms of enjoyment and safety.
It remains to be seen how long pandemic safety protocols will need to be in place at parks like Universal Studios Florida. What is clear is that fans definitely won't be deterred from visiting, regardless of the situation. That is good news for the parks, some of which have admitted to financial difficulties relating to the pandemic.
What do you think about the holiday crowds at Universal Studios Florida? Are you planning on visiting a theme park in the future? Let us know in the comments!
Your Daily Blend of Entertainment News