Dream Casting A Live-Action Miles Morales Movie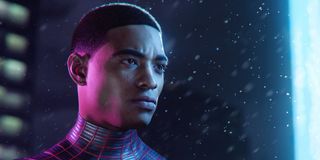 I love dream casting almost as much as I love the Sega Dreamcast. And, with Spider-Man and Miles Morales, in particular, being more popular now than ever before due to Spider-Man: Into The Spider-Verse and his most recent Playstation game, I thought it would be a great time to dream cast a live-action Miles Morales movie (Or TV show. I'm not picky). As with other times where I dream cast movies, I'm well aware that this hypothetical film will likely never happen, so I'm kind of just swinging for the fences with some of these picks and potential storylines. Because it's my list, and I can dream if I want to.
Now, one thing that I want to make perfectly clear is that I don't want this to be an interdimensional story where we get other spider people. I don't even want Peter Parker in this hypothetical movie, because Peter Parker has been done to death, and I want this to be Miles' story alone. I also don't want The Prowler to be the antagonist since that's already been done, too. Instead, I want this to be more like the Playstation title and will pick a more obscure villain, like that game did with The Tinkerer, but also making it more personal to his character. Still with me? Then let's get thwipping!
Miles Morales (Rhenzy Feliz)
Miles Morales is half-black from his father's side, and half Puerto Rican from his mother's side. He's intellectually gifted and is often portrayed as a wiry teenager with a swimmer's build. One of his most defining characteristics as seen in both Spider-Man: Into the Spider-Verse, and the Playstation exclusive, is his desire to make other people proud. What distinguishes him from Peter, besides his ethnicity, are two new powers. One being the venom strike, where he can use electricity, and the other being camouflage, where he can become almost invisible. He's also usually younger than Peter, though he has also been portrayed as being the same age as Peter in the Ultimate Spider-Man Animated Series. He's a cool dude overall.
I want Dominican actor, Rhenzy Feliz, to play Miles Morales. The actor has already done one Marvel property, with the Hulu series Runaways, where he played Alex Wilder, and already showed that he can pull off brainy characters, which would fit Miles to a T. Plus, I think Feliz has a similar body-type as Miles. You might not agree with the other picks on this list (especially my villain), but you can't deny that Feliz would be a perfect fit for the role. That's the problem with these dream casting lists. I always get my hopes up for something that will never be.
Genke Lee (Charles Melton)
Genke Lee is Miles' best friend and confidant. He's Korean-American and rather large in body-type. In fact, some people believe that Ned Leeds is Disney/Marvel's take on Genke Lee without being called as such. He offers Miles insightful advice and often believes more in Miles than Miles even believes in himself. Who doesn't need a Genke Lee in their life?
I want The Sun Is Also A Star actor Charles Melton for Genke, but more for his work on Riverdale than anything else, where he plays the second Reggie Mantle. Yes, Charles Melton is kind of a stud and doesn't really look anything like the Genke from the comics. But, I think he could play the role of a good sidekick who is always there for his buddy quite well, if given the role.
Rio Morales (Rosario Dawson)
Rio Morales is of Puerto Rican descent and has been seen as a nurse in both the comics and in Spider-Man: Into The Spider-Verse, as well as a teacher and politician in the Playstation game. Rio actually dies in the comics. Even so, her character helps shape Miles as an individual, so she's a very important character in his life.
Give me Rosario Dawson for Rio Morales! She's also Puerto Rican (and Cuban), and can play pretty much anybody. Like Rhenzy Feliz, she's also already been in several Marvel properties, as she portrayed Night Nurse in the Netflix Marvel shows like Daredevil and The Defenders. Another plus? It's Rosario freaking Dawson! I'd watch her in anything. Wouldn't you?
Uncle Aaron (Yasiin Bey)
Okay, so because of Spider-Man: Into The Spider-Verse, everybody knows that Uncle Aaron is The Prowler, right? Well, The Prowler, who acts as a cat burglar as well as a mercenary for hire, is a bad dude in Into The Spider-Verse. But it all changes once he realizes that Miles is the new Spider-Man, and he sees the error of his ways. In the comics, The Prowler is much more of a scumbag, even forcing Miles to work for him and take out Scorpion. He is probably Miles' most popular villain, and he'd, of course, have to be the villain for the live-action movie, right?
Not so fast! Because I don't want to tell that story. I actually want to throw a curveball for my movie. In the comics, Uncle Aaron and his brother both start off in a life of crime, but Miles' father reforms and becomes a cop, while Uncle Aaron stays in the underbelly. In my movie (Or TV show), I want Yasiin Bey, better known to most as the rapper, Mos Def, to play Uncle Aaron. And I want HIM to be the one who reforms and becomes a cop. Mos Def just has that personality of being a cool cat who's got wisdom to impart to anyone who will listen, and I think he would be the perfect mentor for Miles. Which just leaves one last character.
Jefferson Davis (Mahershala Ali)
And here's said curveball! In the comics, Jefferson Davis is Miles' dad and a police officer who used to be in the crime scene before he reformed. He actually worked with S.H.I.E.L.D. for a little bit, acting as an undercover agent, and even paired up with The Kingpin before turning into the good guy he would later become. Miles looks up to his father, obviously.
But, here's the thing. Jefferson Davis has actually been a villain as well. On Earth-65, Jefferson Davis is that world's version of Scorpion. In the cartoon Ultimate Spider-Man, he was also the villain Swarm. So, how about this? I know Mahershala Ali voiced Uncle Aaron in Into The Spider-Verse, but what if he played Miles' dad in this live-action version, and he also played the villain? He's already shown that he could pull off a villainous role, as he played Cottonmouth in Luke Cage. But he's also going to be playing Blade, so he's already Marvel royalty. That's why I want Mahershala Ali for Jefferson Davis! Make it happen, people!
Obviously, this movie or TV show will likely never happen, but it was fun dream casting all the same. What do you think? Do these roles totally fit the character, or am I completely off the mark? Sound off in the comments section down below, either way. I'd love to hear your thoughts!
Rich is a Jersey boy, through and through. He graduated from Rutgers University (Go, R.U.!), and thinks the Garden State is the best state in the country. That said, he'll take Chicago Deep Dish pizza over a New York slice any day of the week. Don't hate. When he's not watching his two kids, he's usually working on a novel, watching vintage movies, or reading some obscure book.
Your Daily Blend of Entertainment News
Thank you for signing up to CinemaBlend. You will receive a verification email shortly.
There was a problem. Please refresh the page and try again.