Of Course, Netflix Is Kicking Off Its Top 10 List This Year With An Underrated Liam Neeson Movie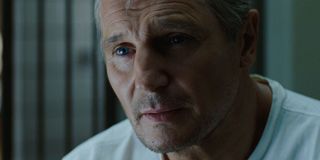 Netflix has become sort of a charmed place for a lot of semi-forgotten movies. This week, in fact, an underrated Liam Neeson flick has made its mark on Netflix's Top 10 list. The move comes after some other flicks from the likes of Mark Wahlberg and Kevin James, have also seen the same fate.
Liam Neeson may honestly be the king of the underrated movie. He had major success with Taken back in 2008 -- a movie he actually expected to flop --which launched him as a certified action star, and he's been churning out new action content in the decade plus since. One of those movies just so happens to be Unknown, the 2011 action-thriller that stars Neeson as a man who is dealing with a case of mistaken identity following an accident that led him to a head injury.
That may not sound like the plot of an action film, but without giving anything away, I assure you it is, in fact, a film that let's Liam Neeson do what Liam Neeson does best. Apparently, I'm not the only one who thinks so either, as Unknown has been absolutely dominating on Netflix this week. On Monday it was in the #3 slot following actual Netflix originals Cobra Kai Season 3 and the newcomer period drama Bridgerton. Today it's slipped into fourth following The Chilling Adventures of Sabrina -- also a TV series -- sliding up a notch.
While Netflix produces or purchases exclusive access to some of its own original movies, one trend that has become more and more common on the subscription streaming service, particularly during 2020, is seeing underrated (and sometimes underwhelming or dare I say unknown) movies popping into the Top 10 list.
Some of these movies have better reviews than others, and in Unknown's case that flick actually only landed a 55% rating on Rotten Tomatoes at the time of its release. But while not the best movie or even the best Liam Neeson movie I've ever seen, it has a solid twist and is engaging through its entire runtime. IMDB users have been kinder on the film too, with Unknown nabbing a 6.8 rating there.
Meanwhile, we've seen Kevin James' Zookeeper also make this remarkable trek onto Netflix's Top 10 list earlier in 2020. And over the Fourth of July holiday, Mark Wahlberg Patriots Day absolutely dominated on Netflix, despite flopping at the box office. So, while Netflix may not have a ton of huge big budget movies from other studios at its disposal, it is making a name for uncovering some forgotten gems and guilty pleasures.
Unfortunately, if all this talk about Unknown has put you on a Liam Neeson kick, there's a dearth of other Neeson content on Netflix. However, you can watch both seasons of the series version of Taken and binge them to your heart's content. Or just see what else is coming to the streamer in January. You can thank me later.
Your Daily Blend of Entertainment News
Reality TV fan with a pinch of Disney fairy dust thrown in. Theme park junkie. If you've created a rom-com I've probably watched it.
Your Daily Blend of Entertainment News
Thank you for signing up to CinemaBlend. You will receive a verification email shortly.
There was a problem. Please refresh the page and try again.