Tiger Woods: 8 Big Things To Know About The Golf Pro Before The HBO Max Documentary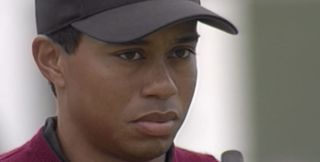 (Image credit: HBO)
Even if you're not a golf fan, it's pretty unlikely you don't know the name Tiger Woods. Woods is not only considered one of the greatest golfers in the game's history, but about as big a sports icon as the likes of Michael Jordan, Tom Brady or LeBron James. Now, he will be the focus of a two-part documentary, Tiger, airing January 10 and January 17 on HBO and HBO Max.
In case the only thing you know about Tiger Woods is that he is that golfer who always wears red shirts, let's lay a bit of ground work on some of the need-to-know facts and why Tiger could be one of the next great sports documentaries.
Tiger Woods Was A Golfing Sensation At 2 Years Old
Most 2-year-olds are still mastering the art of walking, but a 2-year-old Tiger Woods already had a golf swing that, as a 30-year-old who has lost more than his share of golf balls, I'm a little jealous of. Woods showed this raw natural talent in 1978 on The Mike Douglas Show in front of a national audience and celebrities Bob Hope and Jimmy Stewart.
Woods' talent for the game being evident from such a young age has been such an integral part of his legacy. However, his exposure at such a young age has also been criticized, particularly toward his late father Earl Woods. Expect more on that relationship in the doc.
Tiger Woods Bursts Onto The Scene With The 1997 Masters
Prior to 1997, Tiger Woods had already formatted a reputation as one of the greatest amateur players in golf history, winning multiple junior amateur titles, NCAA titles and the only player to win three consecutive U.S. Amateur titles. He also was the low amateur at the 1995 Masters Tournament. He would make a bigger splash at Augusta National just a couple years later.
During the 1997 Masters, less than a year after officially turning pro, Woods won the tournament by 12 strokes, at the time the largest margin of victory at one of golf's four majors in the modern era. It was historic beyond the score, as Woods was the first Black golfer to win a major, and doing it at a tournament that did not have its first Black player participate until 1975; just one of the famous course's unfortunate (now-amended) discriminatory practices.
With Tiger's exuberant cheer on the 18th green, he officially announced that his time had come.
The Tiger Slam
By 2000, Tiger Woods was already widely considered the best golfer on the planet. What he would do that year and into 2001 would cement him as one of the greatest of all time.
Woods earned his third major title at the 2000 U.S. Open, where he outdid his 1997 Masters performance with a margin of victory of 15 strokes, an all-time record. He then won the British Open at St. Andrews (the birthplace of golf), where he shot 19-under par. He let some drama happen in a memorable duel with Bob May at that year's PGA Championship. As the calendar turned to 2001, he set his sights on The Masters. After winning at Augusta for the second time, he completed what has been dubbed the Tiger Slam, holding all four majors at the same time (though not in a single year).
Woods' Chase of Jack Nicklaus' Major Record
After winning the 2001 Masters, his sixth major, people began wondering if Tiger Woods would be able to break the record set by Jack Nicklaus for career majors, 18. For a good portion of Woods' career, it looked more like a question of if, not when.
In 2008, at the age of 32, Woods won his 14th major at the U.S. Open, three years ahead of Nicklaus' pace. However, things in Woods' career got complicated after that (something I'll briefly discuss below and the doc will definitely evaluate). He would not win another major tournament until the 2019 Masters, giving him 15.
Tiger Woods Is As Recognizable A Brand As Michael Jordan
Some athletes' cultural impact goes beyond their sport. As 2020's The Last Dance affirmed, one such athlete is Michael Jordan. Tiger Woods is another.
While obviously masters of different sports (despite Jordan's affinity for golf), they both were depicted as driven and mentally tough competitors that always came through in the clutch. These personas gave them the respect of their peers and fans. But they both were also the two primary faces of Nike - and other brands - making them two of the most recognizable people in the world. Woods even had his own video game series.
According to a 2017 Forbes list of the highest paid athletes of all-time, Michael Jordan is first with $1.85 billion in career earnings. Woods is second with $1.7 billion.
Winning The 2008 U.S. Open On A Broken Leg
In the second half of his career, injuries have been a major concern for Tiger Woods, and it all began at the 2008 U.S. Open. What at first glance just looked like another classic Tiger Woods performance - making clutch putts and shots in a battle with Rocco Mediate that would be decided in an 18-hole playoff - was actually a warrior-like performance with Woods essentially playing on one leg (opens in new tab).
Woods played the tournament after having knee surgery in the spring where it was revealed that he had torn his ACL. Then during the tournament he suffered two stress fractures in his tibia, which caused him often to bend over in pain after shots. It was an incredible performance (and they say golfers aren't athletes), but it would be the start of his lingering problems with injuries.
Off The Course Issues
Tiger Woods' life is, unfortunately, not just limited to the golf course. On Thanksgiving in 2009, Woods crashed his car into a fire hydrant near the driveway of his home. Then the bigger news started to unravel. Woods' reported infidelity to his wife and their eventual divorce became a whole saga.
There would be more instances of weird behavior and troubling personal developments throughout the 2010s that are sure to be delved into during the documentary, but brief highlights (lowlights?) include his intrigue in Navy Seals training and an instance where he fell asleep in his parked car and was believed to be under the influence of painkillers.
Tiger 2.0
Tiger Woods is having a bit of a comeback after all that. In 2018, he won the Tour Championship, his first victory since 2013. As previously mentioned, he would also go on to win the 2019 Masters for his 15th major title. In all, he now has 82 career tournament wins, tied with Sam Snead for most ever.
Things off the course have appeared to stabilize as well personally and with his family. In fact, in December 2020, he played in the PNC Championship, a father-son tournament, with his 11-year-old son Charlie. Charlie Woods showed a game that reminded many of his dad's.
Now that you have a strong primer on Tiger Woods, you can get a much more complete picture with Tiger when Part 1 airs on Sunday, Jan. 10, at 9 p.m. ET on HBO and HBO Max.
Your Daily Blend of Entertainment News
D.C.-based cinephile. Will dabble in just about any movie genre, but passionate about discovering classic films/film history and tracking the Oscar race.
Your Daily Blend of Entertainment News
Thank you for signing up to CinemaBlend. You will receive a verification email shortly.
There was a problem. Please refresh the page and try again.