Bridgerton: What To Watch On Streaming If You Loved The Romantic Netflix Series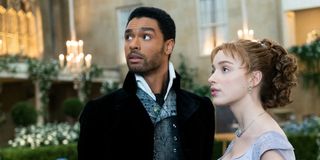 Love is in the air. In an otherwise dark and dreary holiday season, many Netflix subscribers were quick to devour Bridgerton, the romantic period drama series based on Julia Quinn's novel series. Set in the competitive world of Regency London's high society, the latest show from producer Shonda Rhimes mixed sumptuous designs with soapy drama, steamy romance, and a delightful cast, resulting in a popular winter program that was easy to fall head-over-heels for.
For those of you who have already binged this delectable TV adaptation, you're likely looking for another show to pass the time — especially as you wait for Netflix's impending Season 2 announcement. If you loved this sexy series for all its frills and thrills, there are several other shows out there worth streaming in the meantime. And, we have a few recommendations. Here's what you should watch if you loved Netflix's Bridgerton.
Emma. (HBO Max)
Based on Jane Austen's novel, Emma. follows a well-meaning (if insistent) woman (Anya Taylor-Joy) who meddles in the love lives of her friends in 1800s England.
Why It's A Good Option for Bridgerton Fans: With its eye-popping visuals, marvelous costuming, and gorgeous set designs, Emma. is one of the sharpest-looking period pieces in recent memory. Thankfully, the movie's pleasures aren't simply surface-level. Aided by Anya Taylor-Joy's splendid performance, Emma. brings poppy new life to Austen's beloved novel by presenting a whimsical, dryly-humorous take on the material, accompanied by the fresh vision and careful consideration brought by first-time feature filmmaker Autumn de Wilde.
While Emma. might not take the place of Clueless as the best Emma adaptation, this splashy take on the familiar material is both lively and emboldened, presenting piercing social commentary with a sly sensibility. It's as consistently amusing as it is endearingly romantic.
Stream It On HBO Max here.
Outlander (Netflix)
Based on Diana Gabaldon's novels, Outlander follows an English combat nurse in 1945 (Caitriona Balfe) who's mysteriously swept back to 1743.
Why It's A Good Option for Bridgerton Fans: Alright, let's cut to the chase. If you love Bridgerton for its steamy sex scenes, you'll like Outlander. The Starz series has only continued to gain its audience's appreciation for its lush scenery and fantastical storytelling mixed with some of TV's most sensual chemistry.
While Outlander's period quality is widely praised, the folks who loved Bridgerton's sexier scenes will love what this well-established series brings plentifully. While Outlander can be darker and more violent, TV lovers will dig how well it balances its story with its romantic indulgences, making for one enticing series.
Stream It On Netflix here.
Harlots (Hulu)
A brothel owner struggles to raise her daughters in 18th century London.
Why It's A Good Option for Bridgerton Fans: While Harlots hasn't found its stateside audience, the showrunners behind Bridgerton appear to be fans of the historical ITV/Hulu drama. Both shows feature some of the same cast members, as well as an interest in exploring the lives of well-to-do women looking to prove themselves. Even though it never gained a wide audience, Harlots has earned its share of acclaim, and it's a good one to catch up on — especially if you've already made your way through every Bridgerton episode once (or twice) over.
The BBC acquired the rights to Harlots last year and they've been helping the show find its belated audience. Maybe with Bridgerton's rising popularity, Harlots might find its own audience expanding. If you're curious to check it out, all three seasons are available on Hulu.
Stream it on Hulu here.
Downton Abbey (Peacock)
A look into the lives of the aristocratic Crawley family and their servants during the early twentieth century.
Why It's A Good Option for Bridgerton Fans: Downton Abbey is easily one of the most celebrated shows on this list, and it's not hard to see why. With its sophisticated writing, soapy drama, dignified performances, and ravishing period designs, Downton Abbey is quite a sensational treat, and it makes it an easy recommendation for anyone who appreciated the posh pleasures found throughout Bridgerton. The series is good at finding the balance between formal manners and secret indulgences, which makes it easy to see why Downton Abbey's critical/commercial success paved the way for Bridgerton's own fandom.
While Bridgerton is slightly more risque, they both share a fondness for exploring the line between social manners and personal turmoil. Furthermore, once you're caught up with Downton Abbey, you can also (hopefully) enjoy its respectable 2019 film adaptation, which served as a lavish conclusion to this long-running British drama.
Stream It On Peacock here.
Dickinson (AppleTV+)
An inquisitive new look at the life of Emily Dickinson (Hailee Steinfeld).
Why It's A Good Option for Bridgerton Fans: As a feminist take on 19th-century politics and societal standards, Dickinson fits in line with some of the underlying themes found throughout Bridgerton. One of the first shows to premiere on the new streamer, Dickinson was definitely among the most celebrated from the onset.
Featuring Hailee Steinfeld in the titular role, Dickinson follows the struggles that the famous author faced to have her voice heard in a patriarchal society. But, while the show is quick to study gender inequality and the imbalance of societal norms, Dickinson also has its own bouts of romanticism and dramatic intrigue. While AppleTV+ is still trying to find ways to stand out in an overcrowded streaming market, Dickinson is among its earliest successes, and it should win over audiences who found themselves endeared by Bridgerton's own stylish and sophisticated social commentary.
Stream it on AppleTV+ here.
The Great (Hulu)
During the 18th century, a royal woman in rural Russia (Elle Fanning) is forced to choose between her own personal happiness and the future of Russia when she marries an emperor (Nicholas Hoult).
Why It's A Good Option for Bridgerton Fans: Unfortunately, The Great hasn't found the same massive fandom as Bridgerton, which is a shame because it's one of 2020's most acclaimed shows. Starring Elle Fanning as Catherine the Great, which has become one of her most celebrated performances to date (in an already sensational early career), The Great features all the splendid costuming, excellent period details, and bold writing that you'd expect from a series in this vein. But, it also shares Bridgerton's R-rated sensibilities, featuring its fair share of sex and naughty language, among other mature subject matters.
If you're familiar with Catherine the Great's story, you might know what to expect. If you don't, you're in for a treat. It's also elevated by the great (no pun intended) love-hate chemistry between Fanning and Nicholas Hoult.
Stream it on Hulu here.
The Crown (Netflix)
A historical series depicting the reign of Queen Elizabeth II (Claire Foy, Olivia Colman) during the second half of the twentieth century.
Why It's A Good Option for Bridgerton Fans: As one of Netflix's most popular shows (one of its crowning achievements, if you will), you've probably already watched The Crown at least once or twice before you binged Bridgerton. Nevertheless, if you haven't seen this historical recounting of Queen Elizabeth II's reign, you better get on it.
Splendidly vivid in its production design and detail, this expensive period drama is among the most prestigious programs in an already prestigious television era, forging Claire Foy's career ascension while also continuing to prove Olivia Colman's dynamic dramatic talents. Ultimately, this streaming series is far less sensual than Bridgerton's frothy frills. But if you value Bridgerton for how it invites you into the elite world of Europe's most powerful and prestigious personalities, you'll like what The Crown brings to the throne.
Stream it on Netflix here.
The Spanish Princess (Starz)
A historical series centered around Catherine of Aragon (Charlotte Hope), a Spanish princess who navigates the royal lineage of England. It's a sequel to the mini-series The White Queen and The White Princess.
Why It's A Good Option for Bridgerton Fans: Admittedly, The Spanish Princess values its sex appeal over its historical accuracy. If that turns you off, you'll want to look elsewhere. But, many Bridgerton fans were pleased by how the Netflix series incorporates its formal period details with its more liberal-minded romantic impulses. The results make for an elegantly engaging show, which is what many viewers will also appreciate about this Starz series.
Much like Outlander, The Spanish Princess isn't afraid to show more than a few sexy scenes along the way, while also providing some historical accounts. Don't expect this series to help you pass your history test, though. If you don't mind fudged details, check out The Spanish Princess.
Stream it on Starz here.
Pride & Prejudice (2005) (Peacock)
Based on Jane Austen's novel, Pride & Prejudice follows spirited Elizabeth Bennet (Keira Knightley) and her burgeoning romance with the rich and proud Mr. Darcy (Matthew Macfadyen), while also dealing with issues of marriage, morality, and misconceptions.
Why It's A Good Option for Bridgerton Fans: Chances are, if you've devoured Bridgerton, you've seen at least one Pride & Prejudice adaptation. Jane Austen's most famous novel has been told time-and-time again, and the timeless tale will always make its way back onto the screen — either silver or small. While there are several variations of the romantic story, one of the most acclaimed came from director Joe Wright's 2005 film, starring Keira Knightley and Succession's Matthew Macfadyen.
The four-time Oscar-nominated period piece found exciting, inviting ways to make the classic story fresh and new, resulting in one of the most popular and celebrated adaptations. If you adored Bridgerton's unabashed romanticism, you'll find lots to love in pride and prejudice.
Stream it on Peacock here.
Gossip Girl (HBO Max)
Based on the books by Cecily von Ziegesar, Gossip Girl follows privileged teenagers living in the Upper East Side of New York who can hide no secrets from a mysterious blogger who's always watching their every move and misdeed.
Why It's A Good Option for Bridgerton Fans: If you watch Bridgerton, you clearly have an appreciation for shows centered around snarky writers who love to comment on the scandalous world of the rich and elite. If that's the case, you'll love Gossip Girl, one of The CW's most popular shows.
Though Gossip Girl is much more modern than other movies and shows on this list, the show's balance of sex, mystique, and societal intrigue makes it an easy comparison. While the final few seasons don't reach its earlier heights, that hasn't stopped Gossip Girl from being a popular talking point.
Stream it on HBO Max here.
The Tudors (Netflix)
A historical drama following the reign and copious marriages of King Henry VIII (Jonathan Rhys Meyers).
Why It's A Good Option for Bridgerton Fans: If the main thing you loved about Bridgerton was watching people in high society act naughty, you should make a point to check out The Tudors. While Meyers doesn't exactly, err, look the part of King Henry VIII, his sexy presence makes for a series that's easy on the eyes — if not always close to the history books.
In addition to starring Meyers, The Tudors also features an early co-starring role from Henry Cavill, who shed some fancy clothes to play Charles Brandon, Duke of Suffolk, before he adopted the Man of Steel's red and blue suit. If you love how Bridgerton balanced its historical theatrics with its consistent sensuality, you'll definitely appreciate The Tudors. It only lasted a few seasons, but you can stream the Showtime series in its entirety on Netflix.
Stream It On Netflix here.
In addition to these movies and shows, you should also check out Victoria (streaming on Amazon Prime), Bolivar (streaming on Netflix), and Derry Girls (also streaming on Netflix). What are some other shows you'd recommend to Bridgerton's growing fanbase? Let us know in the comments!
Your Daily Blend of Entertainment News
Will is an entertainment writer based in Pittsburgh, PA. His writing can also be found in The Playlist, Cut Print Film, We Got This Covered, The Young Folks, Slate and other outlets. He also co-hosts the weekly film/TV podcast Cinemaholics with Jon Negroni and he likes to think he's a professional Garfield enthusiast.