All The Godzilla Vs. Kong Release Date Changes, And When We Should Finally See The Movie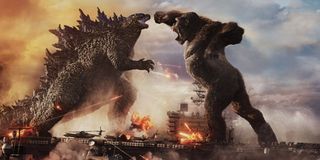 Ladies and gentlemen: the wait is almost over. After three movies and eight years of world building, the MonsterVerse is just about ready to release its very first crossover film, the epic blockbuster Godzilla vs. Kong. The film feels realer than ever now, having just unleashed a trailer this past Sunday, and it's now scheduled to come out at the end of March – but what can't be ignored is that it has taken a surprisingly long time for the movie to make its way to our eye balls, with nearly an extra year tacked on due to release date changes.
While the match-up of the King Of The Monsters and the Champion Of Skull Island was first put on the map toward the end of 2015, it wasn't actually until May 2016 that Warner Bros. and Legendary gave it a release date – planting a flag four years in the future. The original plan was to have Godzilla vs. Kong come out a little over a year after what at the time was simply dubbed Godzilla 2 and play on the big screen at the end of May 2020. That, of course, didn't happen… but we're getting ahead of ourselves.
Godzilla vs. Kong managed to hold on to that May 2020 date for nearly three years – but those plans changed when the things moved around for another major franchise. In February 2019 it was announced that Justin Lin's Fast and Furious 9 (a.k.a. F9) was being bumped from April 2020 to May 2020, and that shift didn't exactly sit well with the blockbuster crossover project for the MonsterVerse. Instead of getting pushed back, however, Warner Bros. instead made the choice to move it up to March 13, 2020.
The next change came about nine months later – but the reasoning isn't quite as clear. In November 2019 it was officially announced by the studio that Godzilla vs. Kong would no longer be a March 2020 release, but instead was going to debut as a Thanksgiving season blockbuster on November 20, 2020. There was no official reason given, but at the time attention was drawn to a quote from Warner Bros chairman Toby Emmerich from June 2019 that had the executive talking about delaying the film in hopes of making it "an A+ movie."
In retrospect it kind of seems like a precognitive move, as it put the feature in a much better position when the COVID-19 pandemic hit in the early months of 2020. That luck ran out by June, however, when it was understood by the studio that all theatrical blockbuster plans were not going to play out in the back half of the year. It was at that point that Godzilla vs. Kong made its first step into 2021 – once again dated for late May.
About six months later the whole release strategy changed, with Warner Bros. announcing that their entire 2021 slate would debut day-and-date in theaters and on HBO Max, and presumably thanks to that news Godzilla vs. Kong got a bit of a bump. At a time when most big movies were getting pushed back, the blockbuster fight between the legendary monsters got pushed up, and it was announced that the film would be released on March 26, 2021.
That changed ever so slightly today, as Godzilla vs. Kong was moved back five days so that it will now premiere on March 31, 2021 – but we can keep our fingers crossed that will be the last move it makes. Should that hold true, that means that as of this article being published there are just a little over two months left to go before its arrival, and you can be sure that we're counting down the days.
NJ native who calls LA home; lives in a Dreamatorium. A decade-plus CinemaBlend veteran; endlessly enthusiastic about the career he's dreamt of since seventh grade.
Your Daily Blend of Entertainment News
Thank you for signing up to CinemaBlend. You will receive a verification email shortly.
There was a problem. Please refresh the page and try again.