How To Watch Denzel Washington's The Little Things Streaming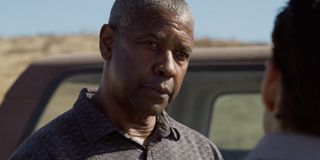 CinemaBlend participates in affiliate programs with various companies. We may earn a commission when you click on or make purchases via links.
More so than ever before, we are presented with a great deal of challenges when it comes to seeing the latest movies. Luckily, film studios, like Warner Bros. who introduced a remarkable yet controversial release plan for its 2021 releases, there are modern solutions to these very modern problems. Over the course of the next year, we'll be able to watch more than a dozen theatrical releases from the comfort of our homes or anywhere else with a stable internet connection. The upcoming crime thriller starring Denzel Washington, Rami Malek, and Jared Leto, will soon be the first of many 2021 movies to try out this revolutionary release approach and we'll be watching The Little Things streaming with little to no trouble at all.
Where Is The Little Things Available Streaming
Starting Friday, January 29, everyone with an HBO Max subscription will be able to follow Kern County Deputy Sheriff Joe "Dek" Deacon (Denzel Washington) and Los Angeles Police Department detective Jim "Jimmy" Baxter (Rami Malek) attempt to pin the crimes of vicious serial killer preying on the residents of the Greater Los Angeles metropolitan area on Albert Sparma (Jared Leto), a strange man who seems to be the perfect match for the focus of the manhunt.
If you have an active HBO Max account, all you will need to do is sign in and then click on The Little Things banner and before you know it, you'll be following two dogged detectives, one of which has a checkered past, as they get to the bottom of the mystery at hand, even if the results will upend their lives and reputations. But don't waste any time because The Little Things will only be streaming on HBO Max for 30 days.
Watch The Little Things on HBO Max here (opens in new tab).
If you're not an HBO Max subscriber, you can sign up here (opens in new tab).
Have you considered using a VPN? You may already use one as a way to keep your internet access secure when using public wi-fi, but did you know you can use a VPN to watch your favorite streaming content when you're traveling out of region? If you're traveling out of the U.S. area and still want to catch The Little Things on HBO Max, consider using a VPN (opens in new tab).
Will The Little Things Be On Netflix?
Chances are, whenever you recommend a movie to someone, the first question out of their mouth is "Can I watch that on Netflix?" You can't fault them for it because Netflix was the first streamer for most of us out there. But not every movie is on Netflix, which happens to be the case for The Little Things. And since The Little Things is streaming exclusively on HBO Max until the end of February (remember, it's part of those Warner Bros. plans), we won't see the crime thriller on Netflix for quite some time, if ever at all.
If You've Seen The Little Things, Here Are Some Other Under-The-Radar Movies To Get Excited For
Despite having a cast that features not one, not two, but three Academy Award winners, The Little Things was one of those movies that wasn't getting talked about a whole lot leading up to its January 29 release. Sure, there was a TV spot released in the weeks leading up to its premiere, but you would think that a serial killer thriller with Denzel Washington, Rami Malek, and Jared Leto would have been all over the place. But The Little Things isn't alone in this regard.
If you've seen The Little Things and want to read about other under-the-radar movies that are scheduled to be released throughout 2021 then CinemaBlend has you covered. From Breaking Bad alum Bob Odenkirk proving he's a total badass in Nobody to the Will Smith-led Richard Williams biopic King Richard (which also comes out on HBO Max), there's a lot coming out this year that you may not have heard of.
Remember, this is just the beginning of the Warner Bros. rollout of 2021 theatrical releases that will drop on HBO Max the same they open at your local movie house. With at least one movie coming out every month for the rest of the year, it looks like we're going to be quite busy this year.
Philip grew up in Louisiana (not New Orleans) before moving to St. Louis after graduating from Louisiana State University-Shreveport. When he's not writing about movies or television, Philip can be found being chased by his three kids, telling his dogs to stop yelling at the mailman, or yelling about professional wrestling to his wife. If the stars properly align, he will talk about For Love Of The Game being the best baseball movie of all time.
Your Daily Blend of Entertainment News
Thank you for signing up to CinemaBlend. You will receive a verification email shortly.
There was a problem. Please refresh the page and try again.