Friday The 13th Is The Subject Of Another Lawsuit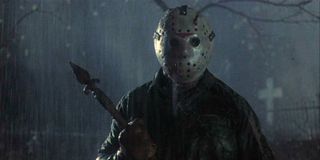 The Friday the 13th film franchise has scared and delighted fans for more than three decades. While it isn't the most successful horror series in Hollywood history, it is still one of the most memorable. It's also one of the most litigated -- and now a new lawsuit filed by the original film's director has added yet another layer of complication to the series' legacy.
According to The Hollywood Reporter, the lawsuit was filed by Friday the 13th producer and director Sean Cunningham and deals with net profits from the franchise. He argues in his filing that the contingent compensation from the Friday the 13th films have been "systematically misaccounted" by Paramount Pictures and Warner Bros., the studios that have distributed them.
Sean Cunningham alleges that the studios have improperly dedicated fees and bonuses associated with Friday the 13th. He also asserts that they've underreported merchandise revenue and pay TV income and have undervalued the film's licenses. In addition, the lawsuit claims that both studios have redacted license agreements, which has prevented Cunningham from getting a full grasp on what the financial state of the franchise is. The filing claims that to date, the franchise has grossed $129 million.
As mentioned, this is not the first lawsuit that has been fought over Friday the 13th. Several of the people who worked on the original 1980 film, including screenwriter Victor Miller and director Sean Cunningham, have been locked in legal battles over creative rights of the franchise for years. In 2018, Victor Miller won a lawsuit that awarded him creative ownership of Friday the 13th in the domestic market, despite producers' claims that he was commissioned under creative control of Sean Cunningham and therefore not entitled to the ownership. Sean Cunningham has filed an appeal, and both parties are currently awaiting a decision.
Another legal dispute as to who has the rights to the main villain, Jason Voorhies, is still undecided. These proceedings are a large part of the reason why Friday the 13th has not enjoyed the same resurgence as other horror franchises, like Scream and Halloween. The appealed suit between Victor Miller and Sean Cunningham involves labor and copyright issues and, until it's resolved, no work can be completed on any new films.
Though there's definitely an interest in rebooting the classic series, this new lawsuit could mean further delays in that becoming a reality. However, given that it deals with income that has already been collected, there is a chance it may not impact the future of the franchise to the same degree that the other lawsuits have.
The Friday the 13th franchise has reached cult status for countless horror fans. There are currently 12 films in total, with the latest in the series -- a reboot starring Jared Padalecki and Danielle Panabaker -- having been released over a decade ago.
Your Daily Blend of Entertainment News