The Many Saints Of Newark: 8 Quick Things We Know About The Sopranos Prequel Movie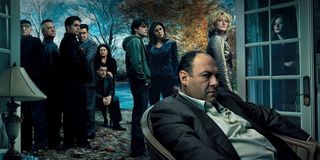 Over 13 years ago, The Sopranos aired its final episode on HBO. The prestige series' final hour has been heavily debated, but it hasn't robbed the acclaimed show of its staying power in pop culture. Even more-than-a-decade after it concluded, The Sopranos remains one of the most discussed and celebrated shows in American history, and it's not surprising to know that creator David Chase has decided to return to his beloved property. But rather than continue Tony Sopranos' story, The Many Saints of Newark, the upcoming prequel film to the adored show, will take us back to the 1960s in order to explore the cinematic origins of our criminal characters.
Expectations are certainly high, and The Sopranos' multitude of fans will soon get a chance to see the movie for themselves when it comes to theaters and HBO Max later this fall. But in the meantime, we know a few quick facts about the forthcoming prequel, which we'll share with you now. Here's what we know (so far) about The Many Saints of Newark.
The Many Saints Of Newark Is The Feature-Length Prequel To HBO's The Sopranos, Set In The 1960s
While the show is known for its abrupt departure, it's also a pretty definitively conclusive end to the story. While there are avenues to explore or stories that could be followed in a way that's reminiscent of Breaking Bad's El Camino from a couple of years earlier, David Chase insisted that the only way to return to The Sopranos was to go back, not forward.
Specifically, the upcoming movie's screenwriter would take the story back to the 1960s and follow Tony Soprano during his late teens or early 20s, before he became the established criminal and disgruntled family man we saw throughout the series' run. Certainly, many viewers would like to know how Tony Soprano became the man we know in the show, but that might not be the centerpiece of the story. But we'll discuss that more in just a bit.
The Cast Includes Michael Gandolfini, James Gandolfini's Son, As Tony Soprano
Quite sadly, James Gandolfini is no longer with us. The film and television actor was only 51 when he passed away following a sudden heart attack, leaving the world with decades of great performances that would never be realized. He was an immense talent, capable of being gentle or brutish, cold or approachable, and to know him only as Tony Soprano robs you of his other outstanding performances throughout an impressive and withstanding career. Certainly, it's hard to know who could channel the actor's incredible performance, particularly during the character's early years. But in a touching decision, it was decided that Michael Gandolfini, the son of the late actor, would take over his dad's most famous character in this prequel.
Considering that Michael Gandolfini is still establishing himself as an actor, we're still unfamiliar with what he can do as a performer, especially as this character. But that's certainly one aspect of the movie that we're very curious to see and discover for ourselves.
Michael Gandolfini Watched The Sopranos For The First Time To Prepare For This Role
Born in 1999, Michael Gandolfini came into this world the same year that The Sopranos first aired on television. Considering the graphic material in the show, it makes sense that he wasn't exposed to the series during his formative years. But when his father passed away, it was understandably hard for him to watch his father's most iconic performance. It's something that the son ultimately put off for years before he was ultimately cast in this new film.
When he was given the chance to put on his father's shoes and play this role, he knew that he needed to finally watch the show and study his late dad's performance. As he discussed in an interview with Esquire, the young Gandolfini came into acting after his father's death, as a way to heal, and he learned to love the craft and use it as a cathartic way to find clarity. Certainly, this performance must have been a deeply personal and gratifying experience for the young up-and-coming actor.
Alessandro Nivola Is Expected To Play The Central Character As Dickie Moltisanti, Christopher's Father
While Michael Gandolfini's young Tony Soprano will factor heavily into The Many Saints of Newark's story, Alessandro Nivola revealed in a red carpet interview with the AP that he's actually in the "central role" as Dickie Moltisanti, i.e. the father of Christopher (Michael Imperioli). Nivola's character is referenced during the HBO series but never seen since the character died while Christopher was an infant in the 1970s. It's known that Dickie Moltisanti was a soldier and an addict, though it'll be interesting to see how his story correlates to the overarching narrative prior to The Sopranos, and how his last few years were connected to Tony Soprano.
David Chase is always known to go in directions you wouldn't naturally expect, as made evident by The Sopranos' series finale. Hopefully, the decision to focus less on young Tony Soprano and more on the living years of Dickie Moltisanti proves to be worthwhile.
Vera Farmiga, Ray Liotta, Leslie Odom Jr., Jon Bernthal, And Corey Stoll Are Also In The Many Saints Of Newmark Cast
In addition to starring Alessandro Nivola and Michael Gandolfini, The Many Saints of Newark will feature the supporting talents of Vera Farmiga, Ray Liotta, Leslie Odom Jr., Jon Bernthal, and Corey Stoll. That's an outstanding cast, but when you make a film set inside the world of The Sopranos, you can expect some major players to come on-board. Furthermore, this movie will also feature performances from Billy Magnussen, John Magaro, and Joey Diaz, to name a few. We also wouldn't be surprised if there are a few additional cameos that'll be discovered after the movie's upcoming release.
The Many Saints Of Newark Is Set In The Explosive Era Of The Newark Riots, Challenging The All-Powerful DiMeo Crime Family
While details remain limited when it comes to the plot of this prequel, it has been announced that The Many Saints of Newark will be centered around the era of the Newark riots, where African-American and Italian-American communities were often in conflict and there were dangerous rivalries to be found. During the plot of the film, we watch as these rival gangsters begin to rise up and challenge the all-powerful DiMeo crime family, which has a hold over the city. From there, we'll follow the various personalities connected therein, including a young Tony Soprano.
Sounds like a promising return to the world of The Sopranos. Hopefully, The Many Saints of Newark matches the continued staying power of the show. But we won't have long to wait.
Unsurprisingly, The Sopranos Prequel Movie Is Rated R
As one of the first must-see shows in subscription television history, The Sopranos became a conversation starter not merely for its excellent writing, direction, and performances but for the liberties it was afforded under HBO's service. Characters could swear, have sex, kill without mercy, and act in other ways that were often seen as too obscene for regular television. Thus, it should come as no surprise that The Many Saints of Newark, the HBO show's cinematic follow-up, also carries an R-rating. It has been deemed as such by the MPAA for its "strong violence, pervasive language, sexual content, and some nudity." Basically, everything you would expect to see in an episode of The Sopranos. Some things should never change.
The Many Saints Of Newark Will Premiere In Theaters And On HBO Max On October 1, 2021
Previously, The Many Saints of Newark was set to debut in theaters nationwide on September 25th, 2020. However, the COVID-19 pandemic delayed the movie's release to March 12, 2021. It was shortly thereafter that it was announced that this movie would be one of many Warner Bros. titles set to be released in theaters and on HBO Max on the same day. This Sopranos prequel got delayed again to September 2021, a full year after its original release date. And then in June 2021, the movie was pushed back once again, with its current release date set for October 1, 2021.
Even if the pandemic prevents some moviegoers from heading to the theater, they can watch The Many Saints of Newark safely from the comforts of their living rooms with an HBO Max subscription (applicable to the ad-free membership tier only).
Are you excited to see The Many Saints of Newark? Let us know in the comments!
Your Daily Blend of Entertainment News
Will is an entertainment writer based in Pittsburgh, PA. His writing can also be found in The Playlist, Cut Print Film, We Got This Covered, The Young Folks, Slate and other outlets. He also co-hosts the weekly film/TV podcast Cinemaholics with Jon Negroni and he likes to think he's a professional Garfield enthusiast.