Denzel Washington Reveals How He Gains Weight For Movies Like The Little Things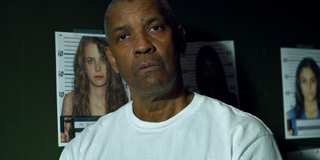 Actors have been known to go to some insane lengths to get into character. Just look at performers like Jared Leto and Christian Bale. One is a dedicated method actor who refuses to break character on set, and the other is the king of body transformation. For his latest role in The Little Things, Denzel Washington took a page out of Bale's book and decided to tack on a few extra pounds to give his character that I'm-too-damn-old-for-this look. While the results were impressive, adding on all that extra weight comes with a pretty strict dieting regimen.
Denzel Washington recently revealed how he gained those extra pounds for The Little Things. More specifically, the foods that got him there. As the two-time Oscar winner put it,
In his interview with USA Today, the Oscar-winning actor mentioned that gaining all that weight required a bit of strategic eating. He jokingly alludes to the sacrifices he makes for his characters, while calling the whole process a literal cake walk. Well, as much of a cake walk as eating cake, ice cream and milkshakes everyday could be. He does mention that while it's not the healthiest diet in the world, it got the job done.
In The Little Things Denzel Washington plays Joe "Deke" Deacon, an over-the-hill deputy sheriff who suspects Albert Sparma, played by Jared Leto, as a serial killer. The film released last Friday and has already set a record for an R-rated film released during the COVID-19 pandemic. The HBO Max exclusive also stars upcoming Bond villain Rami Malek as Jim Baxter, an LASD detective.
The Little Things is the first feature to star Denzel Washington since 2018's The Equalizer II. It looks like critics were just as lukewarm on his return to the big (and small) screen. However, Denzel Washington has another high-caliber prestige project on the horizon.
The Training Day star is set to pair up with Frances McDormand, Brendan Gleeson and more in Joel Coen's adaptation of Shakespeare's Macbeth. While there is no set release date for the project, it is expected to for sometime in 2021. Denzel Washington has already had an incredible career, taking home numerous awards including two Academy Awards, so fans may be excited to see the actor return to more dramatic roles.
Until then, Denzel fans can now check out The Little Things in theaters or on HBOMax. As for the rest of this year's movie slate, be sure to check out CinemaBlend's 2021 Release Schedule for the latest on everything coming to the big screen.
Your Daily Blend of Entertainment News
Into tracksuits by Paulie Walnuts, the Criterion Channel and Robert Eggers.