John David Washington And Zendaya: What To Watch Streaming If You Like The Malcolm And Marie Stars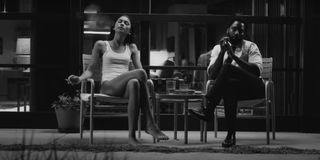 John David Washington and Zendaya star in the new Netflix original movie Malcolm and Marie. The two actors play a couple whose relationship is tested during one night. It was written and directed by Sam Levinson (best known for writing Euphoria). Malcolm and Marie was one of the first major films created during the lockdown. Many people heard of Malcolm and Marie because of how it was created but stayed for actors on the rise Zendaya and John David Washington.
Zendaya has been acting since she was 14, but over the last few years, she has shown that she's a force in Hollywood. John David Washington also appeared in movies at a young age, because of his famous father, but he really started to establish his acting career in 2015. After watching Malcolm and Marie, you may want some more Zendaya and John David Washington films and TV series in your life, so here are a few suggestions.
Zendaya - Euphoria - HBO Max
Euphoria is a teen drama that focuses on relationships, friendships, life, love, family, and more serious topics like consent, abuse, and drug addiction. Zendaya plays Rue Bennett in Euphoria. She starts the series fresh out of rehab, trying to cope with her addictions, various mental illnesses, and a secret love for her best friend. Her role as Rue earned Zendaya her first Emmy nomination and win.
Euphoria is a gritty teen drama that allows Zendaya to shed her Disney roots and take a more mature role. It also allows her to play a complex character struggling and trying to find belonging and acceptance. Euphoria is an intense drama, but worth watching for the performances, especially by Zendaya. Euphoria was renewed for season 2 on HBO Max, so now is the perfect time to catch up before the next season.
Stream Euphoria on HBO Max here (opens in new tab).
John David Washington - Monsters And Men - Hulu
Monsters and Men is a film written and directed by Reinaldo Marcus Green. It tells three interlocking stories, following three main characters: Dennis (John David Washington), Manny (Anthony Ramos), and Zyrick (Kelvin Harrison Jr). Monsters and Men focuses on a shooting of an unarmed black man and how these men react to it. Washington plays a cop.
The film deals with Dennis's conflicting emotions about protecting his fellow cops and thinking his job is vital and critical, but also knowing the struggles of being a black man in society--cop or not. Monsters and Men is one of John David Washington's first lead roles and it is an interesting look at these men's lives and society as a whole and the treatment of men of color. John David Washington, Kelvin Harrison Jr., and Anthony Ramos are three actors to have on your radar, so Monsters and Men is definitely worth watching.
Stream Monsters and Men on Hulu here (opens in new tab).
Zendaya - Spider-Man: Far From Home - Starz
Spider-Man: Far From Home is the sequel to 2017's Spider-Man: Homecoming. It follows Peter Parker (Tom Holland) as he goes on a class trip to Europe. Peter is looking forward to this time away from New York City as his Spider-Man duties become increasingly stressful. He's also dealing with not-existing for years and the death of his mentor Tony Stark (Robert Downey Jr.), Zendaya reprises her role of Michelle, better known as MJ, in this film.
Zendaya has a bigger role in Spider-Man:Far From Home as Peter and her have developed feelings for each other, but they're not sure how the other one feels. Peter is also still trying to keep his identity a secret from MJ and the rest of the world. Spider-Man: Far From Home is a fun movie that's a lighthearted superhero movie with some moments that tug on the heartstring.
Stream Spider-Man: Far From Home on Starz here (opens in new tab).
John David Washington - Ballers - HBO Max
Ballers was an HBO original series that aired for five seasons. Dwayne Johnson plays the main character Spencer Strasmore, a retired NFL player. Ballers follows Strasmore as he embarks on his new career as the financial manager for other NFL players. John David Washington plays Ricky Jerret, a competitive NFL player.
Jerret is the son of former NFL player Dennis Jerret (Robert Wisdom). Ricky Jerrett has played on many teams but often drafted because of his field antics. He's a hothead with an ego, but he has enough charm to win people back over to his team. John David Washington played football professionally before returning to the world of acting, so he could bring a perspective to this role that many actors couldn't. Ballers is John David Washington's first main role.
Stream Ballers on HBO Max here (opens in new tab).
Zendaya - The Greatest Showman - Disney+
The Greatest Showman is a 2017 original musical that stars Hugh Jackman as P.T Barnum. It tells the story of Barnum's rise to fame with his circus and performers. The Greatest Showman shows the ups and downs of his life, like being doubted by his wife's parents because of his poor background and losing himself to fame. The Greatest Showman cast includes Zendaya, Zac Efron, Michelle Williams, and Rebecca Ferguson.
Zendaya plays Anne Wheeler, an acrobat and trapeze artist. She falls in love with P.T Barnum's business partner Philip Carlyle (Zac Efron). Carlyle and Anne want to be together but the racial prejudices of the time make that difficult. The Greatest Showman is a must-see if you really enjoy musicals, especially pop ones. Zendaya and Zac Efron also get you invested in their romance so much that you're likely still singing "Rewrite the Stars."
Stream The Greatest Showman on Disney+ here (opens in new tab).
John David Washington - Love Beats Rhymes - Netflix
Love Beats Rhymes is a movie about aspiring female rapper Coco (Azealia Banks). It's about her journey trying to make it in the rap industry, while also balancing going to school. Love Beats Rhymes's cast includes a collection of respected musicians, like Jill Scott, Mc Jin, Common, and Method Man. John David Washington has a supporting role as Mahlik.
Mahlik is a wannabe gansta rapper who is in a band with Coco. He's also her sometime lover and collaborator. Mahlik represents the men trying to hold Coco back from reaching her full potential and achieving success. Love Beats Rhymes is a film that shows how poetry and rap are interlinked and how both require full honesty, creativity, and devotion.
Stream Love Beats Rhymes on Netflix here (opens in new tab).
Zendaya - Shake It Up - Disney+
Shake It Up is a Disney Channel original series that aired from 2010 to 2014. Bella Thorne and Zendaya had lead roles as CeCe Jones and Rocky Blue. The best friends have their dream come true when they become professional dancers on the local series "Shake It Up, Chicago!" Like many family Disney Channel series, Shake It Up follows the professional and personal misadventures of these two girls.
Shake It Up is Zendaya's first major role in a series. The show is lighthearted family programming with wacky adventures and the main message on the bonds of friendship and family. The series is to watch if you want a simple comedy that's good for all ages. It's also an interesting look at the start of Bella Thorne and Zendaya's careers and the evolution of it, from Disney Channel kids to adult women in Hollywood.
Stream Shake It Up on Disney+ here (opens in new tab).
Zendaya - The OA - Netflix
The OA is a science fiction mystery series about a woman who resurfaces after being missing for seven years. There is a lot of mystery surrounding her disappearance and whether it involved traveling to another planet. Brit Marling stars and co-created the series. Netflix canceled The OA after two seasons.
Zendaya appeared in a few episodes of The OA's second season. She plays Fola. Detective Karim (Kingsley Ben-Adir) meets Fola while looking for a missing girl. The missing girl became addicted to an online game. Karim finds a house where other addicts of this game stay. Fola helps Karim by offering him insight into the game. In an interview with Vulture, Kingsley Ben-Adir mentioned that Zendaya was a fan of the series and so was her dad. She didn't let him know that she was going to be on it, so she could surprise him with her cameo. Though Zendaya isn't a main character on The OA, the series is worth watching if you enjoy unique, complex series.
Stream The OA on Netflix here (opens in new tab).
Zendaya-Zapped-Tubi
Zapped is a Disney Channel original movie starring Zendaya, Chanelle Peloso, Emilia McCarthy, and Spencer Boldman. Zendaya plays the lead character, Zoey. Zoey's life gets disrupted when her mom remarries, giving her a loud stepdad and three new stepbrothers. Zoey also starts a new school and her first day is just as chaotic as her new family life.
Her phone gets broken but somehow it malfunctions into an app that allows her to control the people in her life and school. Zapped is a Disney Channel movie that's a bit silly, but another film that showcases Zendaya's comedic abilities.
Stream Zapped on Tubi here.
Zendaya - K.C.: Undercover - Disney+
K.C. Undercover is a Disney Channel original series that aired from 2015 to 2018. It stars teen spy K.C. and her family of spies. It blends family issues with missions to save the world. The K.C. Undercover cast includes Veronica Dunne, Kamil McFadden, Trinitee Stokes, Tammy Townsend, and Kadeem Hardison.
K.C. Undercover is a unique premise for a family series that's kid-friendly but a little more complex than the typical Disney Channel series, but it's still lighthearted and simple enough to appeal to most ages. It's also Zendaya's last major Disney show before transitioning to more adult roles.
Stream K.C Undercover on Disney+ here (opens in new tab).
If you want more John David Washington options, BlackKklansman is available to rent or purchase on VOD and Monster will be available on Netflix in 2021. You can next see Washington in Beckett,a thriller coming to Netflix in 2021. You can next watch Zendaya in Dune. Dune will be released in theaters and on HBO Max on October 1. You can also catch Zendaya reprise her role as M.J. in the untitled Spider-Man 3 movie. It's currently scheduled for a December 17 release.
Watch Zendaya and John David Washington as Malcolm and Marie in Malcolm & Marie streaming on Netflix on February 5. Stream it here (opens in new tab).
Spent most of my life in various parts of Illinois, including attending college in Evanston. I have been a life long lover of pop culture, especially television, turned that passion into writing about all things entertainment related. When I'm not writing about pop culture, I can be found channeling Gordon Ramsay by kicking people out the kitchen.
Your Daily Blend of Entertainment News
Thank you for signing up to CinemaBlend. You will receive a verification email shortly.
There was a problem. Please refresh the page and try again.