Joe Manganiello Drops First Look At Deathstroke's Snyder Cut Look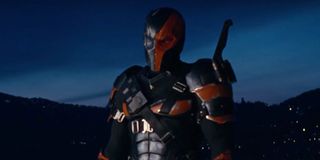 Following the conclusion of Justice League's main story in 2017, viewers briefly met one of DC Comics' most feared mercenaries: Slade Wilson, a.k.a. Deathstroke, played in the DC Extended Universe by Magic Mike star Joe Manganiello. Fast-forward three years, Zack Snyder's Justice League, a.k.a. the Snyder Cut, is being assembled, and Manganiello was one of the actors who came back to film some extra scenes.
While it's still unclear how Deathstroke fits into the Snyder Cut picture beyond seeing him in the original version of Justice League's post-credits scene, Joe Manganiello has shared our first look at the one-eyed antagonist in this four-hour cut of the superhero epic. Take a look:
We'd already seen Joe Manganiello's blonde mohawk (which has since been dyed blue) on social media, but it's nice to see this hairstyle as part of the full Deathstroke ensemble, especially that glorious eyepatch. Unfortunately, there's no way to tell what's happening in this scene, although it is worth noting that this is a different eyepatch than the one Slade Wilson was wearing at the end of the theatrical Justice League. Whether that means the new Deathstroke scene(s) take place in a different time period than the main narrative or Snyder simply like this other eyepatch design more is unclear.
For those who need a refresher, Deathstroke appeared at the end of Justice League's theatrical cut to meet with Lex Luthor, who had recently escaped Arkham Asylum. Luthor attempted to recruit Deathstroke into a league he was putting together to combat the newly-formed Justice League, which included the resurrected Superman among its ranks. Manganiello is the first actor to play Deathstroke in a movie, while on TV, the character has been played in live-action by Michael Hogan, Manu Bennett and Esai Morales.
Following Justice League's release, there were plans to not only have Joe Manganiello's Deathstroke as the main antagonist in The Batman, but to also give the character his own movie. However, The Batman has since transitioned from a platform for Ben Affleck's Caped Crusader into an entirely different movie set in its own continuity and starring Robert Pattinson in the cape and cowl, and it doesn't seem like the Deathstroke movie is a priority over at Warner Bros.
As such, Zack Snyder's Justice League will be our second and possibly final time seeing Joe Manganiello's Deathstroke, and luckily for Joe Manganiello, it sounds like the character has a little more to do this time around. Again, what that is hasn't been revealed yet, although considering that the Snyder Cut will also include Jared Leto's Joker, perhaps we'll be taking a trip to Arkham Asylum and seeing Deathstroke break Lex Luthor out of the facility. It's also been speculated that Deathstroke might be part of a new vision of the Knightmare future that was briefly shown in Batman v Superman: Dawn of Justice.
In any case, more Deathstroke is just one of the many ways Zack Snyder's Justice League will stand out from the theatrical cut of the movie. The Snyder Cut will also reestablish Cyborg as the "heart of the story," as well as feature Superman wearing his black suit and a redesigned Steppenwolf. Along with The Joker, other brand-new characters showing up include Darkseid, Iris West, Ryan Choi and DeSaad.
Zack Snyder's Justice League will premiere on HBO Max sometime in 2021 as a four-part miniseries. While we keep waiting for that to arrive, check out our DC movies guide to learn what this corner of the superhero movie market has heading to theaters in the coming years.
Your Daily Blend of Entertainment News
Connoisseur of Marvel, DC, Star Wars, John Wick, MonsterVerse and Doctor Who lore. He's aware he looks like Harry Potter and Clark Kent.
Your Daily Blend of Entertainment News
Thank you for signing up to CinemaBlend. You will receive a verification email shortly.
There was a problem. Please refresh the page and try again.