Upcoming Mark Hamill Movies And TV: What The Star Wars Star Is Doing Next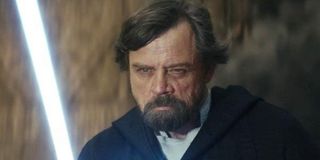 You know him as Luke Skywalker. You've heard him as The Joker. You might've heard his villainous portrayal of Fire Lord Ozai from Avatar: The Last Airbender. However you know the legendary actor/voice actor best, there's a better-than-decent chance that you're familiar with the vast work of Mark Hamill. The famous performer has 350-plus credits to his name and he currently has several more lined-up, as the hard-working celeb keeps himself active with a number of projects — animated or otherwise. It's a credit to his versatility that he can channel a variety of different characters with ease.
Most recently, Mark Hamill surprised streamers with his motion-captured cameo in Disney+'s The Mandalorian Season 2 finale (spoilers!), which brought the actor back (once more) to the space-based franchise that turned him into a superstar. While it's unclear if he's expected to make any future appearances in a galaxy far, far away, we do know some of his upcoming projects, which we'll discuss in more detail in just a bit. If you love Hamill, here are the movies and shows that you can look forward to seeing.
Invincible - March 26th (Completed)
Based on the graphic novel of the same name by Robert Kirkman, Ryan Ottley, and Cory Walker, Invincible is an adult animated superhero drama series from the co-creator of The Walking Dead that explores the ordinarily extraordinary (or, maybe more accurately, extraordinarily ordinary) suburban life of mild-mannered teenager Mark Grayson (voiced by Steven Yeun), who happens to be the son of Omni-Man (voiced by J.K. Simmons), i.e. the most powerful superhero on the planet. Shortly after his 17th birthday, Mark starts to develop his own superpowers, thus entering his super-father's super-tutelage.
Certainly, that sounds like a promising premise for a superhero series, even in our age of oversaturated comic book properties, and Invincible has the added benefit of being on Amazon Prime, which should help this show find the same audience that turned the darkly satirical The Boys into one of the streaming service's most popular programs.
It should be noted that Invincible has an incredible cast to boot. In addition to Steven Yeun and J.K. Simmons lending their pipes to the project, Invincible also features the voice talents of Sandra Oh, Seth Rogen, Gillian Jacobs, Andrew Rannells, Zazie Beetz, Walton Goggins, Zachary Quinto, Mae Whitman, Jason Mantzoukas, Mahershala Ali, Chris Diamantopolous, Jonathan Groff, Jon Hamm, Nicole Byer, and Mark Hamill, to name only a few stars attached. Intrigued? Invincible will premiere on March 26th, so we won't have to wait long to hear Hamill's latest voice work in this upcoming series.
Masters of the Universe: Revelation - TBA (Filming)
You may not instantly associate Kevin Smith with He-Man. Nevertheless, the Clerks filmmaker and the Master of the Universe are teaming-up for Netflix's upcoming animated mini-series, Masters of the Universe: Revelation, which Smith created. The streaming show is currently in-the-works, and it has secured one hell of a voice cast.
Specifically, Masters of the Universe: Revelation features the voice talents of Chris Wood as He-Man, Lena Headey as Evil-Lyn, Sarah Michelle Gellar as Teela, Stephen Root as Cringer, Diedrich Bader as King Randor, Justin Long as Roboto, Alicia Silverstone as Queen Marlena, Henry Rollins as Tri-Klops, Griffin Newman as Orko, Kevin Conroy as Mer-Man, Tony Todd as Scare Glow, and Mark Hamill as Skeletor.
As many of you likely caught, Kevin Conroy and Mark Hamill's pairing is fun as it reunites the Batman voice actor with his Joker counterpart. The talents have collaborated on several projects, including one movie we'll discuss later, but it's always nice to see them paired together. Especially with Hamill in such a delightful role.
While Mark Hamill has voiced a variety of characters throughout his long, voluminous voice acting career, he hasn't had a chance to play the memorable cackling villain, which is reportedly the reason why he came out of voice acting retirement. According to Kevin Smith on IMDb's Movies That Changed My Life podcast, Hamill was in the midst of exiting out of voice acting when he was given the chance to voice Skeletor in this Netflix limited series. Especially considering how intensive this line of work can be, Hamill was ready to move on from the voice-only profession, but he felt the opportunity to play Skeletor was simply too good to pass up. At least, by Smith's giddy admission.
Certainly, it's nice to know that Mark Hamill is having a ball playing the part, but it's also sad to learn that his voice acting days are unfortunately nearing their end. Nevertheless, as we detailed in this article, we have plenty of new Hamill projects to look forward to.
Relatively Super - TBA (Status Unclear)
Admittedly, the current status of Relatively Super, an animated movie that explores the lives of the relatives of the world's greatest superheroes, is, well, relatively unknown. While it has an intriguing premise, Relatively Super seems to be taking its time. The last updates were from 2017 on its IMDb page; information is almost completely scarce otherwise. Therefore, it's unclear if this project is still happening or if it's officially dead. But the last report said it was in — or, at least, near — post-production, which suggests that it's close to completion. But alas, we ultimately can't say that with absolute certainty. Only... relative.
Nevertheless, Relatively Super features some outstanding talents, including Mark Hamill, Jon Heder, Michael Dorn, Gary Anthony Williams, and Kevin Conroy. Maybe we'll hear more updates regarding this project's status in the years to come? Certainly, the concept sounds cool, and Hamill's voice work would add to any of its potential delights.
Squadron 42 - Video Game - TBA (Post-Production)
With a high-caliber acting ensemble that includes heavyweights like Gary Oldman, Andy Serkis, Ben Mendelsohn, John Rhys-Davies, Gillian Anderson, Mark Strong, and Mark Hamill, as well as the star power of Henry Cavill, Squadron 42 is a bonafide blockbuster — as far as high-profile video game releases go. It's the latest addition to the expanding Star Citizen universe, and the various high-profile performers attached to the project will provide their own bits of support or villainy during the proceedings. As noted, Hamill is one of several stars involved via a motion-capture performance. While this new game is set to be a high-profile release, consumers must bide their time before it's available.
As of this past December, Squadron 42 missed its beta window, leaving it without an official release date. The creators insist that the video game will be released whenever it's ready; they're not planning to ship it out just to meet deadlines (perhaps a jab at Cyberpunk 77's woeful rollout). In any case, Squadron 42's debut is left undetermined.
The Mandalorian Season 3? - TBA 2021 (Speculation)
This past December, Mark Hamill returned to Star Wars once more with his secret cameo in The Mandalorian Season 2 finale. While he's heavily hidden under motion capture CG animation, the actor reprised his most famous role as Luke Skywalker for this end-of-the-season appearance, though it does raise some questions. Was this brief reprisal hinting at more cameos to come in later seasons? Or was it a one-time deal?
Personally, I'm inclined to believe it's the latter, but we shouldn't completely discount the former. The hard-working actor is known for his surprise appearances in the Star Wars series. In addition to this guest star role, he also made a cameo in 2019's Star Wars: The Rise of Skywalker. Maybe he'll bring Luke back once more in some future episodes. Or maybe he'll finally call it quits for good. Obviously, Mark Hamill, Lucasfilm, and The Mandalorian team haven't addressed Luke Skywalker's potential return. But it's interesting that they opted to de-age Hamill instead of casting another, younger actor.
Recent Mark Hamill Projects:
Along with these upcoming movies and TV shows, Mark Hamill has kept himself busy with a number of other projects that were released throughout 2020. For instance, in addition to his aforementioned cameo in The Mandalorian's Season 2 finale, the actor was seen in Royalties and What We Do in the Shadows. Furthermore, Hamill was heard in Wizards, Elena of Avalor, Scooby-Doo and Guess Who?, and The Last Kids on Earth.
As one of the most prolific voice actors working today (even if retirement is looming), Mark Hamill is constantly lending his talents to a variety of projects, and there might be more-than-a-few that he's working on (or worked on) that we don't know about yet. Even if he's sticking with live-action projects for foreseeable days ahead, we're sure Hamill has something to keep him busy. Whenever we hear more about what's in store for Mark Hamill's near future, we'll be sure to keep you posted right here at CinemaBlend.
Which upcoming Mark Hamill project are you most excited to see? Let us know below!
Will is an entertainment writer based in Pittsburgh, PA. His writing can also be found in The Playlist, Cut Print Film, We Got This Covered, The Young Folks, Slate and other outlets. He also co-hosts the weekly film/TV podcast Cinemaholics with Jon Negroni and he likes to think he's a professional Garfield enthusiast.
Your Daily Blend of Entertainment News
Thank you for signing up to CinemaBlend. You will receive a verification email shortly.
There was a problem. Please refresh the page and try again.