The Boys Is Probably Getting An Amazon Spinoff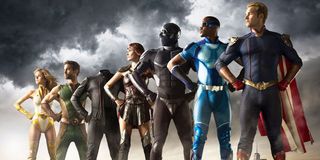 The Boys is arguably the most buzz-worthy streaming show of the fall TV season, and now Amazon's raunchy comic book series is probably getting a spinoff. The second season that has viewers talking on a weekly basis is still going strong, so fans should be even more excited about all things Boys now that Amazon is developing a new show set in the same Boys universe.
The fast-tracked developing spinoff is set at the only college in America that is exclusively for Supes and is of course run by Vought International. The show would be R-rated and irreverent, so it would undoubtedly fit right in with the parent series. In fact, hormonal Supes could be a whole new brand of wild as they deal with competitive urges while testing their own moral, physical, and sexual limits. The goal? Landing the best contracts in the best cities. Described as "Part college show, part Hunger Games," the spinoff would deliver "all the heart, satire and raunch of The Boys."
Craig Rosenberg will serve as showrunner and executive producer if this spinoff receives a series order, and is writing the pilot as well. As a writer and executive producer on The Boys, Rosenberg would be uniquely suited to tackle building a new corner of the Boys world. Also on board as executive producers are Boys series creator Eric Kripke and executive producers Seth Rogen and Evan Goldberg.
While many TV spinoffs craft new series centered on popular existing characters, this Boys spinoff would be set in the same universe but seemingly not star any familiar faces from the ongoing second season. That's not to say that whatever happens with Vought and The Seven won't impact the spinoff, if it takes place at the same point in time.
The new show wouldn't have to fly blind without any source material for inspiration either, even if there isn't as much as for The Boys. The comic series by Garth Ennis and Darick Robertson features some groups of younger Supes, including the Young Americans, Teenage Kix, and G-Wiz.
If the spinoff focuses on the student body at this Supe university, then it's possible that existing Supe groups like Young Americans, Teenage Kix, and G-Wiz might not have huge parts to play, with the students instead aiming for the shot to join one of them. After all, most of The Boys' Supes aren't in The Seven, so most of the spinoff's Supes might not be parts of groups yet either.
Then again, we can only speculate at this point. The potential spinoff apparently hasn't even received a series order at the time of writing, and there are no guarantees that the show would pull any young Supe groups from the comics. The Boys has added plenty of twists to the source material, with the gender-swap of Stormfront as a particularly notable example.
For now, you can catch new episodes of The Boys to see if there are any hints that could point at characters for a spinoff based on young Supes. Unlike the first season, The Boys Season 2 is releasing episodes on a weekly basis after dropping the first three at once on September 4. The Boys has already been renewed for Season 3, with an intriguing new character set to appear. Based on the hints already being dropped about him, he could be a game-changer.
Check out Amazon (opens in new tab) on Fridays at 12:01 a.m. PT for new episodes of The Boys, and be sure to swing by our 2020 fall TV premiere schedule for some upcoming viewing options.
Resident of One Chicago, Bachelor Nation, and Cleveland. Has opinions about crossovers, Star Wars, and superheroes. Will not time travel.
Your Daily Blend of Entertainment News
Thank you for signing up to CinemaBlend. You will receive a verification email shortly.
There was a problem. Please refresh the page and try again.