5 Marvel Characters Joey King Would Be Perfect To Play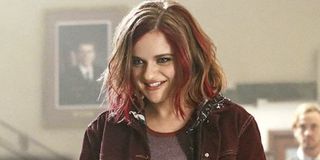 The commonality of Netflix rom-com stars acquiring comic book movie fame is growing rapidly, following Black Adam's casting of Noah Centineo (whose To All the Boys I've Loved Before co-star Lana Condor debuted in X-Men: Apocalypse) and Always Be My Maybe's Randall Park winning over fans of Marvel movies with his Jimmy Woo portrayal. At this rate, I would not be surprised if Joey King of The Kissing Booth fame was next in line.
However, like some other Netflix rom-com stars before her, the 21-year-old Los Angeles native would not actually be making her superhero adaptation debut with a part in the the Marvel Cinematic Universe. You may recall when she played a child prisoner of the Pit eventually identified as a young Talia Al Ghul in The Dark Knight Rises. Just a few years later, she appeared on Season 3 of The Flash as Frankie Kane, the magnetic metahuman also known as Magenta.
Considering how Christian Bale was announced not long ago as the villain of Thor: Love and Thunder and countless actors have existed in both the MCU and the Arrowverse, I see no reason why Joey King should not be able to make either of those same transitions. In fact, I have five characters from the pages of Marvel comics in mind, starting with one who would require a few specific alterations to her appearance which the actress is not unfamiliar to.
Moondragon
Joey King has put her hair through drastic changes for roles, but usually with great reward. Most notably, she shaved her head to play Gypsy Rose Blanchard in Hulu's true crime miniseries The Act, which earned her a Golden Globe nomination. I wonder, if the reward was a part in an MCU movie, if she would be down to get out the clippers again.
The character I have in mind for that specific reason is Moondragon - a beloved, badass, and bald cosmic warrior whose only downside to being brought into the MCU would be the creative liberties required for her canonically fit into the franchise. She was originally the daughter of Drax the Destroyer until Thanos murdered his still human-form, and kidnapped the young girl as his own trainee in telepathy and hand-to-hand combat. However, I imagine James Gunn could figure out a clever way to reinvent her origins, giving Joey King the chance to play a striking, technically brilliant ass-kicker such as she.
Enchantress
Joey King's reputation as a Scream Queen often seems to go unnoticed, but she's not blame for that. It has more to do with her lackluster horror movie choices, such as 2017's critically and commercially underwhelming Wish Upon - a teen-focused retelling of the classic "Monkey's Paw" tale. If she wished for a way to make up for that magical misfire, casting her as Enchantress in the MCU would be my of granting it for her.
Not to be confused with DC's sinister, spell-casting spirit played by Cara Delevigne in Suicide Squad, Enchantress is the alter ego of Asgardian goddess Amora - who also does cast spells for sinister intent. Having already played a comic book villain twice now and dealt with the supernatural far more often, this role is right up Joey King's alley, unless rumors of the character's introduction in the upcoming Loki series prove true. In that case, I may have a more fitting alternative.
Dead Girl
To be clear, Joey King's horror movie career has not been completely thankless, as she did play a member of the Perrons in The Conjuring when she was 14. In fact, her character, Christine, is probably the one child whose suffering due her family's haunting appears the most visible in James Wan's 2013 "fact-based" thriller. Well, you know what they say: "if you can't beat them, join them."
That is, essentially, what happens to Moonbeam - a young, aspiring actress whose murder unleashed her mutant abilities, including communicating with the deceased, regrowing severed limbs, and eternal life (or, more accurately, the state of being undead). This would earn her a spot on the X-Force team, which was brought to the big screen in Deadpool 2 and, hopefully, again in future installments. That being said, Dead Girl could be Joey King's ticket to star alongside Ryan Reynolds in Deadpool 3, as I feel she gives off the right amount of adventurous spunk to pull off the role.
Gwenpool
On the other hand, it is that same adventurous spunk that gives me another idea of how Joey King could appear in a Deadpool movie. Not to mention, this role would be quite a game-changer for the MCU.
Gwendolyn Poole was just an average, teenage comic book reader who, one day, magically found herself transported into the Prime Marvel Universe, where she uses her in-depth knowledge of its fictional characters to take on the life of a superhero. It also gives Gwenpool a knack for meta humor that, sometimes, even outweighs the "Merc with a Mouth" who inspired her alias. In fact, I would recommend she get her own movie first, where Wade Wilson could then show up, jealous that his solo series could not be the jumping off point for one of Marvel's most unique creations.
Squirrel Girl
Then again, I am not sure if I can honestly think of a more unique creation in Marvel Comics than Doreen Green. The young heroine is better known as Squirrel Girl for abilities and characteristics much like the furry woodland creature, but also one of the few costumed crimefighters with an almost completely unblemished record of combat, besting the likes of even Thanos at one point.
The character itself is one of the most ridiculous concepts in comic book history, yet fans have been demanding her MCU introduction for years. Besides, with the many young and obscure characters getting their chance in the spotlight lately (i.e., upcoming Disney+ series Ms. Marvel and Ironheart), there is no better time for them to make like a nut and get cracking on bringing Squirrel Girl into the fold. If anybody has the bright, bubbly personality and comedic timing to nail the character, it just might be Joey King.
What would be really cool is if Marvel figured out a way to get Joey King's sister, soap opera star Hunter King, a role that would allow them to do something together, like making Hunter Invisible Woman and Joey a gender-flipped Human Torch in the forthcoming Fantastic Four reboot movie. If that sounds highly unlikely to you, do you at agree with any of the characters I have imagined above?
This poll is no longer available.
Jason has been writing since he was able to pick up a washable marker, with which he wrote his debut illustrated children's story, later transitioning to a short-lived comic book series and (very) amateur filmmaking before finally settling on pursuing a career in writing about movies in lieu of making them. Look for his name in just about any article related to Batman.
Your Daily Blend of Entertainment News
Thank you for signing up to CinemaBlend. You will receive a verification email shortly.
There was a problem. Please refresh the page and try again.