Eddie Murphy And Arsenio Hall's Coming To America Characters: Who Plays Each Role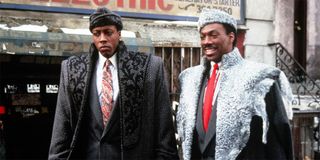 Long before making the Nutty Professor movies, Vampire In Brooklyn, or Norbit, Eddie Murphy first got in the habit of playing multiple roles in a single project in the making of John Landis' Coming To America, and it remains some of his greatest work to date. Along with co-star Arsenio Hall, the two actors play a total of eight characters in the fairy tale-esque romantic comedy, and in addition to being individually hilarious, the energy between them lends to some of the best sequences in the film.
Whether you're a first time viewer, or have seen the movie hundreds of times, it's always fun to identify these parts and marvel at their variety. Eddie Murphy and Arsenio Hall will be back at it again in the upcoming Coming 2 America (perhaps with some new faces to add to the mix?), and with that in mind we thought that we'd take a look back at the original and examine the wonderful supporting cast of characters. Taking a look at the roles one actor at a time, we'll start with…
Eddie Murphy's Characters
Playing not only the protagonist of Coming To America, but also two members of the My T Sharp barbershop crew, and an acclaimed singer, Eddie Murphy had quite a lot of his plate in the making of the comedy (and plenty of makeup and wigs), but every character is as funny as the last.
Prince Akeem
Eddie Murphy, naturally, spends most of Coming To America playing Prince Akeem – a member of the royal family in the African nation of Zamunda who finds himself vexed when it comes time for him to enter into an arranged marriage. Wanting to find a woman who will love him for who he is, he decides to take a secret trip to the Queens borough of New York City, and while there discovers a wild assembly of characters in addition to his future wife.
Clarence
Clarence is the owner of the My T Sharp barbershop in Queens, and is also the head barber. In addition to being extremely headstrong when it comes to debates with his friends, he also claims to have had quite an eventful life filled with run-ins with all kinds of celebrities (he's not above namedropping Frank Sinatra or Martin Luther King to make a point). He's also not shy about sharing advice when it comes to romance, including how best to meet women, and how to court them.
Saul
Saul doesn't seem to have any actual business at My T Sharp. He's not a barber like Clarence or Morris (more on him in a minute), and the fact that he always wears a hat suggests he isn't necessarily in demand of a haircut. Instead, he seems to just like hanging out and enjoys the lively conversation. He has a bit of an instigator streak, as he seems to enjoy pushing Clarence's buttons, but we forgive him for his ability to brilliantly land a punchline.
Randy Watson
Are you planning an event in Jackson Heights, Queens and looking to spice things up with a little live entertainment? Then you may want to consider hiring Randy Watson and his band Sexual Chocolate. He inspires some mixed reactions – some say he's good, others say he's good and terrible – but if you're looking for a great Prince knockoff who can cover Whitney Houston, you're not going to find a better option.
Arsenio Hall's Characters
With the exception of the upcoming sequel, Arsenio Hall has not made another live-action project where he has played multiple roles, and that is a serious shame. The work he does in Coming To America is magnificent, and his characters unequivocally get some of the biggest laughs of the film.
Semmi
Semmi is not a blood relative of the royal family of Zamunda, instead merely a loyal servant, but his connection to the crown gives him a massive ego, and he is deeply spoiled. While it's not explained exactly why, he is the only individual who acts informally around the prince, and never seems to face any punishment for doing some rotten things. He lives what could definitely be described as a blessed life skating on the coat tails of Akeem, and you might hate him if he weren't so incredibly funny.
Morris
In our world, far too many people get so entrenched in their opinions that they are never willing to ever budge – but that's not how Morris, the second chair barber at My T Sharp, likes to live. He may stake a claim in an argument, for example a debate about the greatest boxer who ever lived, but if he hears a point that can sway him, he's not afraid to flip-flop. It does seem to have the unfortunate side effect of inflating tensions between Clarence and Saul, but that doesn't seem to bother him too much.
"Extremely Ugly Girl"
When Akeem and Semmi go out looking for a proper bride to wed the prince of Zamunda, their efforts aren't terrifically successful, as they manage to run into the strangest women that New York has to offer. Chief among them is the nameless "Extremely Ugly Girl," whose aggression and stated wishes to tear the duo apart don't go over super well (and even gets Semmi to perform a spit take). It's the smallest of all the supporting roles played by either Murphy or Hall, but easily one of the most memorable.
Reverend Brown
One would struggle to call Reverend Brown "pious" just given his lascivious attitude towards the women vying to be titled Miss Black Awareness… but at least he's a good community organizer? There's certainly no questioning his stage presence (he gets a lot of mileage out of the fire and brimstone act even when not talking about religion), and he does to a good job getting the Jackson Heights neighborhood together – with some help from the McDowells, of course.
All of these characters and more will be back in action once again in Coming 2 America, with Eddie Murphy and Arsenio Hall back in their respective roles, and you'll be able to check out their performances when the film hits Amazon Prime Video (opens in new tab) on March 5.
Assistant Managing Editor
NJ native who calls LA home and lives in a Dreamatorium. A decade-plus CinemaBlend veteran who is endlessly enthusiastic about the career he's dreamt of since seventh grade.
Your Daily Blend of Entertainment News
Thank you for signing up to CinemaBlend. You will receive a verification email shortly.
There was a problem. Please refresh the page and try again.