6 Hilarious Arsenio Hall Movie And TV Appearances To Check Out Ahead Of Coming 2 America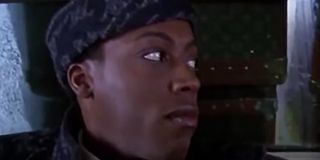 You know, when it comes to today, everybody always talks about how Eddie Murphy was the biggest comedian of the '80s and the early '90s, and for good reason. Eddie Murphy was a megastar. But honestly, too many people sleep on Arsenio Hall, who was almost as big as Eddie Murphy back in the '80s when it came to comedy. Most people will probably remember Arsenio best for his late night talk show or his many roles in Coming to America. And with Arsenio coming back for Coming To America 2, I thought now would be as good a time as any to talk about some of the best early work from Arsenio.
Because Arsenio Hall was more than just his talk show (though, I have two great clips to talk about that show just how zany his talk show could be). He was also a great stand-up comedian, as well as a comedic force whenever he took on movie roles. So here's a glimpse of some of Arsenio's funniest early work to get you prepared for Coming to America 2, which is set stream on Amazon Prime on December 18, 2020. Hoo! Hoo! Hoo!
Coming to America (Semmi, Reverend Brown, Morris the barber, and a female clubgoer)
Four. That's how many characters Arsenio Hall plays in the 1988 classic Eddie Murphy film, directed by John Landis. His most important role, plot wise, is of Prince Akeem's friend and aid, Semmi, who basically tries to keep Akeem on track once they arrive in America but quickly finds himself in way over his head since Prince Akeem has plans of his own. Semmi goes from being connected to royalty one minute to working at a run-down fast food joint in Queens the next. Hilarity ensues, of course, but it's mostly because Arsenio's character is so afraid of what Akeem's father, the King of Zemunda, played by James Earl Jones, will say if he ever finds out what his son is doing in America.
That said, I'm personally partial to the other, much smaller roles Arsenio plays in the film, such as Reverend Brown, who introduces Sexual Chocolate lead singer, Randy Watson, to the stage. Or as the rather unattractive, somewhat mannish woman in the club who is going to "tear" Akeem apart. Seriously, it's comic gold.
Harlem Nights (Reggie)
If you've seen Harlem Nights, which is the only film Eddie Murphy ever directed, you surely remember the movie for Richard Pryor and Redd Foxx. But if you watch it again, keep an eye out for Arsenio Hall, who plays a mobster named Reggie with a very tiny, but memorable role.
You see, Reggie just can't stop crying because his brother, Tommy, was killed. I mean, it's a serious scene, but Arsenio Hall is just going on and on while he's loading up his Tommy (I see what you did there) gun to kill Eddie Murphy's character. He even hits a pothole in the backseat of a car and shoots the man up front, which is kind of like a reverse Pulp Fiction moment when Vincent shoots Marvin in the face. And then the way he dies is just unbelievable. This role in Harlem Nights is probably my favorite Arsenio Hall moment in any film ever.
Amazon Women On The Moon (Apartment Victim)
In this cult classic, 1987 movie (and also Arsenio Hall's first role on the big screen), Arsenio plays a hapless man in an apartment who just can't catch a break. The movie itself is very bizarre and a series of clips that are meant to replicate old sci-fi films, and Arsenio Hall's skit is what leads the film off.
And it's quite a beginning, since it's nothing but slapstick comedy. What begins with Arsenio's character answering a wrong number ("There ain't no Thelma here, man.") ends up with him getting electrocuted and even falling out the window. Is there much of a point to his character besides being a human Looney Toons character? No. But why does there need to be? You can watch the full sequence of events here.
The Real Ghostbusters (Winston Zeddemore)
Remember the cartoon, The Real Ghostbusters? Well, here's something that may surprise you since it certainly surprised me. Arsenio Hall did the voice for Winston Zeddemore. He actually only performed the role for the first 3 seasons when the show was just called The Real Ghostbusters and not Slimer! and the Real Ghostbusters, which is what it became for seasons 4-7.
But I best remember the early seasons, and Arsenio Hall always played the part of Winston well. Sure, he didn't sound anything like Ernie Hudson from the movie, but Arsenio's livelier performance was a lot funnier, and also a lot more cartoony, which definitely fit the role.
Uptown Comedy Express (Self)
In this 1987 HBO comedy special, 5 black up-and-coming comedians did little skits and stand-up routines. If you can find it, you'll see a very young Chris Rock and Robert Townsend. But you'll also see a young Arsenio Hall doing stand-up and hilarious impersonations.
In fact, one of Arsenio's bits about Magic Johnson, who happens to be in the crowd, was also part of his opening monologue for his very first night on his talk show. And speaking of his talk show…
The Arsenio Hall Show (Self)
Running on Fox from 1989-1994, I think people often forget just how big The Arsenio Hall Show was. What you may not know is that The Arsenio Hall Show had a rival back in 1989, and it was…The Pat Sajak Show. Yes, Wheel of Fortune's Pat Sajak. Obviously, that show flopped, but The Arsenio Hall Show was a massive success, especially with black audiences. He would often have guests like George Lopez, Paula Abdul, and even Bill Clinton came on to play the sax on the show, which some believe is what endeared him to black Americans around the country.
I'd be remiss if I didn't mention the controversial "Queer Nation" incident where Arsenio Hall went off on some gay audience members who asked why Arsenio didn't have any gay guests on his show (Arsenio decried that he had Elton John on his show and had "gay friends."). But what I think made the show special was just how weird it could get, like when he had Macho Man Randy Savage on the show, or freaking Jason Voorhees. There have been many late night talk show hosts who have been wacky (Conan O'Brien, for instance), but few, if any, late night talk show hosts who could really get the crowd both in the audience and at home riled up. Hoo! Hoo! Hoo!
It's a shame that we haven't seen more of Arsenio Hall over the years, but he seems to be making a comeback of sorts. Hopefully, Coming To America 2 will jumpstart his career again fully, since I just can't get enough of Arsenio Hall. He's just too good.
Rich is a Jersey boy, through and through. He graduated from Rutgers University (Go, R.U.!), and thinks the Garden State is the best state in the country. That said, he'll take Chicago Deep Dish pizza over a New York slice any day of the week. Don't hate. When he's not watching his two kids, he's usually working on a novel, watching vintage movies, or reading some obscure book.
Your Daily Blend of Entertainment News
Thank you for signing up to CinemaBlend. You will receive a verification email shortly.
There was a problem. Please refresh the page and try again.