Upcoming Daisy Ridley Movies: What's Ahead For The Star Wars Actress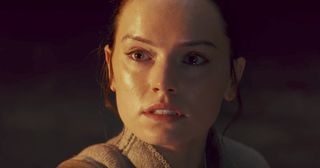 The force remains strong with Daisy Ridley. Following the release of 2019's Star Wars: The Rise of Skywalker, the actress has finished her time in a galaxy far, far away (at least, for now), but the future is looking bright. In the days ahead, she has more-than-a-few exciting projects lined up, many of which will continue showcasing her rising, ahem, star power. Whether it's a promising period drama, a sci-fi franchise starter, a stop-motion animated Leonardo da Vinci biopic, or a pair of psychological thrillers, along with some intriguing voice-only roles, Ridley keeps expanding her exceptional talents and demonstrating a knack for working in a variety of genres. With that said, here's what the A-list star has coming up after Star Wars, including March's Chaos Walking.
Chaos Walking - March 5, 2021 (Completed)
Certainly, the filmmaking process behind Chaos Walking, Doug Liman's troubled adaptation of Patrick Ness' sci-fi trilogy, has stayed true to its name. First shot in 2017, the intended franchise-starter underwent extensive reshoots following poor test screenings and a studio executive anonymously claiming that the original cut was "unreleasable" in its present state. It has bounced between several release dates, but now, Chaos Walking is finished and finally making its way into theaters on March 5th.
At this point, expectations are certainly muted for this long-labored movie, but the talent involved is outstanding. Daisy Ridley and Tom Holland play our lead characters, while Mads Mikkelsen, Demian Bichir, Cynthia Erivo, Nick Jonas, and David Oyelowo fill in the supporting cast. And the premise is intriguing, at the very least; it follows a mysterious girl who crash lands on a planet where all the women have disappeared and men are afflicted with "The Noise," which displays all their thoughts. Whether there's harmony amid the chaos will be determined when the Lionsgate blockbuster steps into theaters.
Women in the Castle - TBA (Pre-Production)
In what will be one of her first high-profile gigs after Star Wars: The Rise of Skywalker, notably since Chaos Walking was filmed prior to that trilogy concluder, Daisy Ridley is soon expected to star in the period drama, Women in the Castle, based on Jessica Shattuck's best-selling 2017 novel. Also starring Kristin Scott Thomas and Nina Hoss (Phoenix), the story is set during and after WWII as it follows three German widows whose husbands unsuccessfully conspired to assassinate Hitler. The movie studies their individual grief and how these widows each handle their collective-yet-disparate loss. Emmy-winning writer Jane Anderson (The Wife) adapted the script and will direct.
For whatever faults the new Star Wars trilogy might have with some particular viewers, Daisy Ridley's lead performance shouldn't be counted as one of them. The British actress is an incredible performer, and she channeled Rey's highly-emotional journey with heart and great pathos. She's on the verge of becoming an excellent star, and Women in the Castle could be a great showcase for her developing dramatic talents.
The Inventor - TBA (Pre-Production)
At a time when CG-animation runs the game, stop-motion is becoming an increasingly (and alarmingly) rare art. There are still a few movies to be found in this painstaking style, including Guillermo Del Toro's upcoming Pinocchio, but they're becoming fewer and farther between, which is very distressing for a major fan of the art form like me. So, when I hear about The Inventor, which will tell Leonardo da Vinci's life story in claymation, my ears perk up and my heart swells. It's uncertain if this movie will live up to its potential, but it's comforting to know that something like it is still being made.
As Deadline reported, The Inventor features the voice talents of Stephen Fry and Daisy Ridley as Leonardo da Vinci and French Princess Marguerite, respectively. The stop-motion animated film will follow the headstrong inventor as he leaves Italy to join the French court, where he can experiment more freely. With the princess' help, he searches for the meaning of existence. Set to be written and directed by Ratatouille scribe Jim Capobianco, The Inventor is in the midst of pre-production, though it recently gained funding. Hopefully, more developments arise. It's a project worth keeping an eye on.
Young Woman And The Sea - TBA (Announced)
Soon enough, Daisy Ridley could return to work with Disney. While her Star Wars trilogy has concluded, she's expected to star in the Disney+ original movie, Young Woman and the Sea, based on Glenn Stout's 2009 novel of the same name. The streaming exclusive will chronicle the brave journey embarked on by Gertrude "Trudy" Ederle. In 1926, Ederle became the first woman to swim across the English Channel. Produced by Jerry Bruckheimer, this movie was previously set up at Paramount, though it shifted towards Disney when the studio reportedly got cold feet. The screenplay will be adapted by Jeff Nathanson (Catch Me If You Can) and it'll be directed by Joachim Rønning (Kon-Tiki).
Additionally, Daisy Ridley is in talks to play Trudy Ederle. This Disney+ title would be notable for the actress as it would be her first major film with the company since her commitments to the Star Wars franchise concluded. Her reported return suggests that she'll want to stay with the Mouse House — even outside of a galaxy far, far away.
The Ice Beneath Her - TBA (Announced)
Chilly psychological thrillers centered on hard-nosed detectives in search of the bitter truth are becoming a frosty genre, and The Ice Beneath Her will be the latest example of a marquee actor bracing the cold to unlock a biting mystery. Based on the novel by Swedish author Camilla Grebe, this story follows a detective trying to solve a case after a young woman is found beheaded in the home of a prominent businessman. Naturally, it has earned easy comparisons to Gone Girl, and it sounds like the type of page-turner that Hollywood is quick to jump on. Following a bidding war, STX won the world rights. Now, Daisy Ridley has entered talks to play the lead detective, according to Deadline.
From producer Andrew Lazar (American Sniper), The Ice Beneath Her is still in early development, but it's crackling along. It'll be directed by Radio Silence (Ready or Not) based on an adapted screenplay by Caitlin Parrish (Supergirl). Will this movie be the next Girl with the Dragon Tattoo or is this the next Snowman? Time will have to tell.
The Marsh King's Daughter - TBA (Announced)
Certainly, Daisy Ridley appears to be a big fan of psychological thrillers. In addition to entering talks to star in the aforementioned The Ice Beneath Her, the former Star Wars actress is circling The Marsh King's Daughter, based on Karen Dionne's 2017 novel of the same name. The latest film from director Neil Burger (Limitless), the story will follow Helena (Ridley), a woman who seemingly lives an ordinary life, but she holds a dark secret: her father is "The Marsh King," the infamous man who kept her and her mother captive in the wilderness for years. When her dad escapes prison, Helena must wrestle with the demons that she has tried to escape throughout her unsettled life.
As Deadline reports, The Marsh King's Daughter is gearing up for pre-production. Currently, the plan is to start filming this summer in Canada. If they're looking to start shooting sooner-opposed-to-later, we should expect to hear more updates about Neil Burger's newest movie in the months ahead. For now, though, details remain limited.
Additional Upcoming Daisy Ridley Projects:
While Daisy Ridley's on-screen commitments to the Star Wars film franchise are finished (at least, for the time being), the actress isn't done playing Rey yet. Ridley will voice the galactic protagonist once more for the upcoming video game, LEGO Star Wars: The Skywalker Saga, which is expected to come out later this year. An official date isn't announced, but it was previously projected to come out in early 2021. Whether or not that window is met, we should expect to see the toy-based video game on shelves before the end of the year.
Additionally, Daisy Ridley lent her voice to 12 Minutes, another video game that was previously set to come out last year. It's currently slated to be released later in 2021, though the time frame isn't specified. This interactive time-loop thriller promises to be an ambitious project. Plus, alongside Ridley, it'll also feature the voice talents of James McAvoy and Willem Dafoe. You can get a taste of their upcoming performances here.
In addition to these video game projects, Daisy Ridley will also be heard in Islander, the 10-part Audible series set to debut on September 10th. The audio-only program comes from Killing Eve's Elinor Cook. As Deadline reports, Islander follows a reality TV show contestant who must confront her long-held anxieties about identity with her desire to be seen, all while cameras roll. What's real and what's not blend together as this reality series unfolds, causing our lead to search for the truth within her fictional environment.
You can stream Star Wars: The Rise of Skywalker on Disney+ here (opens in new tab).
Will is an entertainment writer based in Pittsburgh, PA. His writing can also be found in The Playlist, Cut Print Film, We Got This Covered, The Young Folks, Slate and other outlets. He also co-hosts the weekly film/TV podcast Cinemaholics with Jon Negroni and he likes to think he's a professional Garfield enthusiast.
Your Daily Blend of Entertainment News
Thank you for signing up to CinemaBlend. You will receive a verification email shortly.
There was a problem. Please refresh the page and try again.