What The Catch Me If You Can Cast Is Doing Now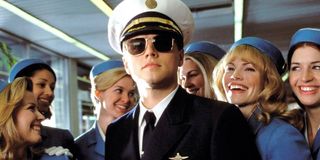 Telling the incredible true story of Frank Abagnale, a teenager who performs several cons worth millions of dollars, 2002's Catch Me If You Can features an all-star cast, including Leonardo DiCaprio, Tom Hanks, and Christopher Walken, and the skilled hand of Steven Spielberg at the helm. It became one of his splashiest successes in the early 21st century, resulting in over $350 million at the box office, widespread acclaim, and two Oscar nominations for Best Supporting Actor for Walken and Best Score for John Williams, respectively.
Now that it's been nearly 20 years since the film's glitzy premiere, what is the high-profile ensemble working on now? Let's take a look and find out!
Leonardo DiCaprio (Frank Abagnale)
As Frank Abagnale, our smart and sophisticated teenager who becomes an ace con artist, Leonardo DiCaprio gives one of his best performances in Steven Spielberg's Catch Me If You Can. A bonafide A-list movie star, DiCaprio is an Oscar-winning actor for his lead performance in The Revenant. He's also well-known for his work in Titanic, What's Eating Gilbert Grape, The Departed, Gangs of New York, Romeo + Juliet, The Aviator, Inception, Blood Diamond, The Wolf of Wall Street, The Great Gatsby, and Django Unchained, to name only a few titles.
Most recently, Leonardo DiCaprio starred in Quentin Tarantino's Once Upon A Time... In Hollywood. He also made an uncredited appearance in the mini-series, Grant, where he served as an executive producer. Next, DiCaprio is filming a role in Adam McKay's Don't Look Up. Additionally, he's expected to enter production on Martin Scorsese's Killers of the Flower Moon starting in February 2021. He's also set to produce this new Scorsese joint. Furthermore, outside of acting, DiCaprio is a producer on Atari and several more upcoming movies and shows.
Tom Hanks (Carl Hanratty)
Playing the part of Carl Hanratty, a hard-nosed FBI agent tracking Frank Abagnale's unlawful trial, Tom Hanks played the second lead in 2002's Catch Me If You Can. A two-time Oscar-winning actor for Philadelphia and Forrest Gump, Tom Hanks is unquestionably one of the most famous celebrities on the planet. Some of his most notable credits include (but aren't limited to) the Toy Story movies, Apollo 13, Saving Private Ryan, Big, Splash, Captain Phillips, Cast Away, The Green Mile, The Da Vinci Code, Sleepless in Seattle, You Got Mail, A League of Their Own, Turner & Hooch, The Polar Express, and A Beautiful Day in the Neighborhood. He also wrote, directed, produced, and starred in That Thing You Do! and Larry Crowne.
Most recently, Tom Hanks starred in Greyhound, which he also wrote, and News of the World, which he also produced. Additionally, he made a cameo as himself in Amazon Prime's Borat Subsequent Moviefilm. Next, Hanks stars in BIOS. Currently, he's filming a role in Elvis, and he's set to play Geppetto in Robert Zemeckis' Pinocchio.
Christopher Walken (Frank Abagnale Sr.)
In the role of Frank Abagnale Sr., Frank Abagnale's father, Christopher Walken gave an Oscar-nominated performance in Catch Me If You Can. Having appeared in over 100 movies and TV programs throughout his extensive career, Walken is best known for his Oscar-winning performance in The Deer Hunter. He's also well-known for his work in Pulp Fiction, Annie Hall, A View to a Kill, Batman Returns, The Dead Zone, The Dogs of War, Vendetta, Seven Psychopaths, The Prophecy, The Jungle Book (2016), Antz, Irreplaceable You, Kangaroo Jack, The Stepford Wives (2004), Balls of Fury, Domino, The Rundown, and Blast from the Past. Additionally, Walken was famously in Fatboy Slim's "Weapon of Choice" music video.
Most recently, Christopher Walken was seen in The Jesus Rolls, The War with Grandpa, and Wild Mountain Thyme. Next, the actor stars in Percy. He's also set to frontline AppleTV+'s Severance and Amazon/BBC's The Offenders.
Martin Sheen (Roger Strong)
As Roger Strong, an attorney and Brenda's father, Martin Sheen plays a notable supporting role in 2002's Catch Me If You Can. Most notable, Sheen is known for his starring roles in Badlands, Apocalypse Now, and The West Wing. His other famous film credits include The Subject Was Roses, The Amazing Spider-Man, Gettysburg, The American President, Spawn, Dead Presidents, The Departed, O, Bobby, The California Kid, Hot Shots! Part Deux, and Catch-22 (1970). Additionally, on television, Sheen was seen in Grace and Frankie, Anger Management, Columbo, Mission: Impossible, The Streets of San Francisco, Tales from the Crypt, and Two and a Half Men.
Most recently, Martin Sheen was seen in The Devil Has a Name. The actor also reprised his role as President Josiah Bartlet for A West Wing Special to Benefit When We All Vote. Next, Sheen will appear in Judas and the Black Messiah, which arrives February 2021 in theaters and HBO Max. He also recently filmed a part in 12 Mighty Orphans. Additionally, he'll be seen in the seventh and final season of Netflix's Grace and Frankie later this year.
Nathalie Baye (Paula Abagnale)
Playing the part of Paula Abagnale, Frank's mother, Natalie Baye had a maternal role in Steven Spielberg's Catch Me If You Can. An actress with more than 80 films on her resume, Baye is best known for her work in Tell No One, Every Man for Himself, Strange Affair, La Balance, The Young Lieutenant, Day for Night, The Assistant (2015), The Mouth Agape, The Ant Bully, Laurence Anyways, Queens of the Ring, It's Only the End of the World, Venus Beauty, and An Affair of Love.
Most recently, Nathalie Baye appeared in the dramedy film, My Best Part. She can also be seen in a recent episode of Call My Agent! Next, Baye stars in Haute Couture and Lui.
Amy Adams (Brenda Strong)
In the role of Brenda Strong, the daughter of Roger who works at the hospital and eventually earns Frank's affection, Amy Adams found one of her first high-profile parts in Steven Spielberg's Catch Me If You Can. Following this early performance, Adams would go on to become a six-time Oscar-nominated actress for her leading and supporting work in Junebug, Doubt, The Fighter, The Master, American Hustle, and Vice. She's also well-known for Enchanted, Arrival, Julie & Julia, Drop Dead Gorgeous, The Muppets, Nocturnal Animals, Night at the Museum: Battle of the Smithsonian, and Talladega Night: The Ballad of Ricky Bobby, as well as Man of Steel, Batman v Superman: Dawn of Justice, Charlie Wilson's War and HBO's Sharp Objects.
Most recently, Amy Adams starred in Netflix's Hillbilly Elegy this fall. Next, she'll frontline Netflix's The Woman in the Window. Adams will also be seen in Zack Snyder's Justice League and Dear Evan Hansen. Her other upcoming titles include Disenchanted and Nightbitch, as well as the upcoming mini-series, King of America.
James Brolin (Jack Barnes)
As Jack Barnes, an associate who has an affair with Frank's mother, James Brolin plays a crucial side character in 2002's Catch Me If You Can. A two-time Golden Glob and Emmy-winning actor, Brolin can be seen in The Amityville Horror (1979), Fantastic Voyage, Westworld (1973), The Car, Pee-Wee's Big Adventure, Traffic, The Master of Disguise, Burlesque, The 33, The Goods: Live Hard, Sell Hard, Ted & Venus, Night of the Juggler, Capricon One, The Boston Strangler, and Gable and Lombard. His television credits include Marcus Welby M.D., Hotel, Pensacola: Wings of Gold, Castle, The Reagans, Life in Pieces, Community, Pysch, Law & Order: SVU, Monk, The West Wing, Batman, and Steel Cowboy. Additionally, Brolin also directed and starred in My Brother's War, I'll Be Home For Christmas, and Royal Hearts.
Next, James Brolin will narrate Netflix's upcoming series, Sweet Tooth.
Nancy Lenehan (Carol Strong)
Playing the part of Carol Strong, Brenda's mother, Nancy Lenehan had a notable supporting role in Catch Me If You Can. Outside of this performance, Lenehan's other notable film credits include Smokey and the Bandit II, She's Having a Baby, Stoogemania, Pleasantville, Beauty Shop, A Better Life and Sex Tape. Additionally, on television, the actress can be seen in People of Earth, Grace Under Fire, My Name Is Earl, Worst Week, Veep, Married to the Kellys, Buffy the Vampire Slayer, ER, Dharma & Greg, Gilmore Girls, Everybody Loves Raymond, That '70s Show, Nip/Tuck, The Middle, The Bernie Mac Show, Ally McBeal, The Golden Girls, and ALF, as well as Newhart, Family Ties, Murphy Brown, Mad About You, Boy Meets World, The Practice, Caroline in the City, and Just Shoot Me!
Most recently, Nancy Lenehan appeared in episodes of CBS's Man with a Plan, NBC's Superstore, ABC's Bless This Mess, and FXX's Cake.
Jennifer Garner (Cheryl Ann)
As Cheryl Ann, a model-callgirl who has an interaction with Frank Jr., Jennifer Garner made a cameo in Steven Spielberg's Catch Me If You Can. Only a year before she appeared in this film, Garner headlined ABC's Alias, for which she won a Golden Globe Award. She's also known for her leading role in 13 Going On 30, as well as her work in Daredevil, Elektra, Juno, Valentine's Day, The Odd Life of Timothy Green, Dallas Buyers Club, Alexander and the Terrible, Horrible, No Good, Very Bad Day, The Invention of Lying, Miracles from Heaven, Love Simon, Catch and Release, Mother's Day, Mr. Magoo, and Peppermint.
Most recently, Jennifer Garner appeared in Quibi's Home Movie: The Princess Bride. Next, Garner stars in Netflix's Yes Day, which she also produced. It premieres on March 12th. Currently, she's filming a role in another Netflix movie, The Adam Project. Garner is also signed on to star in AppleTV+'s mini-series, My Glory Was I Had Such Friends. Additionally, she's expected to frontline the musical comedy, Fantasy Camp.
Ellen Pompeo (Marci)
Playing the part of Marci, Ellen Pompeo found one of her earliest roles in Steven Spielberg's Catch Me If You Can. Shortly following this fim's release, Ellen Pompeo's profile rose when she took on the titular role in ABC's medical drama, Grey's Anatomy. She has appeared in over 360 episodes of the long-running program. Her other TV credits include Law & Order, Strangers with Candy, Friends, Repeat After Me, Doc McStuffins, and Get Real. She was also a judge during the fourth season of RuPaul's Drag Race: All Stars.
Additionally, Ellen Pompeo can be seen in Old School, Daredevil, Art Heist, Life of the Party (2005), Undermind, Coming Soon, In the Weeds, Mambo Cafe, and Moonlight Mile. She also appeared in deleted scenes for Eternal Sunshine of the Spotless Mind. And the actress can be seen in Taylor Swift's "Bad Blood" music video. Presently, Pompeo remains at the forefront of Grey's Anatomy. She also recently played Dr. Meredith Grey in an episode of Station 19.
Elizabeth Banks (Lucy)
In the role of Lucy, Elizabeth Banks plays a brief supporting role as a bank teller in 2002's Catch Me If You Can. Most notably, Banks is known for her work in The Hunger Games movies, the Spider-Man trilogy, Wet Hot American Summer, The 40-Year-Old Virgin, The LEGO Movie (and sequel), Power Rangers (2017), Magic Mike XXL, Role Models, Zack and Miri Make a Porno, Slither, Invincible, Love & Mercy, The Next Three Days, W., and the Pitch Perfect movies. On television, Banks received two Emmy nominations for her recurring role in 30 Rock. She also appeared in Scrubs, Modern Family, Wet Hot American Summer: First Day of Camp, and Wet Hot American Summer: Ten Years Later. Additionally, Banks directed Pitch Perfect 2 and wrote and helmed Charlie's Angels (2019).
Currently, Elizabeth Banks hosts ABC's game show, Press Your Luck. Most recently, Banks was seen in FX's Miss America. Also, she appeared in Modern Family's series finale. Next, Banks is expected to star in Call Jane. Also, she's soon expected to star in and directThe Invisible Woman for Blumhouse.
You can stream Catch Me If You Can on Netflix here (opens in new tab). You can also stream it on Showtime here (opens in new tab) and on SundanceNow here (opens in new tab).
Will is an entertainment writer based in Pittsburgh, PA. His writing can also be found in The Playlist, Cut Print Film, We Got This Covered, The Young Folks, Slate and other outlets. He also co-hosts the weekly film/TV podcast Cinemaholics with Jon Negroni and he likes to think he's a professional Garfield enthusiast.