Why The US Vs Billie Holiday Will Still Be Timely In 40 Years, According to Lee Daniels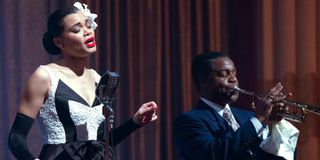 Just about every filmmaker hopes their movie will stand up to the test of time. Even when creating something that covers current events, it's often done in a way that will make the story feel timeless for years to come. For Lee Daniels, his latest film is timely due to its subject matter hitting home with American history repeating itself. Daniels shared why Hulu's The United States vs. Billie Holiday will still be timely in 40 years.
The United States vs. Billie Holiday is a biographical drama telling the story of Billie Holiday, a Black jazz singer who struggled with addiction and became the target of a sting operation by the Federal Bureau of Narcotics. The bureau used Holiday's addiction to stop her from singing "Strange Fruit," a song about lynching. With the film being released a year after the Emmet Till Antilynching Act passed in the U.S. House of Representatives, director Lee Daniels shared with CinemaBlend the following:
It seems sad to think a story as tragic as The United States vs. Billie Holiday would still be timely in 40 years, but Lee Daniels makes a strong point about doing the work. Billie Holiday was very passionate about her beliefs, as seen in the film, and worked to make sure she was not silenced. She was not trying to break the rules or be difficult, but truly stand up for what she believed in and sing a song she felt had an important message for people to hear. Check out the clip below from the film:
Singer/songwriter and now Golden Globe winner Andra Day took on the part of Billie Holiday as her first lead acting role, and Lee Daniels could not have found someone better. Day captures the voice, mannerisms, and essence of Holiday like an expert. She was clearly dedicated to the role and doing Holiday's life justice. The United States vs. Billie Holiday is now streaming on Hulu.
Your Daily Blend of Entertainment News
Obsessed with Hamilton and most things Disney. Gets too attached to TV show characters. Loves a good thriller, but will only tolerate so much blood.