Galaxy Quest's Sigourney Weaver Gives Update On The Sequel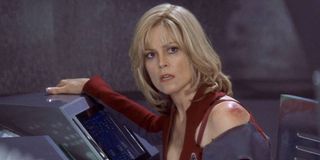 While 1998's Galaxy Quest is first and foremost a parody of science fiction movies and TV shows, particularly Star Trek, it's collected its own passionate fanbase over the years. So much so that ever since 2014, there have been efforts to deliver a Galaxy Quest follow-up, whether it's in movie form or as a TV series. While the project has dealt with various setbacks, according to Sigourney Weaver, who played Gwen DeMarco/Lieutenant Tawny Madison in the original movie, a Galaxy Quest sequel is still on the table.
While promoting her new movie My Salinger Day, Sigourney Weaver provided an update to Collider on where things currently stand with Galaxy Quest 2. First, she went over how much progress the sequel had made before the passing of Alan Rickman, another one of the original movie's main cast members:
Galaxy Quest certainly wouldn't be as beloved without Alan Rickman's performance as Alexander Dane, the exasperated actor who played Dr. Lazarus in the fictional Galaxy Quest TV series. Sadly, Rickman passed away in early 2016 from terminal pancreatic cancer, just six months shy of turning 70. So understandably, that impeded the efforts to get the real-world Galaxy Quest show off the ground. Tim Allen, who played leading man Jason Nesmith, said as much earlier this year, noting how Lazarus and Nesmith's Galaxy Quest character, Commander Peter Quincy Taggart, would be the focal protagonists.
However, even with one of the main cast members gone, the continuation of the Galaxy Quest story is still in the cards. So what can we expect from this next chapter? Here's what Sigourney Weaver had to say:
The original Galaxy Quest movie ended with the launch of a new TV series called Galaxy Quest: The Journey Continues, which saw the main cast members reprising their roles, as well as Sam Rockwell's Guy Fleegman and Missi Pyle's Laliari playing new characters. But if Galaxy Quest is following in the footsteps of the Star Trek franchise, then it makes sense that over two decades later, there'd be a new show, either on a traditional channel or a streaming service, starring a completely new cast of main characters, with the original cast now being looked at as the old guard. And judging by Sigourney Weaver's comment, it sounds like Tony Shaloub, Sam Rockwell and others would also be game to return alongside her and Tim Allen. As for Alan Rickman's character, evidently the plan is to recast the role rather than remove the character from the story.
So while the exact status of Galaxy Quest 2 is still up in the air, it appears that the project is more likely to happen than not at this stage of the game, although naturally that's subject to change. Whether or not the sequel comes anywhere close to the quality level of its predecessor obviously can't be judged until the final product is released, but in this age where movie and TV revivals are all the rage, you can't blame the Galaxy Quest folks for wanting to get in on that brand of fun, especially considering how they've been trying to make this happen for over half a decade.
Let us know if you're interested in a Galaxy Quest sequel with the poll below, and browse through our 2021 release schedule to learn what movies are expected to arrive later this year.
Connoisseur of Marvel, DC, Star Wars, John Wick, MonsterVerse and Doctor Who lore. He's aware he looks like Harry Potter and Clark Kent.
Your Daily Blend of Entertainment News
Thank you for signing up to CinemaBlend. You will receive a verification email shortly.
There was a problem. Please refresh the page and try again.