Why Ratatouille In An Underrated Pixar Classic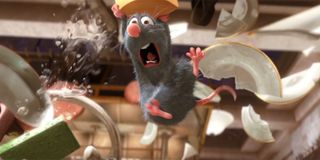 As a fan of animated movies, Pixar has always been at the top of my list of best films. With standouts like Coco, WALL-E, and The Incredibles, the popular animation studio has turned out some awesome hits that deserve all of the praise they received. But there's one Pixar film that always seems to go under the radar. No, I'm not talking about Cars, considering the marketing behind that is unbelievable. I'm talking about Ratatouille.
While under the same studio, no one ever really seems to talk about Ratatouille because of the films that followed it (like Up and Toy Story 3), or even the ones that came before (like The Incredibles and Finding Nemo). But I'm here to say that Ratatouille is an underrated classic, and it deserves much more praise than it has been given.
Ratatouille's Animation Is Absolutely Stunning For 2007
Keep in mind that this movie came out in 2007. While CGI-animation has come a long way since Pixar's launch, it wasn't at the peak it is now where at some point, the movie almost looks realistic. But think about the animated movies that also came out in 2007. Films like Bee Movie, Surf's Up, and Shrek the Third came out and while they were animated great as well, nothing quite hit like Ratatouille.
That first shot of when Remy crawled out of the sewer and onto the roofs, overlooking Paris? The Eiffel Tower in the distance? All of those beautiful lights before panning over to Gusteau's? Not only is that shot amazing but the cinematography, in general, is fantastic for an animated film more than a decade ago.
The Communication Barrier Plot Is An Awesome Conflict
Look, this is an animated movie. The creators could have easily dodged that bullet and made Remy able to talk to Linguine super easily, teaching him how to cook straight from his mouth. However, they decide to make it harder for the two to communicate, where all they really have as forms of movement are head nods or shakes, and Remy's control of his limbs through Linguine's hair.
But that's what makes Ratatouille stand above the rest because they decide to move forward with this language barrier between them. And at first, it's a conflict that they slowly learn how to get through until they are a well-oiled machine. It's a different take for sure, but it most certainly changes the tone of the movie and the seriousness of the situation.
That Opening Kitchen Scene Is So Cool
Okay, this might just be me because I love cooking, but seeing Ratatouille's opening scene of a real-working gourmet kitchen was so interesting to watch. I've already mentioned before that the animation for 2007 was fantastic, and that includes this scene, but what really makes it entertaining is how realistic it feels.
The yelling across stations, the fast-paced movement of the waiters moving from spot to spot, the chefs moving throughout the kitchen to try and get everything together – it's all so chaotic and yet it fits the moment perfectly. And right then, we are introduced to the clumsily but sweet Linguine, who really has no idea what he's doing but he's trying his best. It's the perfect introduction to what this movie is going to be about.
Ratatouille's Message Is Great
The "in-your-face" message is "anyone can cook," as it is mentioned multiple times throughout Ratatouille. And I, too, believe in that – as someone who barely knew how to cook scrambled eggs two years ago without burning them and can now cook a Thanksgiving feast. But the overarching message of this film is that with great perseverance, anything is possible.
Think about it. Remy is a literal rat who winds up cooking in a Parisian kitchen through his sheer will to live and to prove himself. Even Linguine overtime starts to persevere despite the obstacles that are thrown at him. When Ego is introduced, he doesn't cower in a corner and let it get to him, but tries to think of the best solution so that he and his tiny chef (Remy) could keep Guestau's open.
Do they keep the restaurant going in the end? No, because obviously the health inspector came out and said the kitchen was infested, but even through their own sheer hard work and perseverance, they opened up a new bistro, under the name "Ratatouille" in tribute to the dish that made even Ego drop his snobbish attitude and get transported back to his life as a child through one bite. Now that is the power of perseverance.
The Antagonist Is Brilliant
Let me get this straight – there's no real "antagonist" in Ratatouille like other movies until Ego. You can't really say Skinner is one because honestly, he's just a good businessman. Is he selling out the restaurant? Yes, but to try and make money and somehow find a profit after it had lost its two stars. But Ego – that is a man that can ruin a restaurant. However, even though he is easily persuaded by the deliciousness of the dish ratatouille, in the end, it's the true villain that is overcome – the actual ego of everyone else.
Think about it. Ego has this certain air about himself where he feels that whatever he says is gospel – which is overridden when he finds out that yes, Gustaeu's does still make great food. Remy starts to grow an ego when Linguine starts to get attention for the food that he makes and that leads to him and the little chef having a fight down the line in Ratatouille.
Even Linguine himself was starting to believe his hype but he had never thanked Remy for all the help he did until later on.But in the end, they realize that both of their own egos had gotten out of hand and come together to take down the true villain – Ego himself. It's a really interesting take.
It's A Story About Life – Not One Set Goal
In Ratatouille, we see a vastly different story than many other films. In most, there is always one set goal, even in Pixar films. In Coco, it's getting back to the real world. In Toy Story, it's getting back to Andy. Even in the most recent Pixar film, Soul, it was always about Joe trying to get back to his body. But Ratatouille isn't like that. There is no one set goal – it's about life.
We watch the ups and downs of life. We see the highs and lows of Linguine, from him starting out as a garbage boy to meeting Remy, and then finding love with Colette and success at the restaurant, but having it fall apart when he and Remy have a falling out, only to pick up the pieces again afterward.
Life isn't a movie. It's messy and improvised and sometimes you just have to hike up your bootstraps after a bad situation and think of an optimistic way out of it – which is exactly what Remy and Linguine did at the end.
I think this is a beautiful message for not only then but life today. There is so much hatred in the world and yet so much love, and we are the ones who are left to deal with it, but that is life. It's not perfect, but it's home. No other Pixar film has shown this in such a simple way, which is why Ratatouille is truly a standout above the rest, and will forever be one of my favorite Pixar films – nay, one of my favorite films ever.
Who knows what Pixar might be cooking up the next couple of years. They may make a movie like Ratatouille again with their track record of amazing films. But for now, I'll sit back on my couch and watch Disney+ while trying to learn how to make true ratatouille, because the meaning is true – with perseverance, anyone can cook. Anyone can do anything.
Big nerd and lover of Game of Thrones/A Song of Ice and Fire. Will forever hate season eight. Superhero and horror geek. And please don't debate me on The Last of Us 2, it was amazing!