7 Romantic Reality Shows To Stream While You Wait For Clare Crawley's Bachelorette Season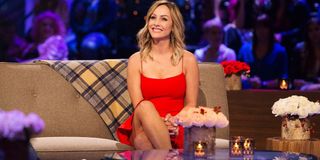 Bachelor Nation may be losing it with the indefinite delay of Clare Crawley's Bachelorette season. Prior to the coronavirus epidemic, ABC scheduled her season of The Bachelorette to premiere in May. Now, it might not resume filming until July or later. This really puts a damper in our summer schedules. We wanted to watch Clare once again try to find love, and hopefully have it work out this time. If she doesn't find love this go-around, then she may have to take her chances on another reality dating show like Love Island.
Bachelor fans may recall that in 2014, Clare placed second on Juan Pablo Galavis's season. She then appeared on two seasons of Bachelor in Paradise, and Bachelor Winter Games. Clare finally found love with Benoit Beausejour-Savard: They became engaged after the show. Unfortunately, their engagement didn't last. Now we'll have to wait a while to see if she finally finds true love as The Bachelorette.For those who can't wait for Clare's Bachelorette season, there are plenty of other love related reality shows to stream.
The Bachelor (Netflix)
The show that started it all, The Bachelor is available to stream online, but in a very limited capacity. Some episodes (but not an entire season) of The Bachelor are available to stream on Hulu, including the latest episodes of the new Bachelor spin-off series Listen to Your Heart, but most seasons are only available to purchase. Luckily for Bachelor fans, Season 13 (Jason Mesnick's season) is available on Netflix.
Fans of Jason can watch as he embarks on the ultimate journey for love. Bachelor fans will be able to take a trip down memory lane by streaming this and see a bit of the show's evolution. Viewers new to the franchise can use this season as a blueprint on some of the things to expect with Clare's season.
Stream it on Netflix here (opens in new tab).
Love Island (CBS All Access/Hulu)
Love Island follows a group of singles looking for love. At the start of the season, they must pick partners just based on looks, but throughout the season new people enter to tempt them. Every few episodes, people are also eliminated if he or she isn't chosen at the end of a ceremony. Additionally, viewers conduct votes at various points in the season to help or hurt a team's winning chances. The viewers also pick their favorite couple at the end of the season. Love Island originally aired in the UK but was later adapted for an American audience.
The UK version is a huge hit but the American one barely scraped by for a Season 2. Love Island appeals to audiences looking for a balance of romance and strategy. Romance reality TV fans enjoy the series because of genuine connections that forms and some of the alluring characters. Reality competition fans enjoy Love Island for the strategy, manipulation, and gaming aspect of the show. A few seasons of the UK version are available to stream on Hulu, and the entire first season of the US version is available to stream on CBS: All Access.
Stream _Love Island UK _on Hulu here (opens in new tab).
Stream Love Island US on CBS: All Access here (opens in new tab).
Love is Blind (Netflix)
Love is Blind is the hit Netflix series that follows a group of singles as they try to find their future spouses. The twist is that they can only talk to potential mates through a wall. They only meet after a proposal is made. Once a proposal happens, the engaged couple must experience life together in the real world before deciding whether to go through with the wedding. They only have about a month to decide.
Love is Blind is a perfect storm of soapy drama and cheesy romance. These singles really want to find love, but things become much more complicated when real life enters the picture. This addictive series (opens in new tab) had fans buzzing about it all winter. It asks viewers and contestants to put any preconceptions of the perfect mate and love aside and open themselves up to new experiences and possibilities
Stream it on Netflix here (opens in new tab)
90 Day Fiancé (Hulu)
90 Day Fiancé follows two people from different countries who fall in love and decide to get married. In the original series, an American would fly their foreign fiancé to America. They would then have 90 days to marry him or her, or let them return to their country, and possibly never see them again.
90 Day Fiancé has become such a massive hit, spinning too many spin-offs to track, because it shows how love unites us. It's one of the few things that people of all races, genders, and sexualities want. We all want love and are willing to move mountains to have it. 90 Day Fiancé is enthralling also because of some of the cringe-worthy couples. 90 Day Fiancé and the many spin-offs are all available to stream on Hulu.
Stream it on Hulu here (opens in new tab).
Married At First Sight (Hulu)
Married at First Sight features singles who put faith in a group of matchmakers to find their soulmates. These matchmakers spent months going through applications, conducting surveys, and tests to find a few couples who on paper should be perfect for each other. These singles then marry a complete stranger. The wedding is the first time that they meet each other, and then they date as a married couple. At the end of the experiment, they must decide to stay together or get their marriage annulled.
Married at First Sight is one of the most unique dating shows out there. It's a very captivating docu-series that explores if arranged marriages still work in today's society. It also explores if there is more of a science to love than many might think. Also Bachelor fans might be excited to know Jamie Otis from Ben Flajnik's season of The Bachelor appeared on Married at First Sight's first season.
Stream it on Hulu here (opens in new tab).
Dating Around (Netflix)
The series is like a mini version of The Bachelor. Each episode focuses on one single going on five different first blind dates. In Dating Around, we experience all the awkwardness of a first date and see how this person interacts with five different options. You can kind of watch as the person shows genuine interest and when they fake it to not be rude. It's a fascinating progression.
The way Dating Around is edited kind of makes it feel a bit more authentic than many reality shows. Most episodes end with the main single picking someone by starting his or her second date with their choice, but sometimes the single picks no one and just goes on living their life. In the short, nearly half-hour, series, you find favorites, root for daters, and get excited or disappointed with the final reveal.
Stream it on Netflix here (opens in new tab).
Too Hot To Handle (Netflix)
Too Hot To Handle is Netflix's latest reality dating experiment. It looks like a new version of Love Island that combines young, hot singles from different countries as they look for love. However, unlike many dating reality shows with hot 20-somethings barely wearing anything as they frolic on an island, this one discourages sexual activity. If the dates kiss, have sex, or any sexual activity, their $100,000 prize money gets decreased.
For many, just waiting to hook up until after a show is not that difficult, but to put a bunch of horny hot people alone together on an island, then you have a challenge. I suspect this show appeals to the same crowd that enjoys Love Island. These daters might want to consult 40 Days and 40 Nights to see how to stay celibate while dating someone.
Stream it on Netflix here (opens in new tab).
Clare Crawley's new love story may be on hiatus, but there are plenty of other shows and new love stories to follow as you wait. Who knows, it might inspire you to try to find your own quarantine love story.