The Lovely Way Dwayne Johnson Paid Tribute To His Father During Awards Acceptance Speech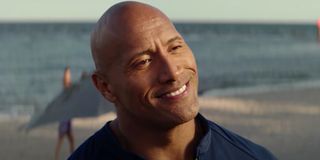 Dwayne "The Rock" Johnson has had a life journey that's hard to compare to anyone else's, and the WWE-star-turned Hollywood actor has seemingly used the fame and fortune his unique journey has earned him to give back to others and make the world a better place. It would seem the Hollywood Critics Association agrees, as they have awarded this year's Trailblazer Award to Johnson. In response to the new honor, the Jumanji star paid a lovely tribute to his father, who passed away in early 2020, in dedicating the award to him.
In awarding Dwayne Johnson the trailblazer award, the HCA said that Johnson "epitomizes everything our Trailblazer Award stands for" and "uses his voice to do good in a time most needed." Johnson responded to winning the award via Zoom in real time, right after watching the award video. He gave an emotional and humble acceptance speech, saying he has the privilege in being in a position to use his voice to enact change. And at the end of his speech, he dedicated the award to his late father, saying he was the real trailblazer. Here it is in the Moana star's own words:
In a lot of ways, we wouldn't have the same beloved Dwayne "The Rock" Johnson we know today without his father and namesake, Rocky Johnson. He was a champion wrestler before his son and trained his son to follow in his footsteps as a WWE wrestler. While this family/work relationship may indeed be a source of the "complicated" relationship the younger Johnson speaks of, he is spot on about his father's trailblazer title. Johnson senior was the first black wrestling champion in WWE history, along with his wrestling partner Tony Atlas, and the two paved the way for more inclusivity in the wrestling community.
Dwayne Johnson also speaks of his father's ability to always send people home happy, which is surely a trait passed down, in this case, from father to son. Johnson has an infectious smile and a sense of humor that makes him a Hollywood favorite that defies generational norms. Although older generations may remember Johnson's first his earlier work in films like The Scorpion King and The Rundown, he's become a regular to younger audiences with roles in a number of Disney films like the upcoming Jungle Cruise. Even so, he's maintaining his place as a versatile actor in playing in more adult-oriented projects like Ballers and the upcoming Red Notice with Ryan Reynolds and Gal Gadot.
Even though Dwayne Johnson has accomplished a lot in his very versatile career and there appears to be no end in sight for the actor, it's refreshing that he maintains a humble air about him when it really comes down to it. It takes a big man to stay grounded when his accomplishments are rewarded and an even bigger man to give credit to his roots, even if the relationship was strained at times with some "tough love". While The Rock being a big man may not be news to anyone, it seems his character may be starting to outgrow his overgrown body. So here's to you, Dwayne "The Trailblazer" Johnson, and the legend who came before you!
Constantly thinking about books, coffee, and the existential dread I feel from Bo Burnham's Inside. While writing I'm also raising a chaotic toddler, who may or may not have picked up personality traits from watching one too many episodes of Trailer Park Boys.
Your Daily Blend of Entertainment News
Thank you for signing up to CinemaBlend. You will receive a verification email shortly.
There was a problem. Please refresh the page and try again.