Following Red Notice, Dwayne Johnson Is Collaborating With Netflix On Another Movie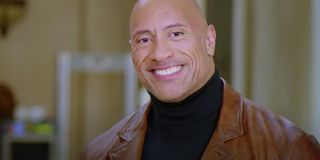 Dwayne "The Rock" Johnson has become a tour de force in Hollywood over the last decade. Since becoming the world's highest paid actor back in 2016 and reclaiming the throne two years later, he's worked on a number of blockbuster films. It was recently announced that Johnson will once again team up with Netflix, who the WWE star-turned-actor previously collaborated with on the upcoming Red Notice.
The illustration-based project titled Teddy and the Guardians of the Night has been picked up by Netflix and will be produced by Seven Bucks Productions, Dwayne Johnson's production company. Hiram Garcia, who is the president of production at Seven Bucks, recently shared the news:
In an interview with The Hollywood Reporter Hiram Garcia revealed that an illustration by Alex Panagopoulos, which depicts a teddy bear protecting a sleeping child from a monster, inspired the film. The news comes before the release of Red Notice, which is a collaboration between Netflix and Seven Bucks Productions.
Dwayne Johnson, Hiram Garcia and Dany Garcia are all attached to produce the project, with Josh Stolberg (Spiral, Jigsaw) and Bobby Florsheim (The Passion Of The Ark) attached to write the screenplay. While the film is still in early production, it's nice to see that streaming giant Netflix and Johnson are strengthening their bond. I'll take all of the over-the-top action (have you seen him fight a helicopter?) that I can get from the man.
While Dwayne Johnson's Red Notice hasn't secured a release date yet, the action blockbuster is expected to premiere later this year on Netflix. The film has a reported budget of somewhere between $160-$200 million, making it one of the most expensive films the streamer has ever produced. Red Notice follows an FBI tracker (Dwayne Johnson) as he tracks down the world's most successful art thief (Gal Gadot) and an international con man (Ryan Reynolds).
Despite multiple delays, partly due to the ongoing covid-19 pandemic, Red Notice is just one of a number of major blockbusters expected to premiere on Netflix this year. While we probably won't be seeing Teddy and the Guardians of the Night for quite some time, there's still a lot of great content to keep fans busy for the rest of 2021.
As for the rest of this year's movie slate, you can stay up to date with everything heading to big and small screens near you with CinemaBlend's 2021 Release Schedule.
Your Daily Blend of Entertainment News
Into tracksuits by Paulie Walnuts, the Criterion Channel and Robert Eggers.
Your Daily Blend of Entertainment News
Thank you for signing up to CinemaBlend. You will receive a verification email shortly.
There was a problem. Please refresh the page and try again.