Star Wars' Mark Hamill Comments On A New Hope's Infamous Lightsaber Meme Picture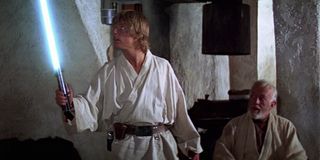 If you follow along with the Star Wars franchise, you know that there are a lot of people who take these stories set in a galaxy far, far away incredibly seriously, for better or worse. But Star Wars can also be a source of humor, whether it's jokes from within the movies themselves or the internet turning certain moments into memes. As an example of the latter, one particularly infamous Star Wars meme shows Mark Hamill on the set of Star Wars: A New Hope holding a lightsaber pointed directly at his face.
Now as anyone who's watched A New Hope will tell you, this doesn't happen in the movie, as Luke Skywalker is well aware how dangerous a lightsaber is after igniting the weapon within Obi-Wan Kenobi's home. Nevertheless, this picture of improper lightsaber usage has made its way around the internet countless times, and Mark Hamill recently commented on the meme with the below tweet:
I can't blame Mark Hamill for cringing whenever seeing the above picture since it immediately conjures images in all our heads of that blue blade accidentally popping out and impaling his eye. It's similar to what we feared in Star Wars: The Last Jedi when one Porg kept pressing its foot on the ignition button while another Porg peered into the lightsaber until Rey retrieved it. Had she arrived just a few seconds later, there might have been a new contender for Most Traumatizing Star Wars Scene.
Still, as Mark Hamill pointed out, if this moment was actually in Star Wars: A New Hope, then Alec Guinness' Obi-Wan Kenobi would have quickly slapped the lightsaber out of Luke Skywalker's hand rather than calmly looked on. This is simply a case of someone on the New Hope production team snapping a photo right as Hamill was holding the lightsaber in a most unfortunate way. It makes sense why Hamill's not the picture's biggest fan, but all these years later, it's provided many laughs to others in meme form.
Mark Hamill's above post on Twitter comes nearly two full months after he shared a lot of Star Wars-inspired Bernie Sanders memes following Joe Biden's inauguration as President of the United States. It'd also be nice to hear what Hamill thinks about the Revenge of the Sith-inspired cake that was the online rounds around the same time. Hamill also turned to Twitter recently to share how the cast and crew of A New Hope celebrated Alec Guinness' birthday in 1976, as well as had a pleasant interaction with The Mandalorian actress Katee Sackhoff this past weekend, saying he'd like to meet her someday since their paths didn't cross when shooting the Disney+ series.
In addition to vocally reprising Luke Skywalker in The Mandalorian Season 2 finale (with his younger likeness being digitally imposed on a body double), Mark Hamill also played the elder Luke in the Star Wars Sequel Trilogy. While it's certainly possible that more opportunities might present themselves in the future for Hamill to reprise Luke in some form or fashion, the actor seems to have made peace with his time as Luke being, for the most part, over. At least we can take comfort knowing he's down to occasionally chat in good fun about Star Wars on social media, as opposed to pulling a Harrison Ford on us.
As far as Mark Hamill's non-Star Wars acting work is concerned, he can be heard as Skeletor in the upcoming animated Netflix series Masters of the Universe: Revelations. And with rumors circulating about Batman: The Animated Series being revived, perhaps that will allow him return as The Joker, which is arguably his most famous role after Luke Skywalker.
Connoisseur of Marvel, DC, Star Wars, John Wick, MonsterVerse and Doctor Who lore. He's aware he looks like Harry Potter and Clark Kent.
Your Daily Blend of Entertainment News
Thank you for signing up to CinemaBlend. You will receive a verification email shortly.
There was a problem. Please refresh the page and try again.