This Is The End's Jay Baruchel Shares Thoughts On Doing A Sequel With Seth Rogen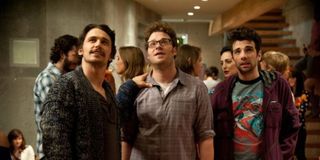 Remember doing group projects in school? It was my favorite because I could pair up with friends and hang out while we did our work. That's basically what Seth Rogen, James Franco and more did for 2013's This is the End, except they got paid millions of dollars and I just got yelled at by my teacher. Fans of the comedy may be wondering if there's plans for a follow up film and Jay Baruchel recently shared his thoughts on joining a possible sequel.
In a recent interview the How to Train Your Dragon star reminisced on This is the End and entertained the idea of a sequel to the apocalyptic comedy. When asked about returning alongside the rest of the cast, he had this to say:
In his interview with Us Weekly, Baruchel noted that it would be difficult to get the original cast in the same room again, but it would be pretty easy to talk him into a sequel if the scheduling worked out.
This is the End featured an ensemble cast with most characters playing larger-than-life versions of themselves, including major celebrities such as Rhianna, Channing Tatum and even the Backstreet Boys. The inside-joke riddled comedy was helmed by long-time friends Seth Rogen and Evan Goldberg, who teamed up to write and direct.
I, for one, would love to see a sequel to This is the End, but I'm also an absolute sucker for anything the Apatow influenced members of the 'frat pack' put out. While a follow-up film, perhaps set in Heaven, is always a possibility, I'm not sure that Seth Rogen would have the time considering the launch of his recent, completely on-brand, business venture.
While the idea of This is the End 2 is a pipe dream at the moment, it would no doubt be cool to see the old gang get back together. A number of the original cast members are currently busy with side projects, including Danny McBride, who has been busy with HBO's Righteous Gemstones and a surprising involvement in the latest entries to John Carpenter's Halloween franchise.
Who knows what that creative crew has in store for the next couple of years, I mean anything is possible. Rogen and Franco made a movie about assassinating Kim Jong-Un that threw the entire movie industry into controversy, after all. At least we know that Jay Baruchel is down. Quick, someone get on the phone with Backstreet Boys!
Your Daily Blend of Entertainment News
Into tracksuits by Paulie Walnuts, the Criterion Channel and Robert Eggers.