Months After Quarantining in Pajamas, Demi Moore Pens Tribute To Bruce Willis' Wife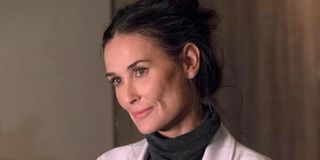 Bruce Willis and Demi Moore are basically modern family goals. Yes, they aren't married anymore, but the love they have for the three daughters they share together have, in a way, cemented them in each other's lives, and they really don't seem mad about it. It wasn't too long ago that the divorced stars were quarantining together and wearing matching PJs, and that's co-parenting and co-existing done right if we ever saw it. Now, months later, Demi Moore has upped the family dynamic's adorableness by penning a tribute to Willis' wife, Emma Hemming Willis.
Bruce Willis and Emma Hemming Willis have two daughters together as well, so it's safe to say that girl power runs rampant in the family. It seems that Demi Moore has not only completely accepted her ex's new wife and family additions, but is striving to build them up as well. Moore posted a lovely tribute to Lady Willis on her Instagram for International Women's Day, saying although there is no real word for what kind of family the two are to one another, the two women are "mothers united, sisters bonded on this crazy adventure of life." Check out Moore's post below:
Emma Hemming Willis is one of two women that Demi Moore tributes in the post, but that definitely doesn't make it less special. Moore's words are full of love. She praises pretty much every part of Willis' being in such an uplifting manner, and even gives a shout out to Willis' new business venture, which is a skincare line meant for women like Moore and Willis themselves: mothers.
The beautiful tribute warranted a response from Emma Hemming Willis. The wife of the Die Hard actor commented under Demi Moore's post saying, "Well if this didn't touch my soul. Thank you Demi I adore you too." Willis isn't the only one touched by the tribute, as the comments on the post are all positive. Empowered women and supportive men are sharing their love in the comments, and rightly so!
There may not be a family name for what the two women are to one another, but that is only because the relationship they share is so rare. Family dynamics are steadily changing - the nuclear family is getting less and less prominent. While step families are not uncommon, it's not really a normal thing for the different sets of parents to be so close.
That's not to say that it should be such a rare thing. Demi Moore and the rest of the Willis family are certainly a type of public figure, and it's a beautiful thing to see them representing a family dynamic that is becoming more popular in such a positive way. Women supporting other women is the game, and this celebrity family is crushing it.
Your Daily Blend of Entertainment News
Thank you for signing up to CinemaBlend. You will receive a verification email shortly.
There was a problem. Please refresh the page and try again.