Ryan Reynolds And Hugh Jackman Are Both Celebrating International Women's Day In Totally Different Ways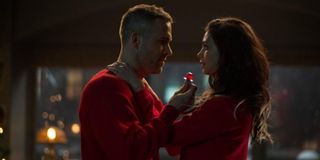 Today, March 8th, marks International Women's Day. As such, a number of big name celebrities have taken to social media to celebrate female friends, coworkers and more. Deadpool star Ryan Reynolds and X-Men heavyweight Hugh Jackman both took the opportunity to show their support in their own, perfectly on-brand ways.
Logan star and long-time Wolverine Hugh Jackman shared a heartfelt message to all of the women of the world, as opposed to Ryan Reynolds, who took the opportunity to reference Deadpool's Morena Baccarin's Vanessa and sneak a NSFW reference in. Check out how the pair celebrated on their Instagram stories. First up, Jackman:
Unsurprisingly, Hugh Jackman went for the heartfelt and sentimental message, which is pretty on-brand for the actor. Despite his on-again, off-again feud with Ryan Reynolds, the Greatest Showman actor has generally taken a more playful approach in his social media presence, versus Reynolds' penchant for R-rated comedy. Over the years, the pair have jokingly gone back and forth on social media, and have even gone so far as to get family members involved in their ongoing feud.
Despite Hugh Jackman's sweet message in celebration of International Women's Day, Ryan Reynolds took the opportunity to reference his Deadpool character, as he's known to do, and pay homage to Deadpool co-star Morena Baccarin.
What seems like a good-intentioned post is also another sly reference to Deadpool's R-rated comedy. Fans may remember that the pair celebrated International Women's Day in 2016's Deadpool with some NSFW activities.
Since joining the MCU via the Fox and Disney merger, it's looking like Ryan Reynolds will be the only X-Men character that won't be rebooted, as he will continue to play Wade Wilson in the upcoming Deadpool 3. While some fans were initially concerned that the Deadpool character would be held back by Disney's commitment to family-friendly films, MCU executive Kevin Feige has already confirmed that the third film will be R-rated.
Just as Ryan Reynolds is getting his start in the MCU, it doesn't look like his feuding friend Hugh Jackman will return as Wolverine any time soon. While he would have been down to join the ever-expanding franchise in the past, the timing just didn't work out. Since hanging up the claws after 2017's Logan, Jackman has expanded his musical work with The Greatest Showman, and his performance even earned him a Golden Globe for Best Actor.
I'm sure I'm not the only one who wants to see Ryan Reynolds and Hugh Jackman finally duke it out and squash the beef in a Deadpool/Wolverine crossover movie. While that may not be likely, there's always a possibility that Jackman could at least make a cameo considering how important the multiverse will be for the MCU's upcoming Phase 4.
That being said, I don't have the insane regeneration abilities of either Deadpool or Wolverine, so I won't be holding my breath. While it's nice to see both actors celebrating International Women's Day in their own way, don't expect this to be the last adult-oriented joke from Reynolds, especially as we get closer to the release of Deadpool 3.
Into tracksuits by Paulie Walnuts, the Criterion Channel and Robert Eggers.
Your Daily Blend of Entertainment News
Thank you for signing up to CinemaBlend. You will receive a verification email shortly.
There was a problem. Please refresh the page and try again.