Seth Rogen's Always-Delightful Mother Has Funny Take On Bridgerton's Sex Scenes, And Seth Rogan Approves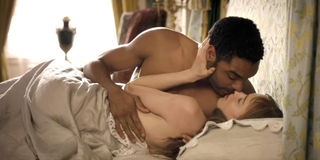 Shondaland's Bridgerton has been heating up headlines since it's Netflix release this past Christmas. The scandalous period drama has some seriously steamy sex scenes - including a pretty lengthy sex montage set to Taylor Swift's music, and it seems like everyone and their mother is talking about it. No really, Seth Rogen's mom has now spoken out about the series, and the ever-delightful woman has a pretty funny take on the sexy scenes, earning her son's approval in the process.
In pretty much my favorite tweet ever to be tweeted, Seth Rogen's mother has weighed in on Bridgerton's sex scenes, and she just had to comment on the orgasms. She's calling out the fact that in all of the sex scenes, the characters always seem to have their orgasms at the same time. You've got to admit, the lady has a point (#normalizerealisticorgasms), and it's pretty clear where her son got his comedic thought process. You can see Sandy Rogen's tweet down below:
While the tweet itself is a hilarious observation, what's even funnier is the fact that Seth Rogen and his mom have a pretty good Twitter relationship, so you just knew he'd see her tweet about orgasms. And even if he wouldn't have seen it naturally, fans pretty much made sure the Pineapple Express stra saw the tweet, because they tagged him under it in what seemed like hundreds of subtweets. A normal person may just ignore their mom's sexual observations, but Seth Rogen is not a typical guy. So, of course, he brought more attention to it in his own Tweet:
This isn't the first time Seth Rogen has brought attention to his mom's tweets, which could embarrass literally anyone else who is not Seth Rogen. But honestly, it's incredibly wholesome. You can tell they have a great mother/son relationship, as his simple retweets seem to be just a way to say, "Hey, here's my mom with something to say" to literally millions of followers. It's clear he respects the things she says, as she even wrote the press release for his book, Yearbook, which comes out later this year.
This is the first time, though, that Bridgerton star Nicola Coughlan has retweeted Seth Rogen's mom. Apparently, the actress saw the tweet from Seth Rogen and decided she wanted in on the fun. She tagged Sandy Rogen in her tweet, saying it was an honor to have her as a fan and that she was absolutely right about the show's timing of orgasms. To make the exchange even more lovely, Mama Rogen responded to the tweet saying the honor was all hers in having Coughlan see her original tweet at all.
So yeah, what could have been the most embarrassing moment in the world - a person's mother broadcasting to the world her orgasm observations - actually turned out to be pretty much the cutest thing ever. Just to recap everything we've learned: Sandy Rogen is awesome, Seth Rogen loves his mom, and Nicola Coughlan also loves his mom. Oh, and I also love his mom. Be right back, going to go follow her on Twitter. And while I'm gone, you can check out Bridgerton's sex scenes for yourself by streaming the show on Netflix.
Your Daily Blend of Entertainment News
Constantly thinking about books, coffee, and the existential dread I feel from Bo Burnham's Inside. While writing I'm also raising a chaotic toddler, who may or may not have picked up personality traits from watching one too many episodes of Trailer Park Boys.