This Behind-The-Scenes Clip From Tom Holland's Cherry Is A Good Reminder Of How Hard War Scenes Are To Shoot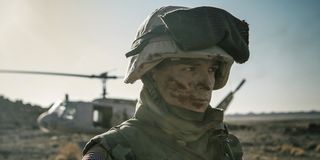 The new Apple original film starring Tom Holland, Cherry, is a crime drama following a former army medic who gets hooked on opioids to deal with PTSD and begins robbing banks to support his habit. Directed by the Russo Brothers, the war scenes in the film seek to convey the experience as accurately as possible. You can see how they always went the extra mile while filming in the exclusive behind-the-scenes clip above.
Cherry debuts on AppleTV+ March 12 and fans are in for a sobering experience. As Joe and Anthony Russo mention in the clip, they decided to "sit in longer takes" with Tom Holland's character, Cherry, in order to convey what it's like in a warzone. Cherry is not fully prepared for the level of death and destruction that he faces in the army, which is reflected in the rest of his journey as the story unfolds.
This is a good reminder of how hard war scenes are to shoot because there are so many different pieces in play. As Tom Holland mentions, "there are so many moving parts" and he feels "lucky" to work with a crew that could successfully navigate those moving parts into the correct places. Imagine being on a set of this magnitude, with the crew and effects teams behind the explosions we see on-screen, along with stuntmen and actors giving it their all. It's truly amazing to see what they all put in to bring us this incredible film.
When it comes to the war scenes, the filmmakers also have to consider that they're creating something that much of the audience does not have a reference point to relate to. Some may think it easier to create an authentic experience when the audience isn't able to say whether it's correct, but quite the opposite usually happens, people can feel when something isn't quite real. The Russo Brothers took this into account and shot every scene in a way that fully immerses the audience in the experience with the protagonist.
I'd be remiss not to mention that Cherry is not solely a war film, not in the least. As we hear from Ciara Bravo (who plays Tom Holland's love interest) in AppleTV+'s The Making of Cherry clip, Cherry begins as a romantic film, becomes a war film, and then becomes a drug film. It sounds like a lot, and it is, but they absolutely pulled this off. It does not feel like watching separate films at all - each section flows seamlessly into the next because these are actual stages of a man's life.
Cherry was adapted from Nico Walker's autobiographical book. The film spans 15 years of his life, which is a lot of time to pack into a feature film and speaks to the talent of Tom Holland to go from our friendly neighborhood Spider-Man to portraying a war vet through so many life stages. It's heartwarming to hear Tom Holland say "the stars aligned" on this film and he had "a wonderful" time making it because it is evident that what he put into this role paid off.
Stream Cherry on AppleTV+ starting March 12. You do not want to miss this one - it's Robert Downey Jr.-approved! Here are quick things to know before you watch. Be sure to find us on social media to share your thoughts once you see it.
Your Daily Blend of Entertainment News
Obsessed with Hamilton and most things Disney. Gets too attached to TV show characters. Loves a good thriller, but will only tolerate so much blood.