Spike Lee Has Commented On Delroy Lindo's Oscars Snub After Story Went Viral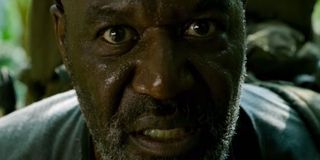 Every awards season, there are certain films, directors and actors who don't receive the recognition that many believe they deserve. The Academy Awards recently released this year's nominees and unsurprisingly, there were quite a few snubs, depending on who you ask. Iconic director Spike Lee is the latest to share his thoughts on Da 5 Bloods star Delroy Lindo and the news of his snub going viral.
Spike Lee took to Instagram to share a Delroy Lindo appreciation post, noting the actor's incredible performances across his entire career and acknowledging this year's Academy Awards. Check it out:
In the heartfelt post, Da 5 Bloods director Spike Lee noted that the lack of a nomination means little compared to the impact of Lindo's career on the big screen. Lindo, who has appeared in a number of Spike Lee's films, such as Crooklyn and Clockers, was considered by many to be an Oscar front runner after his performance in Da 5 Bloods.
Despite winning a number of early awards, the nominations end up falling off. Lindo failed to secure a nomination at the Golden Globes, leading to speculation that he was going to be snubbed by the Academy as well. Well, it looks like the predictions panned out. Despite the internet going wild for his impressive performance as Vietnam veteren Paul in Da 5 Bloods, it looks like he will be sitting out of this year's ceremony.
I know that I'm pretty disappointed Lindo didn't earn a nomination at this year's Academy Awards. His monologue in the latter half of Da 5 Bloods is one of the most impressive performances that I've personally seen in years. Based on Spike Lee's post and the rest of the internet's reaction, I'm not the only one who is disappointed by the snub, either.
Delroy Lindo was beat out in the Best Actor category by Riz Ahmed, Anthony Hopkins, Gary Oldman, Steven Yeun and his Da 5 Bloods co-star Chadwick Boseman. Despite Lindo's snub, it's not all bad news for the cast and crew of Spike Lee's latest joint. Da 5 Bloods ended up earning a single Oscar nomination in the Best Score category.
While it's certainly not how some fans thought Lindo's Oscar race would come to an end, it's not terribly surprising considering the year we've had. Awards season has been marred by controversy since kicking off earlier this year. Spike Lee's post is just another reminder that awards aren't everything, especially for someone as talented as Delroy Lindo.
Fans can revisit Delroy Lindo's all-star performance in Da 5 Bloods on Netflix right now. From there, you can decide if he was snubbed after all. As for me? I'm pretty solidly in the "I can't believe he didn't even get nominated for this" category, but to each their own. Let us know what you think in the poll below!
This poll is no longer available.
Into tracksuits by Paulie Walnuts, the Criterion Channel and Robert Eggers.
Your Daily Blend of Entertainment News
Thank you for signing up to CinemaBlend. You will receive a verification email shortly.
There was a problem. Please refresh the page and try again.