Yaphet Kotto's Best Movies And TV Shows And How To Watch Them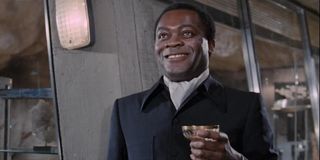 CinemaBlend participates in affiliate programs with various companies. We may earn a commission when you click on or make purchases via links.
Yaphet Kotto, the legendary actor who made a name for himself in films including Alien and Live and Let Die, as well as TV shows like Homicide: Life on the Street, passed away in March 2021, leaving behind a legacy consisting of dozens of memorable roles going back to the 1960s. And as we read all of the touching tributes celebrating the actor and his 81 years on this planet, we can't help but look back on the Yaphet Kotto movies and TV shows the world will undoubtedly look back on fondly for generations to come.
From gritty police procedurals to terrifying sci-fi horror in a place where no one can hear you scream, there's plenty to choose from when you're looking for a great Yaphet Kotto movie or TV show to honor the late actor. We've compiled a list of some of his best work, including a few you may have never known he starred in.
Homicide: Life On The Street (1993-1999)
There are few crime procedurals as influential as Homicide: Life on the Street, and that is thanks in part to Yaphet Kotto's ongoing presence on the long-running, and critically acclaimed drama. Based on the non-fiction novel, Homicide: A Year on the Killing Streets by David Simon, who would go on to create The Wire a decade later, the show follows the fictionalized Baltimore Police Department's homicide unit, led by Kotto's Al Giardello.
With his characteristic facial expressions, that unique voice, and a command of the screen matched by only a few, Yaphet Kotto's take on a seasoned lieutenant was the glue that kept the group of hardened detectives together all those years and his performance still sticks out after all these years.
Purchase the Homicide: Life on the Street DVD Boxset on Amazon.
Alien (1979)
One of the best parts of the Ridley Scott's 1979 sci-fi horror masterpiece Alien is that you don't really know who the hero is going to be and which member of the Nostromo crew would be the one to save the day (or survive). Everyone from the kickass heroine Ellen Ripley (Sigourney Weaver) to Kane (John Hurt) get time to shine in the movie's opening act. One of the members of the cast to steal every scene in which he appears is Parker (Yaphet Kotto), the ship's chief engineer, who has this certain quality about him that walks a fine line between a sympathetic character and a money-obsessed know-it-all. It's brilliant, really.
Live And Let Die
Not only is Live and Let Die in the upper echelon of Roger Moore's James Bond movies, and not only does the movie have one of the best James Bond theme songs, it also has one of the franchise's most iconic villains in Mr. Big (Yaphet Kotto). Seriously, everything about Mr. Big is insane and completely over the top. From his plan of distributing two tons of heroin free-of-charge to his love of all things voodoo (hello, Baron Samedi) to that menacing laugh, Kotto helped create a villain that could stand toe-to-toe with the likes of Dr. No, Auric Goldfinger, and Blofeld.
And even though there are a lot of pain points with Live and Let Die, sometimes you just need to sit back and watch a madman try to take over the world before getting blown up like a balloon.
Rent Live And Let Die on Amazon.
Midnight Run (1988)
The 1988 buddy action comedy Midnight Run is probably best remembered for the chemistry of Robert De Niro and Charles Grodin as bounty hunter Jack Walsh and former mafia accountant Jonathan "The Duke" Mardukas, respectively, but Yaphet Kotto's portrayal of FBI Special Agent Alonzo Mosely is the other member of the cast that makes this movie so much damn fun to watch. While it could be argued that Grodin is playing the straight man here, Kotto's icy demeanor and stone cold delivery make him a force to be reckoned with, a force with no time for any games from all involved parties, especially those who steal his badge and take on his identity across the country.
Stream Live And Let Die on HBO Max.
Rent Live And Let Die on Amazon.
Brubaker (1980)
The 1980 prison drama Brubaker largely focuses on Robert Redford's Henry Brubaker, an Arkansas warden who poses as an inmate in order to put a stop to the widespread corruption and violence in the penal system, but along with him at the center of the story is Yaphet Kotto's Richard "Dickie" Coombes. One of the inmates who helps Brubaker in his righteous crusade of fixing a flawed system, Dickie provides a much-needed level of pragmatism to the situation while also allowing the actor's natural charm and likability to help the undercover prison official work his magic.
The Running Man (1987)
With Edgar Wright's The Running Man on the way, now's the perfect time to look back on the first adaptation of the Stephen King dystopian future thriller starring Arnold Schwarzenegger. Alongside Schwarzenegger's Benjamin A. "Ben" Richards in his crusade to clear his name and survive the devious game show that shares a name with the film's title is Yaphet Kotto's William Laughlin, a trusty and hardened resistance fighter hellbent on escaping his labor camp and changing the world for the better. In addition to providing much of the film's exposition, Kotto's character also provides for some of the most badass moments along the way, including a death for the ages.
Rent The Running Man on Amazon.
The Thomas Crown Affair (1968)
One of the best Boston movies of all time, The Thomas Crown Affair (the 1968 original), also happens to be one of the best heist films of all time. Centering on bored millionaire Thomas Crown (Steve McQueen) as he comes up with a plan to rob a bank without so much as lifting a finger, the crime caper is rounded out by a few phenomenal supporting characters, including Carl (Yaphet Kotto). Despite being one of his first film roles, a young Kotto is both dynamic and cool as a cucumber throughout the film, including in the iconic "Go" scene.
Stream The Thomas Crown Affair on Amazon.
Blue Collar (1978)
Paul Schrader's 1978 crime drama Blue Collar is one of those movies that should be talked about more considering it was written and directed by Paul Schrader (Taxi Driver, American Gigolo, The Last Temptation of Christ) and has a cast anchored by Richard Pryor, Harvey Keitel, and Yaphet Kotto. Revered by critics, including Roger Ebert who gave it four stars, the movie follows three down-on-their-luck auto workers who decide to get back at their union office through unsavory methods. And while Kotto doesn't get as much time to shine as Pryor and Keitel, his character is at the center of the narrative and proves to be pivotal in the direction of his friends and their crusade.
Across 110th Street (1972)
The 1972 police drama Across 110th Street sees a young Yaphet Kotto portraying William Pope, a young NYPD officer assigned to investigate a robbery that quickly blew up into something more alongside department vet Frank Mattelli (Anthony Quinn). If the crime wasn't bad enough, the ideological differences of the two cops doesn't make things even better for themselves or victims for which they are seeking justice. More than 20 years before he led the show in Homicide: Life on the Street, Kotto shows here just how well he can take command of a crime scene as well as an audience's attention.
Stream Across 110th Street on Pluto TV.
Rent Across 110th Street on Amazon.
This is just barely scratching the surface of all the great Yaphet Kotto roles you need to check out if have you haven't already. With dozens of credits to his name over the course of his decades-long career, there is something for everyone, no matter the genre. And if you're looking for more to watch, don't forget to check out CinemaBlend's listing of all the 2021 movie premiere dates.
Philip grew up in Louisiana (not New Orleans) before moving to St. Louis after graduating from Louisiana State University-Shreveport. When he's not writing about movies or television, Philip can be found being chased by his three kids, telling his dogs to stop yelling at the mailman, or yelling about professional wrestling to his wife. If the stars properly align, he will talk about For Love Of The Game being the best baseball movie of all time.