Upcoming J.K. Simmons Movies And TV: What's Ahead For The Marvel And DC Actor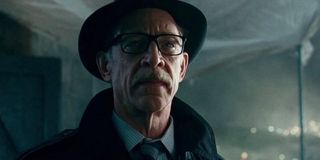 We are only a few months into 2021 and J.K. Simmons is already having one hell of a year. So far this year, the Academy Award winner has shown up in a little movie by the name of Zack Snyder's Justice League and is currently part of the voice cast of the Amazon superhero animated series Invincible, but could there be even more comic book adaptations on the way for the Marvel and DC movies star?
Over the course of the next year or so, we'll be seeing a lot of J.K. Simmons, and those appearances won't be isolated to Farmers Insurance or M&M commercials. In fact, the man who will always be remembered by some as the Vernon Schillinger (Prisoner #922110) on the HBO prison drama Oz has several movies and TV shows coming up, with each sounding equally as good as the rest. Let's break down each of those upcoming roles.
The Tomorrow War - July 23, 2021 (Post-Production)
As the name suggests, The Tomorrow War, Chris McKay's upcoming sci-fi action flick, will follow a group of soldiers with one last shot at stopping an alien invasion from wiping out all life on a futuristic earth. To do that and avert disaster, scientists have developed the time travel technology that will allow them to enlist some of history's most fearsome fighters. The Tomorrow War features a large ensemble cast of anchored by names like J.K. Simmons, Chris Pratt, Betty Gilpin, Yvonne Strahovski, Keith Powers, and 24's Mary Lynn Rajskub.
The Tomorrow War was first announced as Ghost Draft (which is a badass title) back in February 2019 with Chris McKay (The Lego Batman Movie) set to direct. In the months leading to the start of principal photography that September, the cast began to fill out and was eventually given the new title which it has today. Production wrapped several months later, and the film looked like it was going to see theaters on Christmas Day 2020. That date, however, was pushed back to July 23, 2021, though the film's release model remain unknown following that big $200 million Amazon deal signed in January.
Seal Team - TBD (Filming)
Despite how it sounds, Seal Team is not another military drama about the elite Navy force that has been at the center of war stories (both in real life and in the movies), but instead an animated action comedy about an orphan seal, Quinn (Jessie T. Usher) who puts together a highly trained group of seafaring creatures to avenge the death of his best friend on the South African coast. The team, which consists of characters voiced by Seal (yes, that Seal), Black Panther's John Kani, J.K. Simmons, and Sharlto Copley, will assist Quinn in taking on the ferocious shark at the center of the conflict.
Seal Team was first announced in November 2013, but details have been hard to find following a May 2018 start of production and cast reveal in September 2019. There is, however, a poster for the TriggerFish animation film with a very fitting tagline: "Jaws will drop!" attached, but no word on a release date for the fun action adventure just yet. Hopefully we'll hear more about this star-studded project in the near future.
My Only Sunshine - TBD (Pre-Production)
J.K. Simmons is no stranger to dark comedies, having absolutely killed it as "CIA Superior" in the Coen brothers' 2009 crime film Burn After Reading and more recently in the 2020 time loop laugh fest Palm Springs. The talented actor will go for another round of action in Mark Palansky's (Penelope) My Only Sunshine, that also features another Hollywood great, John Cusack. In the heist film, Cusack will play one half of a dysfunctional couple who decides to take part in a rather unorthodox form of marriage counseling: robbing a bank. When things get out of hand and hostages are being held against their will, Simmons' police negotiator comes in to attempt to avert disaster.
My Only Sunshine was first announced in February 2020 and was originally set to enter production either that spring or summer, but those plans were scrapped when film sets around the globe were shut down just one month later. There hasn't been much in the form updates since the initial reveal more than a year ago, but with the promising story and excellent cast, hopefully this one doesn't go the way of the buffalo.
Being The Ricardos - TBD (Pre-Production)
Aaron Sorkin has made a career out of making movies and television shows that tackle all the behind-the-scenes details of everything from the White House (The West Wing), Facebook (The Social Network), and the launch of several Apple products (Steve Jobs). Now the acclaimed writer/director is turning his focus to Being the Ricardos, the upcoming drama that follows the cast and crew of I Love Lucy over the course of a single week from table read to filming before a live studio audience.
Nicole Kidman and Javier Bardem are set to take on the roles of Lucille Ball and Desi Arnaz, respectively, with J.K. Simmons and Nina Arianda on board to portray their costars, William Frawley and Vivian Vance. The pairing of Simmons and Arianda is especially intriguing since the two will portray too actors who worked together for six seasons of I Love Lucy, did not care for each other one bit. How that relationship is handled with the explosive Simmons involved could make for great theater. It remains unclear when exactly Being the Ricardos will enter production, but expect to hear more about this movie in the months to come.
Goliath Season 4 (TV Show) - TBD (Pre-Production)
The Amazon legal drama Goliath will be coming to an end at some point in 2021, and when it does, it will bring on some heavy hitters to join Billy Bob Thornton's Billy McBride for one final ride. Back in February 2020, it was revealed that J.K. Simmons had signed on to portray George Zax, the head of a family-owned and operated pharmaceutical company with Bruce Dern on board to portray his brother Frank, the whiz behind one of the nation's largest drug manufacturers. It has not yet been revealed if McBride will be going up against the brothers in court or fighting in their corner.
Goliath has been one of the most popular Amazon originals since its 2016 debut and has even netted Billy Bob Thornton a Golden Globe for his portrayal of alcoholic and down-on-his-luck Billy McBride in his battle for redemption and revenge on those who stole his career and reputation years earlier. But even though much has been announced about the fourth and final season, there is no word on when Goliath will return to Amazon.
Ghostbusters: Afterlife? - November 11, 2021 (Post-Production)
Before we get started, it should be noted that J.K. Simmons is not yet confirmed to be in Ghostbusters: Afterlife, but there's a good chance the longtime collaborator of director Jason Reitman shows up in one form or another. For one thing, Simmons has been in all but one of Reitman's movies (2018's Tully) and the director even served as an executive producer on Whiplash, the film that earned Simmons an Oscar in 2015.
When asked about the idea of appearing in the movie that is set to finally land in theaters November 11, 2021, J.K. Simmons told Collider in 2020 that it was "one of those things where I know" before saying that he "may or may not make an appearance" in Ghostbusters: Afterlife. Now, I'm not saying he's going to show up in any meaningful way, or even as the voice of a ghost, but it sort of sounds like Simmons will be in the Ghostbusters sequel/reboot, but he's not telling. If Simmons does end up being in the movie, he will join a ridiculously stacked cast that includes staples of the franchise and newcomers alike.
Spider-Man: No Way Home? - December 17, 2021 (Filming)
Spider-Man: Far From Home shocked the world and delighted millions of comic book fans around the world in summer 2019 when none other than Daily Bugle publisher J. Jonah Jameson, once again portrayed by J.K. Simmons, popped up on the screen to reveal the webslinger's secret identity. With that earth-shattering reveal (for Peter Park and those in the audience alike) came speculation that Simmons would be returning full-time to the role he absolutely owned in Sam Raimi's Spider-Man trilogy. In the nearly two years since the the MCU film's release, there hasn't been any confirmation that Jameson, or Simmons, would be returning, but he has to be there, right?
And so that brings us to Spider-Man: No Way Home, the latest Spidey movie, which is set to land in theaters on December 17, 2021. There is the business of that contract that will allow Simmons to portray the newspaper editor in two more movies, with one already "in the can," so to speak. This could mean the character shows up in Venom: Let There Be Carnage or the Jared Leto-led Morbius, but please, please let it be No Way Home though I don't think Jameson will be taking any pictures from Peter Parker anytime soon.
We will have to wait and see if J.K. Simmons appears in Spider-Man: No Way Home, but in the meantime, there are a ton of 2021 movies to hold us over until the film's December release.
Philip grew up in Louisiana (not New Orleans) before moving to St. Louis after graduating from Louisiana State University-Shreveport. When he's not writing about movies or television, Philip can be found being chased by his three kids, telling his dogs to stop yelling at the mailman, or yelling about professional wrestling to his wife. If the stars properly align, he will talk about For Love Of The Game being the best baseball movie of all time.