What The Moneyball Cast Is Doing Now, Including Brad Pitt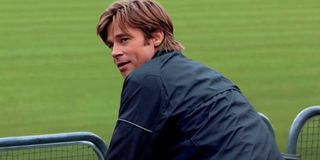 In September, we'll hit the ten-year anniversary of Moneyball, Bennett Miller's superb baseball drama starring and produced by Brad Pitt. The type of star-driven character drama that's rarely funded by studios nowadays, this sharp, well-helmed adaptation of Michael Lewis' 2003 book of the same name was in development hell prior to this movie's underdog success, but everything worked out in the end. Moneyball was met with both acclaim and box office success, later receiving six Oscar nominations, including Best Picture, Best Actor, Best Supporting Actor, and Best Adapted Screenplay.
It's hard to believe that it's been nearly a decade since Moneyball debuted in theaters, but it's a credit to its timeless quality that it holds up — quite well, in fact! But, what is the cast doing now, including Jonah Hill, Robin Wright, and Chris Pratt? A hell of a lot has changed since this Oscar-nominated sports movie hit theaters. Let's take a look!
Brad Pitt (Billy Beane)
As Billy Beane, the general manager of the Oakland Athletics who adopts an unlikely strategy to form a competitive team, Brad Pitt plays our lead character in Moneyball. And, he received two Oscar nominations, for Best Picture and Best Actor. Previously, Pitt was nominated for his supporting role in 12 Monkeys and his titular turn in The Curious Case of Benjamin Button. Additionally, as a producer, he was nominated for The Big Short and 12 Years a Slave, the latter for which he won. Last year, Pitt won another Oscar for his supporting turn in Once Upon a Time ... In Hollywood. He also starred in Mr. and Mrs. Smith, Inglorious Basterds, Fight Club, Se7en, and the Ocean's movies.
Most recently, Brad Pitt starred in and produced Ad Astra. Next, the Oscar-winning actor will be seen in Bullet Train and Babylon. Additionally, through his Plan B production company, Pitt is producing The Underground Railroad, Blonde, The Curious Incident of the Dog in the Night-Time, Black Hole, Wrong Answer, Americanah, and a Chris Cornell documentary.
Jonah Hill (Peter Brand)
In the role of Peter Brand, the young assistant general manager with radical ideas for how to measure each player's value, Jonah Hill gave an Oscar-nominated performance in Moneyball. A few years later, the actor would be nominated again for his supporting turn in Martin Scorsese's The Wolf of Wall Street. His other notable film credits include Superbad, Knocked Up, 21 Jump Street, War Dogs, This is the End, 22 Jump Street, Hail Caesar!, Cyrus, Forgetting Sarah Marshall, and The Beach Bum. Also, he can be heard in the How to Train Your Dragon films, The Lego Movie, Horton Hears a Who!, Sausage Party, and Megamind. Additionally, Hill starred in Netflix's mini-series, Maniac. As a screenwriter, meanwhile, Hill co-wrote the stories for 21 and 22 Jump Street and Why Him? He also wrote and directed mid90s.
Most recently, Jonah Hill guest-starred on Curb Your Enthusiasm. Next, the actor will be seen in Netflix's Don't Look Up.
Robin Wright (Sharon Beane)
Playing the part of Sharon Beane, Billy's ex-wife, Robin Wright took on a combative character in Moneyball. Most notably, Wright is known for her lead roles in The Princess Bride and Forrest Gump. She's also acclaimed for her Emmy-nominated performance in Netflix's House of Cards. Her other high-profile film credits include Unbreakable, The Girl with the Dragon Tattoo (2011), Wonder Woman, Blade Runner 2049, White Oleander, Nine Lives (2005), Beowulf, The Congress, Everest, and A Most Wanted Man. Additionally, on TV, the actress is known for NBC's Santa Barbara, as well as Empire Falls and Enlightened.
Earlier this year, Robin Wright made her feature directorial debut with Land, which the actress also produced and starred in. She also reprised her role as Antiope in Wonder Woman 1984 and Zack Snyder's Justice League. Additionally, Wright narrated CNN's First Ladies. Currently, she's directing a segment in the anthology film, Together Now.
Chris Pratt (Scott Hatteberg)
As Scott Hatteberg, a catcher-turned-first baseman for the Oakland Athletics, Chris Pratt played a prominent supporting role in Moneyball. Following this film's release, the actor's profile skyrocketed, notably with his lead performance in Marvel's Guardians of the Galaxy. He would reprise this role in Guardians of the Galaxy Vol. 2, Avengers: Infinity War, and Avengers: Endgame. He's also well-known for starring in Jurassic World and its sequel. Additionally, he voiced the lead character in The LEGO Movie and The LEGO Movie 2: The Second Part. On TV, meanwhile, the A-lister was a scene-stealer in NBC's Parks and Recreation.
Most recently, Chris Pratt appeared in A Parks and Recreation Special. The actor can also be heard in Pixar's Onward. Next, Pratt stars in Jurassic World: Dominion and The Tomorrow War. He's also playing Star-Lord in Thor: Love and Thunder, which is now filming, and Guardians of the Galaxy Vol. 3. Additionally, he's attached to the long-delayed Cowboy Ninja Viking.
Kerris Dorsey (Casey Beane)
In the role of Casey Beane, Billy Beane's daughter, Kerris Dorsey plays a heartfelt supporting character at the emotional core of Bennett Miller's Moneyball. Dorsey's other notable film credits include Alexander and the Terrible, Horrible, No Good, Very Bad Day, Walk the Line, Just Like Heaven, and McKenna Shoots for the Stars. Also, the actress can be seen in Don't Tell Kim, JumpRopeSprint, and Fuel. Most notably, though, Dorsey starred in Showtime's Ray Donovan as Bridget Donovan. Additionally, she was in the main cast for ABC's Brothers & Sisters. Her other television credits include Mad Men, Shake It Up, Sons of Anarchy, Monk, Scrubs, Medium, Vanished, and So Notorious.
Next, Kerris Dorsey stars in the short film, Delivery, which she also produced. She'll also reprise her role as Bridget Donovan in Showtime's Ray Donovan film continuation. Additionally, Dorsey wrote and directed the short film, Silverstone, earlier this year.
Stephen Bishop (David Justice)
Playing the part of David Justice, an outfielder, Stephen Bishop plays a notable supporting role in Moneyball. A retired baseball player, Bishop brought a great deal of authenticity to his performance, adding to its lived-in feel. As an actor, Bishop can be seen in Friday Night Lights (2004), The Rundown, Hancock, The Town, Safe House, Battleship, Miss Meadows, and last year's Fatal Affair. On TV, Bishop appears in Being Mary Jane and Imposters, as well as Criminal Minds, Agents of S.H.I.E.L.D., Grey's Anatomy, Lost, CSI: Miami, The Mentalist, and Friday Night Lights.
Next, Stephen Bishop stars as Singleholic. He's also set to star in Starz's Run the World.
Reed Diamond (Mark Shapiro)
As Mark Shapiro, the Indians general manager who gets outmaneuvered by Billy Beane, Reed Diamond plays an eventful supporting character in Moneyball. Most notably, Diamond is known for his TV work in Homicide: Life on the Street, 24, Dollhouse, and The Shield, as well as Bones, The Mentalist, Agents of S.H.I.E.L.D., Underground, Franklin & Bash, Judging Amy, and Journeyman. More recently, Diamond played recurring characters in ABC's Designated Survivor and USA Network's The Purge.
Outside of television, Reed Diamond appeared in Spider-Man 2, Assassins, Clear and Present Danger, S.W.A.T., Good Night and Good Luck, Meet Bill, Much Ado About Nothing (2012), Memphis Belle, and Confessions of a Teenage Jesus Jerk. Most recently, the actor was seen in Our Friend, Pearl, and 13 Reasons Why's final season.
Brent Jennings (Ron Washington)
In the role of Ron Washington, the coach of the Oakland Athletics, Brent Jennings played an authoritative character in Moneyball. His other notable film credits include Witness, Red Heat, Another 48 Hrs., Life (1999), Children of the Corn IV: The Gathering, Honeydripper, Live Wire, and Fear City. On TV, Jennings was a series regular on AMC's Lodge 49. He also appeared in Political Animals, ER, Shameless, and Medium. Currently, the actor appears in The CW's All American. Also, Jennings guest-starred in FX's Snowfall this year. Additionally, he was seen in HBO's Insecure and CBS's All Rise.
Glenn Morshower (Ron Hopkins)
Playing the part of Ron Hopkins, an old-school scout, Glenn Morshower has a notable supporting role in Moneyball. Most notably, the actor is known for his role in 24. He also appears in four Transformers movies, including the most recent installment in the franchise, Transformers: The Last Knight. Currently, Morshower plays a recurring role in Fox's The Resident. Additionally, the actor has over 200 credits in film and television, including Bloodline, Supergirl, Dallas, X-Men: First Class, Friday Night Lights, Good Night and Good Luck, The Island, Black Hawk Down, Pearl Harbor, Godzilla (1998), Air Force One, Star Trek: Generations, Tango & Cash, The West Wing, and Alias.
Most recently, Glenn Morshower played a supporting role in January's The Little Things. He also starred in February's Scream Test. Morshower's other recent film credits include A Dark Foe and The Runners. Next, the actor appears in Under the Stadium Lights, Delicate State, Viridian, Quiet In My Town, Black Wood, and the short film, Amen.
Casey Bond (Chad Bradford)
As Chad Bradford, the underhand-throwing pitcher, former athlete Casey Bond plays a fastball-throwing character in Bennett Miller's Moneyball. Prior to acting, Bond was an outfielder within the San Francisco Giants organization. Following Moneyball, the actor appeared in I Saw the Light, Salvation Street, Undrafted, and Remember the Goal.
Additionally, Casey Bond starred in and produced My Many Sons and The Meanest Man in Texas. He also produced the documentary, The Cuban Dream, and wrote, directed, and produced a pair of short films, THE Rainbow Chasers and Deep Water Stillness. For the latter, Bond doubled as an editor and cinematographer. Additionally, the actor appeared in Nashville. Most recently, Bond played a supporting role in Apple TV+'s war drama, Greyhound. Next, he's expected to appear in the upcoming short film, Zinfandel.
Tammy Blanchard (Elizabeth Hatteberg)
In the role of Elizabeth Hatteberg, Scott's wife, Tammy Blanchard provides a brief supporting turn in Moneyball. Away from this acclaimed movie, Blanchard is a two-time Tony-nominated actress for her Broadway performances in 2003's Gypsy and 2011's How to Succeed in Business Without Really Trying. She also received Emmy and Golden Globe nominations for her portrayal of a teenage Judy Garland in Life with Judy Garland: Me and My Shadows. Additionally, her other notable film credits include Tallulah, Into the Woods, Blue Jasmine, Rabbit Hole, Cadillac Records, A Beautiful Day in the Neighborhood, The Good Shepherd, and The Invitation.
Additionally, on TV, Tammy Blanchard had a recurring role in USA Network's Dare Me. Also, the actress was in the main cast for Guiding Light. Her other TV credits include The Big C, Law & Order, Billions, The Good Wife, and Blue Bloods. Earlier this year, Blanchard appeared in The Mimic. Next, the actress will be seen in Rifkin's Festival, which premiered internationally, Defining Moments, and Joyful.
Jack McGee (John Poloni)
Playing the part of John Poloni, a scout and former big-league pitcher, Jack McGee was an outspoken character in Moneyball. Most notably, McGee is known for FX's Rescue Me, though the character actor has 100-plus film and TV credits on his resume, including The Fighter, The McCarthys, Pitch, Basic Instinct, Gangster Squad, Domino, Legally Blonde 2, The Man Who Wasn't There, Thirteen Days, Coyote Ugly, The Paper, The Flintstones in Viva Rock Vegas, Jungle 2 Jungle, Cool as Ice, Backdraft, The Doors, Lethal Weapon 2, Scrooged, Showgirls, 21, TRON: Legacy, and Drive Angry.
Most recently, Jack McGee appeared in Last Call. Next, he'll be seen in Blue Call, Our Almost Completely True Story, Christmas vs. The Walters, and A Place in the Field.
We should also note that, while Phillip Seymour Hoffman played a major role in this acclaimed drama, the Oscar-winning actor passed away in 2014 at 46. Following Moneyball's release, Hoffman was seen in The Master, A Most Wanted Man, and The Hunger Games sequels. The Hunger Games: Mockingjay - Part 2 became his final film.
Your Daily Blend of Entertainment News
Will is an entertainment writer based in Pittsburgh, PA. His writing can also be found in The Playlist, Cut Print Film, We Got This Covered, The Young Folks, Slate and other outlets. He also co-hosts the weekly film/TV podcast Cinemaholics with Jon Negroni and he likes to think he's a professional Garfield enthusiast.
Your Daily Blend of Entertainment News
Thank you for signing up to CinemaBlend. You will receive a verification email shortly.
There was a problem. Please refresh the page and try again.