Joseph Gordon-Levitt Shares Throwback Photo With Heath Ledger And Others To Celebrate 10 Things I Hate About You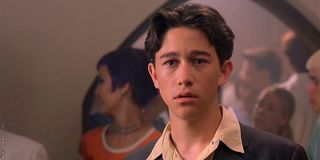 Ever feel like the '90s were just ten years ago? That's a delusion I like to live in, but it seems like anytime there is a bombshell of a throwback I get jerked out of that false reality. This time, it's Joseph Gordon-Levitt snapping me back to 2021 with his 10 Things I Hate About You tribute photo he recently posted to celebrate the anniversary of the iconic film. Levitt's photo shows a child version of himself with a young Heather Ledger, Julia Stiles, and Larisa Oleynik in all their '90s glory.
If it were the photo alone, I'd be elated. However, in Joseph Gordon-Levitt's caption he mentions how it's been over 20 years since 10 Things I Hate About You was released. Yes, the math makes sense, but that just doesn't sit right with me. Check out Gordon-Levitt's heart-warming, yet soul-crushing, anniversary post below:
While the photo of the four actors screams '90s with the jump poses and platform flip flops, there is something timeless about the film and how the actors look in it. I was only 5 when 10 Things I Hate About You came out but I know I watched the film in High School and it felt like the film was brand new - and I know I'm not alone in that experience. It seems like everyone my age also watched the film when they were in High School and it remains one of their favorite films to this day.
I don't know anything about kids in High School currently, but the comments on Joseph Gordon-Levitt's post seem to imply the same experience is happening to kids now. Other people who grew up loving the film are saying their High School aged kids have seen the movie and love it, one commenter saying their 16-year-old daughter loves it.
In fact, people of all different generations (okay, maybe there are no baby boomers present) are commenting saying 10 Things I Hate About You is one of their favorite films ever and have some kind of fond coming-of-age experience with it.
It's rare to come across a film that can hold such a special place for so many different people at so many different times. 10 Things I Hate About You seems to be a film that defies all time, and becomes brand new for each generation. It's almost like Joseph Gordon-Levitt has glitched the time loop by pointing out how old the film really is, even though he has clearly aged out of the kid he is in the film.
Even though so much has changed since the release of 10 Things I Hate About You and the actors have moved on in so many ways (RIP Heath Ledger), it's refreshing that the film can hold a place in time for them and act as a kind of right of passage for new generations. Joseph Gordon-Levitt may have posted a great throwback, but this film is still very much relevant.
Your Daily Blend of Entertainment News
Constantly thinking about books, coffee, and the existential dread I feel from Bo Burnham's Inside. While writing I'm also raising a chaotic toddler, who may or may not have picked up personality traits from watching one too many episodes of Trailer Park Boys.