Jason Momoa Shares Shirtless Photo While On Break From Filming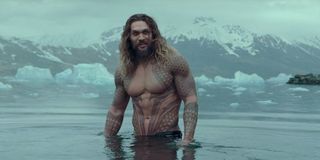 To many fans, Jason Momoa is an unstoppable force. Whether he's playing Arthur Curry in DC's Aquaman or the hulking Dothraki Khal Drogo in HBO's Game of Thrones, the guy is a force. That being said, actors are not as impervious to injury as their on-screen counterparts. Jason Momoa shared as much with a recent shirtless photo he posted while taking a break from filming.
In the shirtless post, Jason Momoa shared some of the grueling realities of being a mega-action star. He detailed the difficulty of late night shooting and previous injuries catching up with him. Check it out:
In the post shared on his Instagram, the Aquaman star also listed out a number of his previous injuries. Among those listed was a broken femur, an injury he sustained when he was younger. His caption also addresses the difficulty of night shoots. He seemed largely in good spirits about the whole situation though, dropping some laughing emojis at the end of the post.
It can't be easy bouncing from one shoot to the next while fans are expecting the biggest and best from you. Despite the long hours, Jason Momoa has proved that he's a force to be reckoned with and a deserving member of the DCEU's Justice League.
The last few years have been pretty busy for the former Game of Thrones star. Since leading his own superhero movie with Aquaman in 2018, he has gone on to land big roles in a number of major blockbusters. Later this year, he's due to appear in Denis Villeneuve's highly anticipated (and frequently delayed) Dune reboot. Momoa has also ventured into television territory with his 2019 Apple TV + series, See.
Between how busy Jason Momoa has been over the last couple of years and the plethora of projects he currently has lined up, it's no surprise to see that the guy gets worn down from time to time. But, I don't think he'd rather be doing anything else. After all, he even tagged the instagram post in questions with #dreamjob. What's the saying, "Do what you love and you'll never work a day in your life?"
At least he had some support from fellow actors in the comment section. Zachary Levi, who currently plays Shazam in the DCEU, chimed in with his two cents, ultimately chalking the painful situation up to getting older. I can't say I completely agree with that, just because of the sheer amount of injuries Momoa was talking about in the post. But what do I know? I'm not a movie star!
Hopefully Jason Momoa can work through the injuries and get some well deserved rest and relaxation. But not for too long, because I can't be the only one who is eagerly awaiting Aquaman 2.
Your Daily Blend of Entertainment News
Into tracksuits by Paulie Walnuts, the Criterion Channel and Robert Eggers.
Your Daily Blend of Entertainment News
Thank you for signing up to CinemaBlend. You will receive a verification email shortly.
There was a problem. Please refresh the page and try again.