Could Keanu Reeves' John Wick And Bob Odenkirk's Nobody Cross Over? Here's What The Director Says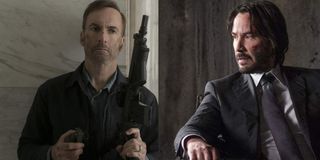 The Bob Odenkirk-led movie Nobody released exclusively to theaters a couple weekends ago, and moviegoers have noticed some not-so-subtle similarities to Keanu Reeves' John Wick franchise. The comparisons that have been made of the two bad-ass lead characters. And when paired with how both brutal action figures were created by writer Derek Kolstad, have led fans to theorize that the films actually take place in the same universe and could potentially cross over. Nobody director Ilya Naishuller has spoken out about the possibility of Odenkirk's and Reeves' characters meeting.
Bob Odenkirk previously said he doesn't believe his character and John Wick would cross paths even if they were in the same universe unless Wick just happened to have a reason to visit the suburbs. But Nobody director Ilya Naishuller has a completely different reason the meeting would be unlikely. In an interview with Indie Wire, Naishuller hints that while a crossover isn't impossible, it seems very unlikely due to the films being of different production origins. Here it is in the director's own words:
The director is speaking about the fact that Nobody is a Universal film while the John Wick franchise is under Lionsgate. Although production companies have worked together before, complications do come up for possible shared projects.
Another reason a crossover may not be in John Wick and Hutch Mansell's future is that creator Derek Kolstad will not be returning as writer for the future of the John Wick franchise. Kolstad worked on the first 3 chapters of the franchise, but the announced 4th and 5th chapters will only have his name credited for character creation.
Even though a potential future crossover has a few things working against it, Nobody director Ilya Naishuller does not sound opposed to the idea. Fans of the films are certainly on board, and the power of the people has certainly been proven to have some say in what happens in Hollywood.
Although not all hope for a kick-ass bloody crossover, it may be best for the franchises to stay separate, at least for now. John Wick's plate is a little full filming back to back movies and Hutch Mansell has only just had his premier movie released. Maybe in the future John Wick will need to recruit the help of the underestimated, middle aged suburbia family man - but for now, Hutch has earned some down time.
Constantly thinking about books, coffee, and the existential dread I feel from Bo Burnham's Inside. While writing I'm also raising a chaotic toddler, who may or may not have picked up personality traits from watching one too many episodes of Trailer Park Boys.
Your Daily Blend of Entertainment News
Thank you for signing up to CinemaBlend. You will receive a verification email shortly.
There was a problem. Please refresh the page and try again.