Nobody Streaming: How To Watch The Bob Odenkirk Movie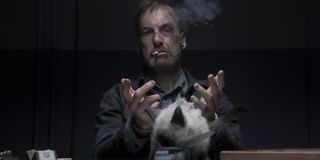 CinemaBlend participates in affiliate programs with various companies. We may earn a commission when you click on or make purchases via links.
Nobody, Ilya Naishuller's action thriller starring Bob Odenkirk as a mild-mannered man who completely snaps after failing to protect his family during a home invasion, is already off to a good start after opening theaters in late March 2021. But with theaters not fully open in some sections of the United States and moviegoers being somewhat hesitant to return to their local movie house, some may be wondering how they can watch Nobody streaming.
Well, later in April, anyone with access to a digital platform that offers VOD services will be able to see what all the fuss is about and enjoy Nobody, in all its over-the-top and gritty glory, for themselves and watch the John Wick-esqe action movie streaming. Below is a breakdown of everything you need to know before the action-packed thrill ride lands on streaming services around the world.
Where Is Nobody Available Streaming
Once Nobody hits the VOD market on Friday, April 16, all you will need to do is go to your preferred digital retailer or streaming service (the ones that offer VOD rentals) and search out the title. Just like some of Universal Pictures' theatrical releases going back to 2020's Trolls World Tour, the Bob Odenkirk-led Nobody should be available on all the usual suspects like Amazon, Vudu, iTunes, YouTube, and Fandango Now upon its release.
Information regarding the pricing and rental time for Nobody has not yet been disclosed, but if we go off previous VOD releases, the move should cost $19.99 for a 48-rental.
While Nobody will be available on VOD on April 16, the Blu-ray for the movie is already available to pre-order now (opens in new tab). No specific date for its release has been listed yet.
Will Nobody Be On Netflix?
You won't be able to find Nobody on Netflix at this moment (since it's still in theaters and about to enter the VOD market), but it remains to be seen if the film will find a home on the streaming giant after its home release at some point later this year. There are still plenty of great Netflix movies to check out on the platform that will surely hold you over for the time being. There are also numerous shows to binge on Netflix right now, including Breaking Bad and Better Call Saul if you have an immediate need for some Bob Odenkirk action.
How Bob Odenkirk's Life Inspired Nobody
Ahead of its release, Nobody was drawing a ton of comparisons to John Wick, so much so that Bob Odenkirk even commented on the matter. But while both movies have a few things in common, the Better Call Saul star told CinemaBlend's own Eric Eisenberg in a March 2020 interview that a couple of experiences helped inspire him to make the movie. The first revolved around a Chinese advertisement for his hit AMC show that made led to him contemplating making the character more action-oriented in another property, while the other was much more intense:
Even though Bob Odenkirk's manager was hesitant at first and tried to laugh off the idea of Bob Odenkirk playing an action star, the actor said he eventually came around and actually saw how it could work out. And according to the critical response, Nobody seems to be working out just fine.
That all should be more than enough to let you know where you can watch Nobody streaming once it lands on VOD services Friday, April 16, as well as some info to get you hyped. And if you want to get even more pumped up, check out CinemaBlend's list of all the 2021 movie premiere dates.
Philip grew up in Louisiana (not New Orleans) before moving to St. Louis after graduating from Louisiana State University-Shreveport. When he's not writing about movies or television, Philip can be found being chased by his three kids, telling his dogs to stop yelling at the mailman, or yelling about professional wrestling to his wife. If the stars properly align, he will talk about For Love Of The Game being the best baseball movie of all time.
Your Daily Blend of Entertainment News
Thank you for signing up to CinemaBlend. You will receive a verification email shortly.
There was a problem. Please refresh the page and try again.