One Big Way John Wick 4 Will Be Different From The First Three Keanu Reeves Movies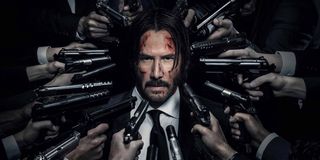 The John Wick franchise has become arguably one of the best modern day action franchises we have still in production. Fans were elated to hear that Keanu Reeves is coming back in not only the addition of a 4th chapter, but a 5th as well, which are to be shot basically at the same time hopefully this year. What fans may be significantly less thrilled about is that there is a major difference in the new films compared to the first three: screenwriter and creator of the John Wick franchise Derek Kolstad will not be returning as a writer for the new installments.
Listen, we all know how John Wick reacted to his dog getting killed, what do they expect to happen when you get rid of his Pops? Derek Kolstad is pretty much the father of the John Wick franchise, but the fans are able to separate real life from fantasy...right? At least Kolstad can. Because in an interview with Collider the writer says he is still excited to see where the franchise goes even if he is no longer a part of new installments. Here it is in his own words:
It sounds like Derek Kolstad is staying pretty grounded about the situation. But if you caught an edge to his words, it's because apparently it was not the writer's own decision to leave the franchise. In the same interview, Kolstad goes on to say that the studio did not have to have him back as a writer, and it even sounds like they were edging him out with Chapter 3 when he shared writing credits with multiple people. You can read it for yourself, in Kolstads exact words:
Even though the situation sounds cold as ice, Derek Kolstad appears to be cool as cucumber about the whole thing. He says that his experience in the industry has prepared him for things of this nature. That may be perfectly true, but it's got to hurt on some level to not be able to contribute to your own creation. It's possible Kolstad is feeling like a mom dropping her kid off to college right about now.
With that being said, Biggest Man Award goes to Derek Kolstad for taking the diss with grace, and even wishing the future of the franchise well. Even though he's off the future John Wick films, Kolstad has plenty ahead to look forward to. His newest completed project Nobody releases to theaters this Friday after being delayed, which he also created and wrote. The new action film starring Bob Odenkirk has some major John Wick vibes. In addition to that he's the writer behind the newest Marvel series The Falcon and the Winter Soldier, with new episodes dropping on Disney+ every Friday. Plus, there are a number of other upcoming projects.
So I mean, Derek Kolstad is going to be alright. The question is...are we? The last three chapters of John Wick have all been fantastic. Without Kolstad's vision on the franchise any longer, hopefully we don't see consequences on the screen. Right now, the 4th chapter of the John Wick franchise is set to release mid next year, so we've got some time before that question is answered.
Constantly thinking about books, coffee, and the existential dread I feel from Bo Burnham's Inside. While writing I'm also raising a chaotic toddler, who may or may not have picked up personality traits from watching one too many episodes of Trailer Park Boys.
Your Daily Blend of Entertainment News
Thank you for signing up to CinemaBlend. You will receive a verification email shortly.
There was a problem. Please refresh the page and try again.