Upcoming Timothée Chalamet Movies: What's Ahead For The Dune Star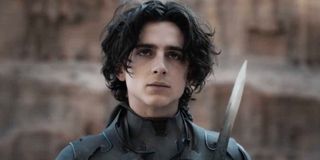 Like so many other young actors whose releases were pushed back (and back some more) because of the COVID-19 pandemic in 2020, this was supposed to be Timothée Chalamet's year. He was coming in hot after a 2019 that saw him take on standout roles in The King and Little Women and was supposed to keep the momentum going with fall and winter releases of The French Dispatch and Dune, respectively. But a lot has changed in the past 10 months and the landscape of the entertainment world has felt that immensely.
Still, Timothée Chalamet will see his day in Denis Villeneuve's star-studded adaptation of the Frank Herbert's landmark science fiction epic, the Beautiful Boy star remains a part of the insanely long list of names in the latest film by Wes Anderson, and so much more. However, all of these surely great performances that will certainly delight all that take them in will just have to wait a little longer than expected. Here are all the movies starring Timothée Chalamet that will come out at some point or another in the next year or so.
Dune - October 1, 2021
If we all lived in a world that wasn't currently in the middle of one of the worst health crises in modern history, we would only be a few weeks from seeing Timothée Chalamet follow in the footsteps of Kyle MacLachlan in taking on the role of Paul Atreides in Denis Villeneuve's big-budget adaption of Dune (or at least the first part of the epic novel). However, we live the real world, the one where we will have to wait until at least late 2021 to see the son of Duke Leto Atreides (Oscar Isaac) as he, his father, mother, and the rest of his clan travel to Arrakis, a planet rich in "the spice" as well as dangers that await.
Principal photography began on Dune began back in March 2019 and initially wrapped in July of that year although some additional shooting took place in August 2020, just a few months before the film's original release date. Speaking of release dates — Dune was initially slated to hit theaters ahead of the extended Thanksgiving holiday weekend on November 20, 2020, before moving to December 18, 2020. Then came the news everyone expected but no one wanted to hear: the big delay. In early October 2020, news broke that Dune wouldn't be released in theaters until October 1, 2021, nearly a year after it was supposed to drop. Let's just hope there aren't any further changes.
The French Dispatch - 2021
Audiences will also see (hopefully, anyway) Timothée Chalamet finally team up with Wes Anderson in 2021 in the ridiculously stacked anthology film The French Dispatch (full title The French Dispatch of the Liberty, Kansas Evening Sun), which focuses on the French bureau of a fictional newspaper loosely based on The New Yorker. Split into four segments (the staff of the French Dispatch of the Liberty, Kansas Evening Sun, and three stories that are being prepared for the newspaper) with one featuring Timothée Chalamet as Zeffirelli, a revolutionary student with one killer mustache and haircut. At this time not much else is known about the character besides that he's in a relationship with Juliette (Lyna Khoudri), a fellow revolutionary.
The French Dispatch was originally supposed to get a wide release on July 24, 2020, but when the COVID-19 pandemic began to look like more than a passing phase, the movie was pulled from the schedule before getting a new release date of October 16. Wes Anderson's latest film was pulled once more but this time no release date has been give, according to The Wrap. And while there's no definite date attached to the film at this point, The Playlist reported in September that The French Dispatch could possibly premiere at the Cannes Film Festival in 2021.
Don't Look Up - TBD
For those who thought The French Dispatch and Dune had a cast of heavy hitters, wait until they see who will be joining Timothée Chalamet in Adam McKay's upcoming Netflix comedy Don't Look Up. The movie, which is being billed as a comedy about two "low-level" astronomers who discover that a giant asteroid is on a collision course with Earth, features some of the biggest and brightest figures in Hollywood, both relatively newcomers and well-established stars. With names like Leonardo DiCaprio, Jennifer Lawrence, Meryl Streep, Jonah Hill, Kid Cudi, Ariana Grande, Himesh Patel, Matthew Perry, and so much more, this seriously looks massive. At this time, the roles each of the actors will play haven't been confirmed, though Variety reported that there is talk that DiCaprio and Lawrence will be playing the two astronomers.
There is currently no information on when Don't Look Up will enter production (or if it has started already), and there is also no news on a potential release date, but with this cast, its director, and his recent track record of turning out award-contenders, we could probably see the comedy about the end of the world as we know it at some point in late 2021.
Going Electric - TBD
In the early part of his decades-long career, Bob Dylan was known for his signature brand of folk music that was anything but electric, but the Rock and Roll Hall of Famer shocked thousands of his fans (and the music world in general) at the 1965 Newport Folk Festival when he traded in his trusty acoustic for an electric guitar and new material.
Hated at the time, the moment has since become one of the biggest moments in the history of modern music, and will soon become the focus of James Mangold's next feature, a biopic about the man formerly known as Robert Zimmerman. The movie, which is set to feature Timothée Chalamet as the controversial music icon during one of the most pivotal moments of his early career, according to Deadline.
There hasn't been much in terms of developments for Going Electric since the project was announced in January 2020 (this is understandable considering the current state of things), but the film is being produced by Bob Dylan's longtime manager Jeff Rosen in addition to some major Hollywood players, so it appears this one will have a nice touch to it. And we all remember how James Mangold's previous biopic about an iconic musician turned out. Let's just hope Going Electric holds a candle to Walk the Line and its standout performances from Joaquin Phoenix and Reese Witherspoon.
Find Me - TBD
Timothée Chalamet was already a rising star by the time he was cast in Luca Guadagnino's 2017 coming-of-age romantic drama Call Me by Your Name, but his turn as Elio Perlman and his undying romance with Armie Hammer's Oliver made him one of the biggest names in young Hollywood and propelled him into superstardom. And now it appears that Chalamet and Hammer will return for Find Me, a sequel that picks back up with the story of Elio and Oliver 10 years after their summer of love. This news was shared by Guadagnino himself in April 2020 when he revealed the news to Italian newspaper La Repubblica (via Variety).
For those who aren't aware, or maybe forgot, Call Me by Your Name and Find Me are both based on a pair of novels of the same name written by Egyptian-American André Aciman, with the latter being published in 2019. There is currently no word on when Find Me will be adapted to the screen, but one of the stars of the 2017 drama Armie Hammer told Collider in October 2020 that some time still needs to pass before it's released so that the first movie can breathe and so that the actors can age into the roles. And if we do have to wait another seven or eight years to see the two lovers' story continue, then so be it.
Stage Production: 4,000 Miles - TBD
Timothée Chalamet is no stranger when it comes to stage productions, but even though he's appeared in multiple plays in New York City, the rising star has yet to take the stage in one of London, England's famed theaters. That will soon change as Chalamet is slated to appear alongside Eileen Atkins in Amy Herzog's play by the name 4,000 Miles. The production, which will be staged at the Old Vic in London, will see Chalamet take on the role of a 21-year-old Midwesterner who shows up unexpectedly at his grandmother's doorstep in the Greenwich Village after the death of a friend, according to The Hollywood Reporter.
Like just about every other form of entertainment in 2020, the ongoing COVID-19 pandemic forced the Old Vic to postpone 4,000 Miles, which was originally supposed to get underway on April 6 for a one-month run. According to Variety, everything was set and ready to go at the time of the closure of the theater in London's West End, but the show will go on once the Old Vic reopens its doors. However, there is currently no word on when that will happen.
That about catches us up with Timothée Chalamet's upcoming projects. If you want to see what other movies have been delayed until later in 2020 or into 2021 (as is the case for most releases), check out our 2020 and 2021 movie guides here at CinemaBlend.
Your Daily Blend of Entertainment News
Philip grew up in Louisiana (not New Orleans) before moving to St. Louis after graduating from Louisiana State University-Shreveport. When he's not writing about movies or television, Philip can be found being chased by his three kids, telling his dogs to stop yelling at the mailman, or yelling about professional wrestling to his wife. If the stars properly align, he will talk about For Love Of The Game being the best baseball movie of all time.
Your Daily Blend of Entertainment News
Thank you for signing up to CinemaBlend. You will receive a verification email shortly.
There was a problem. Please refresh the page and try again.