Apparently Bill Murray Was Tricked Into Doing Ghostbusters 2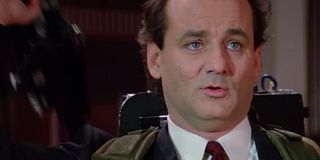 While the original Ghostbusters is still a cherished staple of '80s cinema, Ghostbusters 2… well, it's not nearly as beloved. The 1989 sequel was met with primarily negative critical reception and didn't perform quite as well as its predecessor did at the box office. As it turns out, not only was Bill Murray, a.k.a. the franchise's Peter Venkman, reluctant to do Ghostbusters 2, he and the other returning cast members were essentially tricked into signing on.
Bill Murray recently recalled how he and his cast-mates, who hadn't seen each other since the first Ghostbusters came out, were brought back to hear the Ghostbusters 2 story idea that they thought was great, with Murray specifically thinking, "Holy cow, we could make that work." Unfortunately, that story idea never made it in front of the cameras. As Murray informed Collider:
Bill Murray acknowledged that he worked with "a great bunch of people" on Ghostbusters 2, but ultimately, he didn't have as good of an experience making the sequel compared to the original. Murray didn't elaborate on what was told to him and the others in the first Ghostbusters 2 pitch, but evidently something changed in-between then and when the movie started production. As with the first Ghostbusters movie, Harold Ramis and Dan Aykroyd wrote the Ghostbusters 2 script along with reprising Egon Spengler and Raymond Stantz, respectively.
Interestingly enough, Ghostbusters 2 wasn't originally considered a priority under Columbia Pictures president David Puttnam's tenure, as in 1986, he was more interested in the studio delivering smaller-scale movies. However, by the following year, Ghostbusters 2 was given the green light, although this was before director Ivan Reitman had been able to review the unfinished script. And somewhat similar to the first movie, the sequel was eventually rushed into production by summer 1988 so that it could hit theaters in the middle of 1989.
In case it's been a while since you've watched Ghostbusters 2, it began with the main characters having separated after the team was sued and put out of business following the destruction unleashed in Ghostbusters, However, when Vigo the Carpathian emerged to wreak havoc, the Ghostbusters reunited to combat this new threat. Without any details, it's impossible to say if the story idea that Bill Murray and the others initially heard would have been better received by the public. All that matters is that the final product failed to make as good of an impression as its predecessor, not to mention had to deal with competition form movies like Batman and Honey, I Shrunk the Kids.
Although the Ghostbusters franchise would stay afloat in the decades that followed with various cartoons, video games, comic books and other media, it wouldn't return to the big screen until 2016 with the Ghostbusters reboot, where Bill Murray and all the original surviving cast members cameoed as new characters. Alas, that movie (which starred Kristen Wiig, Melissa McCarthy, Kate McKinnon and Leslie Jones) ended up commercially underperforming, prompting a return to the original Ghostbusters continuity for the upcoming Ghostbusters: Afterlife. So Ghostbusters 3 did eventually happen, it just took much longer than expected.
Ghostbusters: Afterlife will focus on a mother and her two children moving into the home of their late grandfather in Summerville, Oklahoma, with the kids soon learning that their family is connected to the original Ghostbusters team. Bill Murray, Dan Aykroyd, Sigourney Weaver, Ernie Hudson and Annie Potts will will reprise their roles from the first two Ghostbusters movies in Afterlife, which comes out on November 11. If you're wondering what other movies will come out later this year, look through our upcoming 2021 movies schedule.
Your Daily Blend of Entertainment News
Connoisseur of Marvel, DC, Star Wars, John Wick, MonsterVerse and Doctor Who lore. He's aware he looks like Harry Potter and Clark Kent.
Your Daily Blend of Entertainment News
Thank you for signing up to CinemaBlend. You will receive a verification email shortly.
There was a problem. Please refresh the page and try again.